Brief Hitman Pro 3.5 Review Including Comparison to Malwarebytes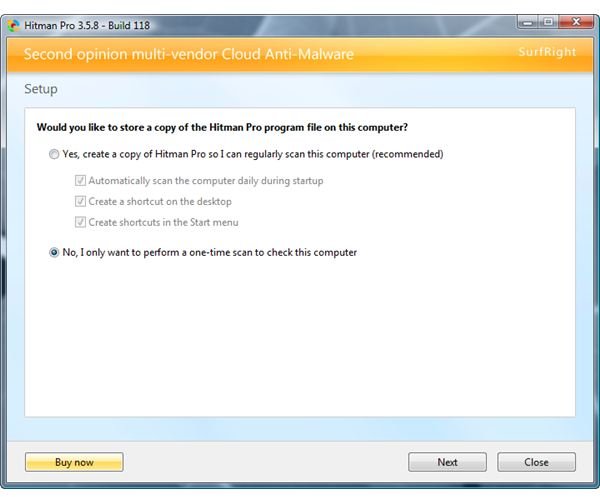 Free Malware Scanner for Windows
Hitman Pro and Malwarebytes provides malware scanner for computers with Windows operating systems. Both programs include a removal engine to remove detected infection. Find out which is better to use in Windows by reading below comparison – Hitman Pro vs. Malwarebytes Anti-Malware. Note that the vendor of these programs offers free scan and malware removal.
System Requirements and Installation: Winner - Hitman Pro
Malwarebytes Anti-Malware (MBAM) and Hitman Pro run on XP, Vista, Windows 7 and unsupported Windows 2000. Windows Server 2003 and 2008 customers may also use Hitman Pro. MBAM can be installed in server operating systems, but some functions will not work unless the user buys a corporate license that should receive the network specific add-on.
Users of Hitman Pro do not have to install the program to scan a computer, but there is an option to setup the program in Windows. If Hitman Pro is run using portable or standalone mode, it will only install the Hitman Pro 3.5 support driver with file name, hitmanpro35.sys. The portable scanner of Hitman Pro helps in detection and removal of active malware in no time.
MBAM on the hand requires installation to Windows before you can scan the computer. Aggressive rogue programs can terminate both Hitman Pro and MBAM during installation.
User Interface: Winner - Malwarebytes Anti-Malware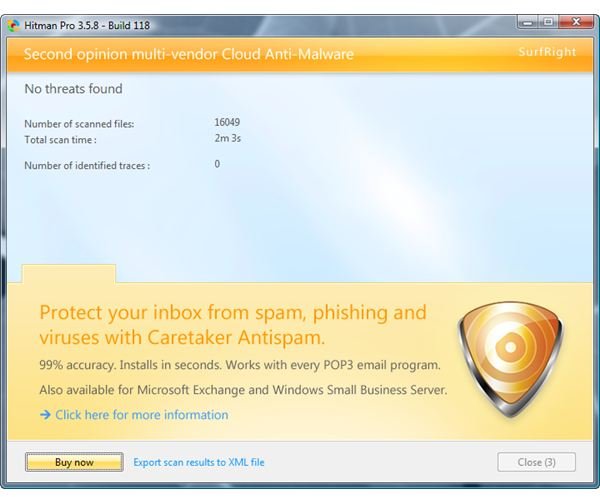 The graphical user interface of MBAM is better than Hitman Pro since the UI surface can be adjusted to whatever dimension a user wants it to be. Hitman Pro's UI surface, on the other hand is static and not adjustable.
Before one can start using Hitman Pro to scan the computer or close the scan result, the button "Next" or "Close" is greyed out for some seconds. Advertisements in the user interface of Hitman Pro can mislead beginners into thinking it's required because of the timed-button (greyed-out before one can close the UI).
Program Features: Winner - Malwarebytes Anti-Malware
Hitman Pro antivirus provides the following features:
Malware scan using portable method or as installed software in Windows.
Cloud antivirus and anti-malware detection technology.
Uses several antivirus engines to detect threats – Hitman Pro is using the scan engine from EmsiSoft, Ikarus, PrevX, Dr. Web and G Data.
Automatic upload of suspicious files to the Scan Cloud.
Automatic update of the program before a scan.
Quick and active scan options.
Early Warning Scoring (EWS) scan – this option allows end-users to scan the computer without an Internet connection. Detections of threats are presented without specifying which malware scan engine identifies the threat. EWS is not recommended to use unless you are an advanced or expert user.
Tracking Cookies scanner.
Quarantine manager and history log.
Startup scanner.
Rootkit detection.
Option to use Direct or Compatible Disk Access – it's recommended to use Direct Disk Access to allow Hitman Pro to better find nasty infections, such as a Google redirect virus caused by a rootkit infection.
Safe mode scanner
Malware removal – this feature is only available for 30 days and will be activated when the user decides to start using Hitman Pro to remove the threats.
All of the above features are available in MBAM, except the cloud-based scanner and detection, third-party detection signatures, early warning scoring, startup and tracking cookies scan options. Malwarebytes offers free and unlimited malware removal that Hitman Pro doesn't offer, however.
For full details of features and usage, check out Malwarebytes Anti-Malware and Hitman Pro 3.5 reviews.
Performance: Winner - Malwarebytes Anti-Malware
You will not notice any slowdowns when using Hitman Pro or MBAM scanners. Both programs performed well when running a quick, custom or full scan. Hitman Pro's quick scan will finish in 30 seconds or less, while MBAM's quick scanner can finish in less than 3 minutes.
MBAM's scanner will scan more items than Hitman Pro. For example, when I ran a quick scan, MBAM scanned 140640 files, while Hitman Pro only scanned 1229 files. The benefit to users when using MBAM scanner is its ability to detect malware in critical areas in Windows where malware often hides or places files.
Malware Detection and Removal: Winner - Malwarebytes Anti-Malware
I put to test the detection ability by MBAM and Hitman Pro on a computer that is infected with System Tools, a rogue antispyware program. MBAM was able to detect and remove the file and registry entry added by the rogue software. It also succeeded in terminating the malicious process and removing the malware without the need of a computer restart.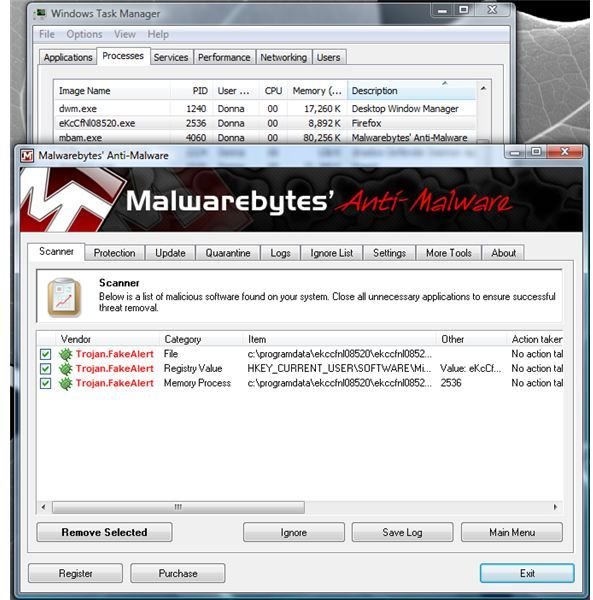 Hitman Pro failed to identify an active threat running in the computer. It did, however find the rogue antispyware file as suspicious which is why it automatically sent the file to its scan cloud server for further analysis. The computer remained infected after using Hitman Pro antivirus scanner.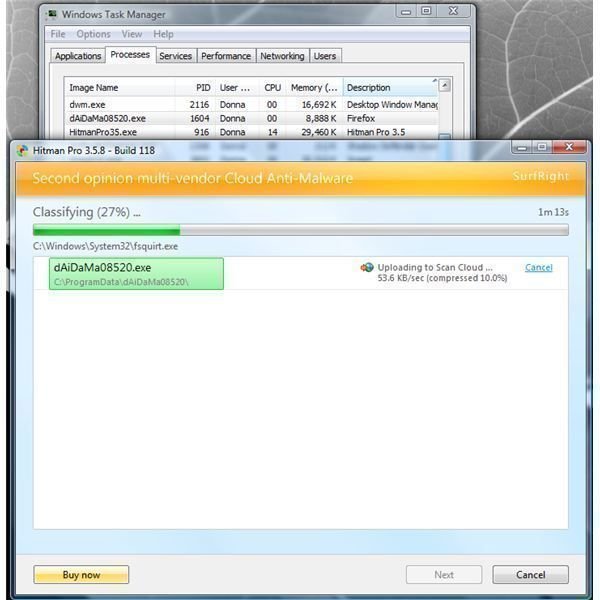 Using 150 malware samples that I transferred to the test system, the Early Warning Scoring (EWS) feature of Hitman Pro antivirus failed to detect anything. The default and quick scanner by Hitman Pro also failed to identify the malware samples. MBAM was able to detect them all, which is not surprising since it uses an offline virus signature database and heuristic technology to find any malicious files in Windows.
Price and Support: Winner - Malwarebytes
While both programs are free for personal use to scan for malware or remove detected threats, MBAM's unlimited free malware removal feature beats Hitman Pro's 30-days trial to remove malware.
MBAM can provide real-time protection for malware if a user decides to pay for the software. Hitman Pro paid edition does not include real-time protection, and will only remove the 30 days limitation of malware removal. The MBAM paid edition costs $24.95 which includes lifetime updates, while Hitman Pro only costs $19.95 for 1 year of subscription or updates.
Support for MBAM free is available via discussion and product support forums. There is no support forum for Hitman Pro users.
Conclusion
It's worth keeping Hitman Pro and Malwarebytes' Anti-Malware since both are free programs. However, MBAM is the clear winner when you need to deal with active malware and not yet executed malicious files.
References
Source: Author Experience, Tests and Review
Image Credit: Screeshots by the Author