How to Get the Most Out of Trend Micro Antivirus Support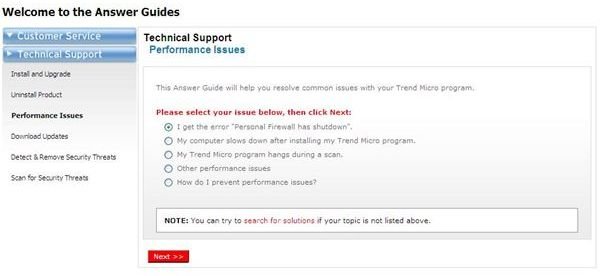 Trend Micro Support – You Can Ignore It But Why Not Use It?
I have the Version 3.2 of Trend Micro's Titanium Maximum Security released in 2011. For those who just want to install an antivirus suite and let it do its thing quietly in the background, Trend Micro is great for that, but it offers many other features including Trend Micro antivirus support options, tools, and hot topics—all via your Trend Micro account.
The very best way to get the most from their support is to explore their tools, use them to your advantage and if things really go awry, get online help. In the next sections I'll tell you how to get the most out this antivirus' support team.
Don't Show This Message Again!
We've all seen these messages—a warning about saving a .pdf file or gamer tips we turn off immediately—because we are confident we don't need, care or want any information in those messages—we're too smart for them! Whatever Trend Micro antivirus program you have, read those messages, as you really might learn something. Trend Micro developers and support teams researched these messages before determining which would be most prudent to their users. On to Trend Micro's antivirus support!
Online "Self" Support by Trend Micro
If you are experiencing problems of any kind, your very first stop should be Trend Micro's support web page. Before you click on customer service or technical support, browse the page a little further and see if you question is already a "Hot Topic." If not, you can also type in your question to find a solution. If neither of these options works, click on the "Technical Support" tab where you find help for downloading, installing, program updates and performance problems (see screenshot to the left).
Various topics are displayed or you can "search for solutions" for your problem if it doesn't appear on the list of problem topics. Under "search for solutions" simply enter your product and version to display more hot topics.
Don't Skip the Support Overview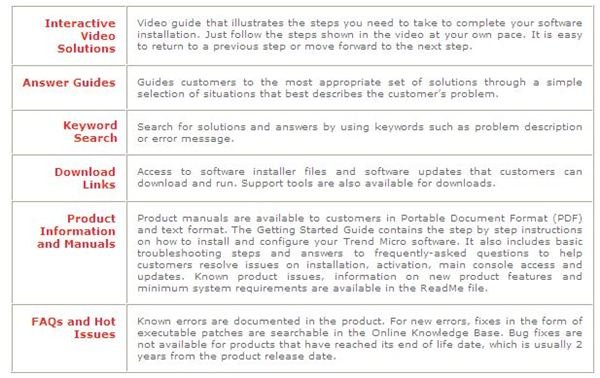 The support overview web page offers up all the information you need to know about getting the most out of Trend Micro antivirus support. The support overview web page shows how you can get help whether you are using a trial version, you are a subscriber or you have installed some premium services.
Discussion Forums
Discussion forums are very popular for online help to troubleshoot problems. You can find the same on Trend Micro's Discussion Forum web page. Read about scan problems, software install issues, corrupt data problems and more.
Threat Encyclopedia
Trend Micro also features a Threat Encyclopedia that offers loads of information on the latest threats of spam, malware and other vulnerabilities. This is a must-bookmark part of Trend Micro's antivirus support. Click on any of these latest threats and find tech data, aliases and ways to fix the problem.
Trend Micro Vault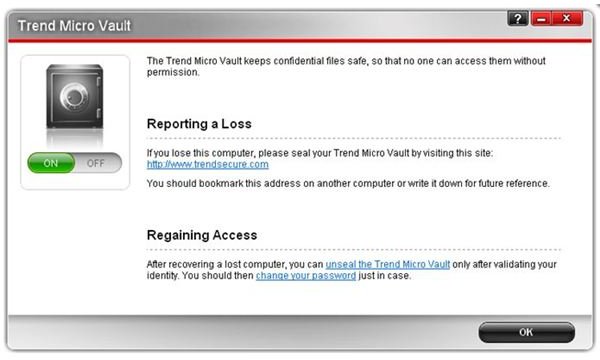 If your version of Trend Micro offers the Vault feature—this is one neat thing to keep files and folders private and with the help of support—get it back if your computer is lost or stolen. The Vault is password protected so no one can access your information if you have lost your computer, but you can get everything back you send to the vault quickly and easily. The Vault can be accessed on your main console under the Tools section.
I Want a Live Person!
Finally, Trend Micro antivirus support does have real live people you can talk to if forums or troubleshoot searches are not your thing. Their support hotline is open Monday through Friday from 8:00 am to 5:00 pm PST and you can reach them at 1-800-864-6027. Visit the Contact Us page for more information.
In any software program, many of us will experience the occasional problem whether it is installation issues, product renewals, troubleshooting or total stoppage of the program. If you are thinking of installing or purchasing any Trend Micro product, be assured you can answers to your questions if you use Trend Micro's antivirus support options.
Screenshots and product support information courtesy of Trend Micro.