A Guide to Setup McAfee AntiVirus Plus 2011 Scans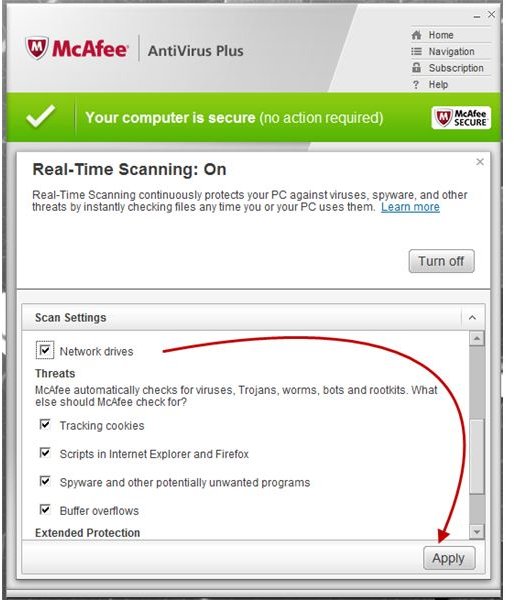 McAfee AntiVirus Plus 2011
The new version of McAfee Antivirus Plus provides improvement for the home screen, SiteAdvisor, idle timer and scheduler. It also includes support for Microsoft Outlook 2010 and network manager in Vista and Windows 7. If you have McAfee Antivirus but you're not sure how to getting the most out of its protection, this article will guide you which settings in McAfee should be adjusted or changed.
Real-time Scanning
To setup McAfee Antivirus Plus 2001 that scans for malicious activity in Windows in real-time, you only need to adjust one thing and remember to only do this if you have access to drives of another PC in your home network:
In the home screen of McAfee, click Virus and Spyware Protection under Features.
Click Real-time scanning and scroll down to Attachments and Locations.
Check the box before Networked drives and then click Apply button.
Using the above settings will give the extra task to McAfee to not only protect the local drives in your PC but also the drives in other computers networked at home. Note that this setting does not mean that you don't need to install antivirus software in other computers but to add extra protection whenever you access the folder or files in other PCs at home.
Schedule Scan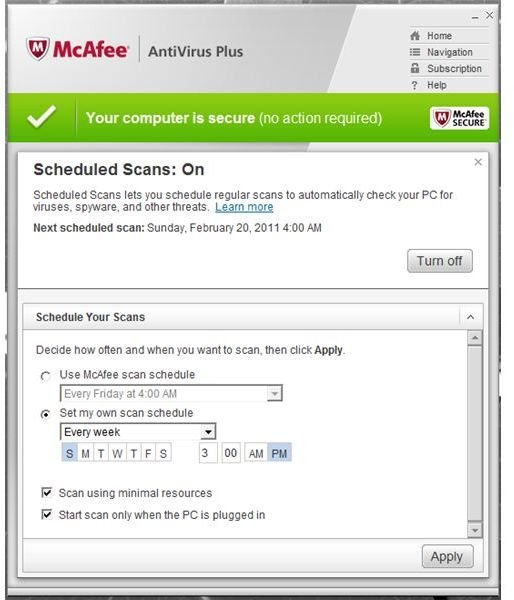 The default scheduled scans in McAfee run a weekly scan e.g. every Friday at 4:00 PM. You can change the schedule scan according to your preference. You can change it to scan only on first Friday of each month or on particular day and time.
If you are to schedule the scan when you are using the computer, you should keep the default settings to scan using minimal resources, but if you are away from your computer, it is best to uncheck this particular setting so McAfee scans will finish faster. Laptop users may opt to only start the scheduled scan when the laptop is plugged-in but not when you're on battery power only.
Note that it's recommended to run a full system scan after you just finished installing McAfee software and updating the virus detection database or program updates. This is because the program does not run an initial scan after the install process.
Firewall Protection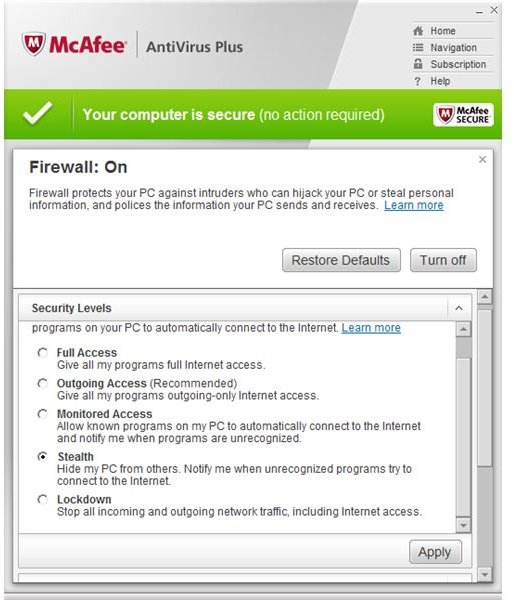 In this McAfee Antivirus Plus 2011 guide, we'll also cover the firewall protection settings so you can fully protect the network and PC from hackers and spyware:
Security Levels – the default setting is Outgoing Access which you should change to Stealth. Using stealth security level allows you to take control in which applications is allowed to send and receive information.

Smart Advice and Advanced Settings
o Smart Advice - This setting is enabled by default which is recommended. However, the default smart advice setting is to allow McAfee to decide automatically which is only good if you don't want to administer which software is allowed to use the Internet connection. To find out which software is connecting to the Internet or calling home without your consent, you should select the Ask me to decide option.
o Enable protection during startup – This option is not enabled by default. I suggest turning this setting on so no program is allowed to use the Internet connection during Windows startup or before McAfee Firewall load its protection module.
Ports and System Services – It is recommended to not to change anything on this particular setting, unless you want to determine which ports are allowed to use by the system. Some users want to determine what ports Windows uses. McAfee included this option for advanced users only.
SiteAdvisor
If you opted to install McAfee SiteAdvisor that is included in McAfee Antivirus Plus 2011, you have the following options to use or choose. I am only suggesting using these settings if you don't want to use a third-party search provider and do not want McAfee to change the browser settings:
General settings:
Show site ratings in search results - The default setting is yes which you should not be changed.
Encrypt Communication (SSL) - Default setting is no, but I suggest to choose yes. Choosing yes will secure the connection between your network and McAfee servers. Only keep the default setting if you notice slow connection speeds when searching the Internet.
Secure search settings:
SiteAdvisor toolbar - Don't enable this option because it's not necessary to add a third-party toolbar in Internet Explorer or Firefox to take advantage of SiteAdvisor feature. Enabling this option will only install a toolbar that is powered by Yahoo. Note that SiteAdvisor toolbar is not the same as the SiteAdvisor browser add-on that you are already seeing in the browser.
Yahoo home page and search page - Do not enable the other two options under secure search settings that will change your home and search pages to Yahoo.com unless you want it.
QuickClean and Shredder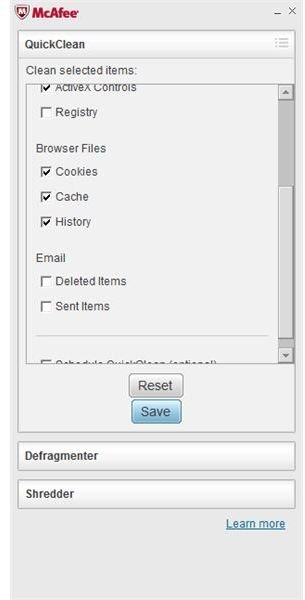 In addition to antivirus and firewall protection offered by McAfee, you get neat tools to clean the computer's temporary files and securely delete files. All of the pre-checked items in QuickClean should not be changed but you should select browser cache, history and cookies for McAfee QuickClean to attend, as well. You can also setup McAfee Antivirus Plus 2011 that scans the computer for items to clean on schedule.
Shredding files means you are using a secure deletion technology that prevents retrieval of deleted files. This is useful tool in McAfee and I suggest choosing Complete as shred type which means McAfee Shredder will use 10 passes to delete an item.
Final Words
Modifying available options and settings in the McAfee program is safe because you can always restore to the default settings any time you need or want. You should only use this McAfee Antivirus Plus 2011 guide if you want to take advantage of better protection settings that the antivirus program can offer.
Screenshot taken by the author courtesy of McAfee.