Free Avira Antivirus - Download Now to Protect your PC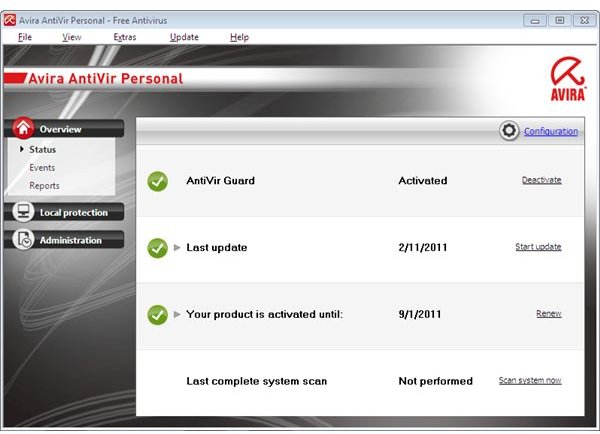 System Requirements (5 out of 5)
The free Avira Antivirus download runs on Windows 2000 with SP4 and higher, 32-bit and 64-bit Windows XP with SP2, Windows Vista (SP1 recommended) as well as 32-bit and 64-bit editions of Windows 7. At the least 150 MB of free disk space is required. For the complete list of system requirements please check out the user manual on the vendor's website [1].
Setup (5 out of 5)
If you run Windows Defender, you will need to disable it. The setup welcome screen leads over to the EULA which you have to accept by ticking the box. On the next screen you have to confirm that you are not using the free Avira Antivirus download for any kind of commercial or business purpose. Proceed by Typical Install. When prompted for optional registration you can choose to opt in for the Avira newsletter, and opt out of registration if you want. Setup is going to install the components, and when you see the completion window the protection is already active. Your virus signature files are then automatically updated, and a quick malware scan is carried out.
Interface (4 out of 5)
The GUI of Avira, called Avira AntiVir Control Center, is logically organized. On the left pane you find a status overview as well as commonly used items for administration and local system protection. The same and some more configuration items can also be found on the top menu. We recommend checking out the configuration menus, because protection against fraudulent software is not ticket by default in the general protection settings, and you may also find some other configuration items that need tweaking for optimal system protection.
It is important to note that by navigating to Extras –> Configuration in the top menu list you can switch to Expert Mode for advanced settings.
Features and Performance (5 out of 5)
Avira AntiVir Personal - Free Antivirus protects you against a variety of computer threats such as viruses, malware, adware, spyware as well as dialers and double-extension files for example. It includes a scanner which is also able to detect malicious software including rootkits hiding on the file system or in memory during run-time, as well as Guard for real-time protection (on-access scanner) configuration. A boot record scanner can additionally be found in the Extras menu.
Malware defense techniques include both a malware signature and a heuristics signature engine. The free antivirus software did not show a negative impact on system performance.
In contrast to the premium edition, the free software does not include the AntiVirProActiv behavior-based malware detection module that is used for the detection of malicious software and is based on malware signature and signature heuristics only. Neither does the software include a proactive link scanner (WebGuard), nor does it include a phishing filter or drive-by download protection. Enhanced email protection is also only found in Avira AntiVir Premium.
Help and Support (5 out of 5)
Despite Avira AntiVir Personal being free for home users, the vendor provides numerous support options including a Readme, a manual, FAQs, a knowledge base, as well as forum. And the good thing is you can access all from the integrated Help menu in the Avira AntiVir Control Center.
Price to Value (5 out of 5)
The software is free for home users, yet does not provide 360° degree (optimal) protection. We recommend you also check out the premium edition. Alternatively, you may want to have a look at free AVG including the built-in link scanner.
The Bottom Line
The free Avira Antivirus download is a very good piece software to protect against known viruses and threats which show similar characteristics as known malware, and are thus dealt with by the signature heuristics.
Should you be looking for protection against emerging threats then you may want to consider Avira AntiVir Premium with its enhanced protection including, but not limited to, behavior-based malware detection and elimination.
References:
[1] https://www.avira.com/documents/products/pdf/en/man_avira_antivir-personal_en.pdf
All screenshots and product information refer to Avira AntiVir Personal - Free Antivirus, version 10.0.0.611
Official Product Page: https://www.avira.com/en/avira-free-antivirus