How to Setup Norton Internet Security 2011 Scan Options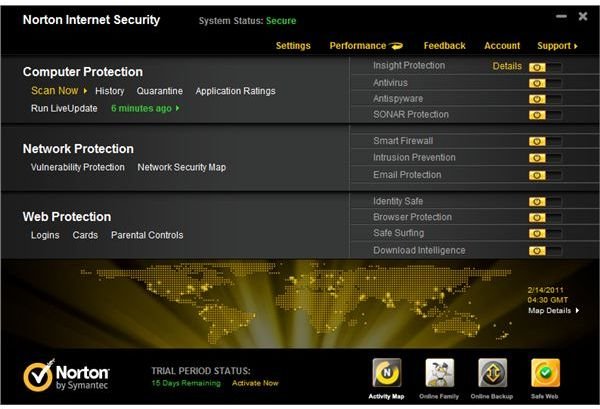 Key Features Setting of NIS 2011
The key protection features in Norton Internet Security 2011 are for computer and network protection. The main user interface of the program allows you to manage the settings of the protection features by simply toggling on and off buttons. If you want to change how it will respond or monitor the computer, you will need to open the settings window. The section below covers how you can setup the Norton Internet Security 2011 scanner and its other features.
Computer Protection Settings
There are several preferences that can be set for Norton Internet Security 2011. The default setting is designed to help the program scan faster, but it is not the safest setting. Take advantage of the product you paid for to defend your data, network and computer by adjusting the following settings:
Computer Scan Settings:
Intelligent skip scanning - you should turn off this option so that Norton will not rush when scanning files! Let Norton scan all files in zip, rar, cab or jar formats.
Compressed files scan > Remove infected compressed files - you need to turn on this setting so infected compressed files with high, medium or low risks are automatically deleted.
AntiVirus and SONAR Exclusions settings:
Items to exclude from scans - click configure and delete \system volume information\ that Norton will ignore by default. It's recommended to allow your antivirus to scan all area in Windows, including System Restore points. If the restore point contains an infection, you will want to delete it completely, which means you need your antivirus to detect if it's really infected.
Scan performance profiles: change the setting from Standard Trust to Full Scan to make Norton scan all files. Using the default setting skips scanning of files that have a trusted digital signature, which as we know can simply be a stolen digital signature such as with rogue programs using stolen signatures.
Boot time protection: the default setting is Normal, which means drivers and plugins will load before Norton starts protecting the computer. Change the setting by choosing Aggressive so that Norton will load its protection before any drivers load. This is quite a useful feature to protect against rootkit infections.
Real-time protection settings:
Auto-Protect > Caching - you need to turn off this option to allow Norton to monitor all files in real-time, even if it is accessed often. If you keep caching on, Norton will not scan files that you often access. What's the point of real-time protection if it will skip monitoring some files for malicious activity?
SONAR Advanced Mode - change the setting from Automatic to Aggressive. Aggressive will allow the on-access protection to detect malware using behavior-based detection. This is quite useful in protecting the computer from new malware.
Scan Options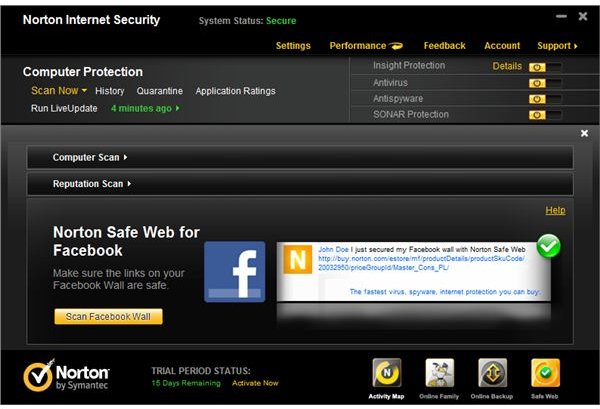 NIS 2011 lets you scan commonly infected areas, your entire computer or a specific folder or file using its custom scan option. It's recommended to run a full system scan after installing Norton.
The other scan option in NIS 2011 is the reputation scanner. It's also a good idea to run a full system reputation scan to check the trust level of running processes in Windows or Mac.
For people who use the Facebook social networking service, Norton allows you to scan the links on your Facebook Wall for safety. The Facebook login page will open and you will need to grant access to Norton so it can scan the links on the FB wall. Note that by granting Norton scanner permission to scan the links on your FB wall, you are also giving them access to post the scan results. There are advanced options for posting, such as sharing the safety status of your links with your FB friends, viewing the name of the FB user who posted the URL, etc.
Toolbar & Network Protection Settings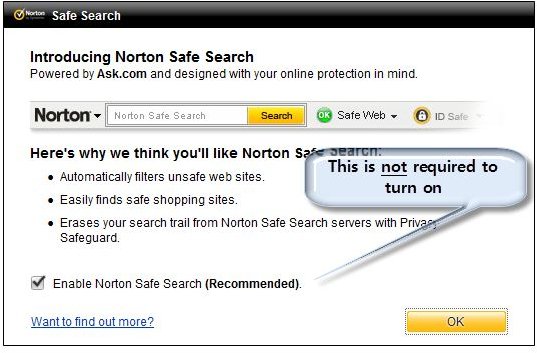 The firewall protection in NIS 2011 prevents unsolicited attempts to connect to your network and computer. Also, it includes intrusion prevention signatures to prevent exploits in Windows and popular applications that are being targeted by malware and hackers. The only settings for Smart Firewall that you might want to change are as follows:
Advanced settings:
Automatic file/printer sharing control - this should be turned off unless you often access or allow access to other computers in your network to share files and printers. Note that you should also review the settings in the Network and Sharing Center in Windows XP, Vista or Windows 7.
Automatic program control - This is enabled by default to provide less firewall alerts on which applications are allowed to use the Internet connection. If you want full control over which programs in your computer can use the connection, you will want to change the option, possibly by setting which ports and protocols an application can use.
Advanced events monitoring - this option is grayed out by default and if automatic program control is turned on. Turning off automatic program control allows you to use this advanced option to control which programs are allowed to gain access to your computer and data and run other applications. This option is quite useful for advanced users.
Program control - you'll find here the list of web-enabled applications that Norton's firewall has configured to allow access to the Internet. You should empty the list and start from scratch if you plan to enable automatic program control in advanced settings for Smart Firewall. Starting from scratch means you decide which programs are allowed to use the Internet connection.
Toolbar - Norton adds a toolbar add-on in Firefox and Internet Explorer. It's not necessary to enable Norton Safe Search that Symantec recommends. Disabling Norton Safe Search will not affect the web browsing protection that Norton program is already providing.
Web, Parental Controls and Miscellaneous Settings
To setup Norton Internet security 2011 scanner to fully protect your computer and private information while you browse the web, you only need to change a single setting:
Download intelligence > Download insight full report - change this from Unproven only to Always so Norton will always display the insight or report on downloaded files that you execute or run. This gives you an idea whether the file is known to be safe or something that you should not continue to install or view. Norton Download Insight supports many applications that have the ability to download files onto your PC, such as browsers, instant messengers, P2P clients, e-mail programs, download managers and FTP programs.
In this Norton Internet Security 2011 guide, we will also cover the following settings that you might want to consider modifying:
Miscellaneous settings:
Idle time optimizer - Norton can defragment your computer and this is enabled by default. Only allow this task if you are not using Windows defragmenter on schedule or if you are not using third-party defrag software e.g. Diskeeper.
Norton community watch - if you are a privacy-conscious user, you don't want to share the websites that you've visited. Turn this option off to disable Norton from collecting your browsing history.
Product security > Password protection - you should turn this on to set a password to secure the program settings of Norton.
Special offer notification - Symantec can display special offers about their products and services via notification. Turn this off if you don't plan to buy anything again from Norton or do not wish to know any offers from Symantec. You can always visit their website for promotions.
Parental Controls - this program is not installed in NIS 2011 or Norton 360. Read this article to learn how to get and setup parental controls program for Norton products.
References
Image source: Screenshots provided by the writer.
Source: Information provided by the author after downloading a trial version of Norton Internet Security 2011 from Symantec's Norton Upgrade Center website.