When Malwarebytes Won't Run - How to Fix Malwarebytes Problems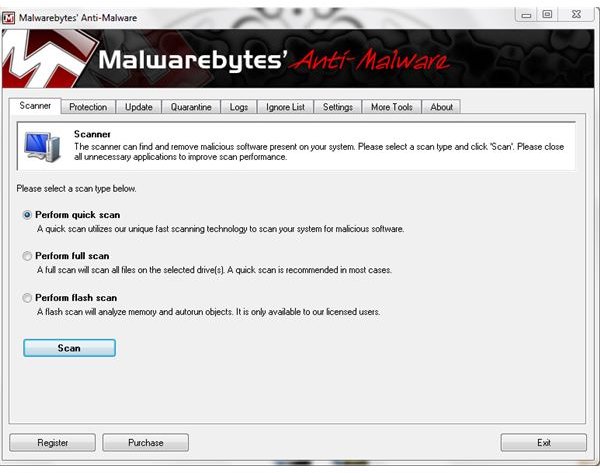 Addressing Problems with Malwarebytes' Anti-Malware
Security software such as Malwarebytes' Anti-Malware is brilliant for detecting and removing nasty little bits of malicious software ("malware") that find their way onto your computer via websites, downloads, e-mails and other methods.
Unfortunately, some problems can occur when using such software, notably problems running and updating. Issues concerning malware detection utilities are becoming more common, and might be traced back to instances of malware on your computer causing the software to work incorrectly.
Problems with Malwarebytes' Anti-Malware can be resolved in the following ways, returning your PC to trouble-free malware detection and elimination.
Why is Malwarebytes Freezing?
The first thing you need to establish is just why the PC is hanging or freezing when you attempt to run Malwarebytes' Anti-Malware. There are various reasons why this might happen, but they can be split into two groups:
You have multiple anti-malware utilities installed and they are conflicting/running at the same time. This can be resolved by stopping both processes in Task Manager (right-click the taskbar, select Start Task Manager) and then restarting Malwarebytes' Anti-Malware.
Your PC is infected with malware that is preventing the effective running of Malwarebytes' Anti-Malware, either by targeting the utility itself or reducing the available system memory for running the software.
In order to find a way around the second reason, you should restart your PC and boot into Safe Mode (usually accessed by tapping the F8 key on your keyboard as your PC starts up).
Safe Mode only boots the bare minimum of device drivers and runs only the most vital processes, thereby reducing the chances of malicious software from auto-starting (they usually hook onto other processes to get started) and increasing your chances of detecting and removing them.
Running the Malwarebytes' Anti-Malware Update
Further problems with Malwarebytes' Anti-Malware might necessitate an update of the software. If you can run the utility without a problem then go to the Update tab and select Check for Updates in order to download the latest database of threat profiles.
If for any reason this function is not available or is prevented from running, then once again you will need to reboot your PC into Safe Mode (only this time select Safe Mode with Networking) and repeat the procedure from there.
Fix Malwarebytes Problems by Reinstalling
Finally you may find that whatever is wrong with your copy of the free Malwarebytes' Anti-Malware software can only be fixed by reinstalling it. For instance, you might find that the application will not run in either Safe Mode or normal operation, or you might be attempting to use the software in hindsight, installing after you're pretty certain that you have a malware infection.
In both cases, booting into Safe Mode and uninstalling the application before reinstalling will ensure that the software is fully removed and then replaced. You will then be able to take advantage of the improved access to system resources offered in Safe Mode to fully and effectively scan your PC and remove any traces of malicious software.
References
Source: Author experience
Screenshots: Author