How to Fix Avast 5 Problems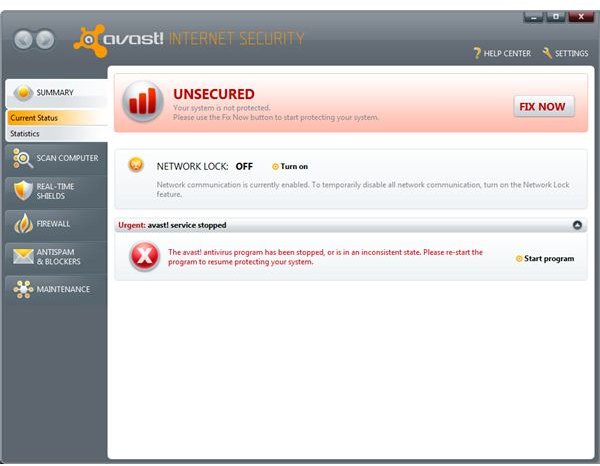 Problems with Avast! 5? Read on!
Avast 5 is one of the most popular free anti-virus utilities, featuring various tools to enable virus-free computing at the best price available. While there are other free anti-virus utilities, Avast 5 is particularly popular, and offers competent scanning and removal of detected threats on your PC. However, as with all software, some users might run into problems with Avast 5, experiencing issues such as problems updating or the software crashing at PC startup or when performing a scan.
With this guide we'll look at the various problems that users might experience with Avast 5, and how to fix them.
Fix Avast! 5 Startup Problems
When you boot up your PC, Avast! 5 anti-virus should start running almost straightaway, and certainly before you're able to run any other applications.
However this doesn't always happen. While Avast! 5 might be running, you may notice a red "no-entry" icon displayed in the Windows taskbar rather than the usual Avast! 5 symbol to indicate that everything is running OK.
The "no-entry" symbol is displayed because there has been a problem launching the service that runs the software, and as a result you will need to manually restart this. Problems might occur here because Avast! 5 cannot connect to the server that provides updates.
Luckily this is easily resolved via Start > right-click Computer > Manage > expand Services and Applications > Services. Here, look for avast! Antivirus and right-click this and select Restart from the context menu.
In a few moments, Avast! 5 should be fixed and running!
Fix Avast! 5/Outlook Conflicts
It isn't uncommon to find that Avast! 5 forces Outlook to close either when running a full scan or when the software is performing on-access scanning to detect threats.
This clearly isn't useful. The only way around this would normally be to disable Avast! 5, something that might open your PC to threats, so another fix is required.
Depending on your version of Microsoft Office, this can be resolved by using the Office Diagnostics tool. In Outlook 2007, this is found under Help; in Outlook 2010, this feature is not available.
The diagnostic tool should detect a file called outcmd.dat. This is the cause of the conflict, possibly causing the on-access scan of Avast! 5 to think that there is something amiss (the .dat file extension is possibly the cause of this).
Reinstall Avast! 5
Finally, you might find that the only way to resolve the problems you are experiencing with Avast! 5 is to reinstall the utility. This can be tricky.
To begin with you will need a copy of the avast! Uninstall Utility. Download and save this to a safe and memorable location. You will also need a copy of the latest version of avast!
Next, go to Start > Control Panel > Programs > Uninstall a program and find and uninstall Avast! 5. Remember to reboot your computer afterwards
Following the restart, use the Uninstall Utility, which will "tidy up" after the uninstaller. Following this, restart your computer once again and then install the latest version of Avast! – you should find that your problems have ended…
References
Screenshot provided by writer
Sources: