How to Setup Norton 360 4.0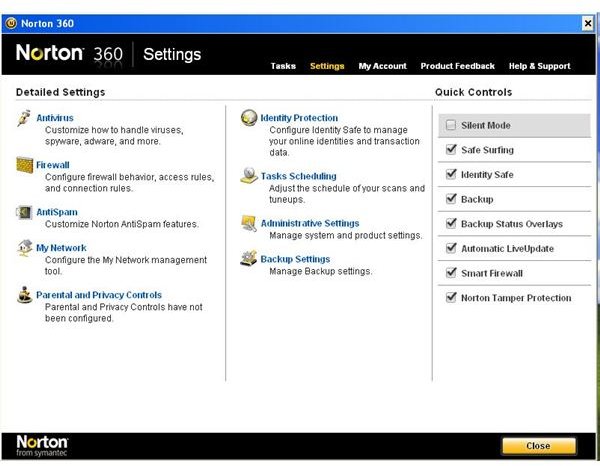 Initial Installation and Setup
Compared to previous versions of Norton's antivirus products, the company has streamlined the installation process for Norton 360. Insert your program CD or double-click the downloaded installation file to begin. Click the Agree & Install button on the installation splash screen, and Norton will complete the rest of the process for you. After the installation completes, the program is launched automatically. At this point, you'll be asked to enter your email address and follow an activation wizard to activate the program. Just enter the requested information for each step to activate your copy..
At this point, you're ready for setup and have a variety of options to select. Click Settings on the top of the main Norton window to see a list of the components in the software. You can change settings for the firewall, spam filter, parental controls, identity protection and backups here. If you want to enable an item, just click the box next to its name on the right side of the window
If you want to fine tune the settings for a specific item, click its individual link to the left of the list to access its advanced settings. Although the advanced options are not required, it is usually a good practice to adjust the options for the antivirus engine. After clicking its link, you can select the Scans and Risks tab to turn on scans for Microsoft Office, compressed files, instant messenger programs and more.
Scheduling and Running Scans
After you complete the initial setup, you are ready to schedule and run scans. During the process, you will get to choose from three types of scans to run or schedule. The first one is called Quick Scan and it scans the critical locations where viruses hide. The Comprehensive Scan scans your entire computer, optimizes your hard disk and makes a backup of your files. This process takes much longer than the Quick Scan, but also protects you from data loss. Let Me Choose is the customized option and lets you choose what to scan and what else you want Norton to do in the process. To run a scan, click "Run Scans" under General Tasks on the Tasks window. Select the type of scan you want to run and click Go to begin the process. Norton will notify you of any malware and will give you options to quarantine, delete or leave the item as it is.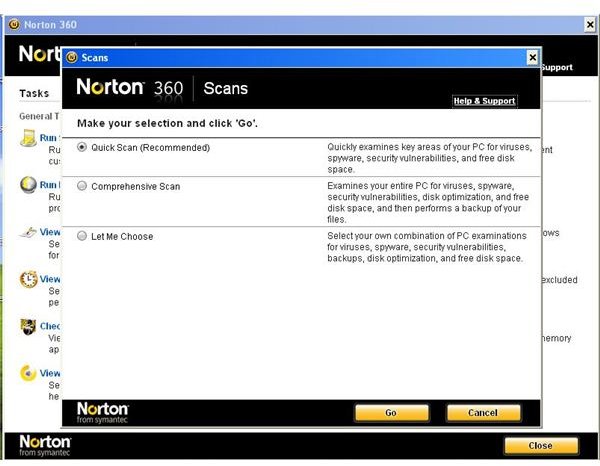 If you have multiple users on your computer and want to make sure scans get done regularly, you can schedule scans. Click Settings to the right of the Norton 360 logo and click "Task Scheduling" under Detailed Settings. Select the Scheduling tab and select a frequency for scans on the Schedule drop-down menu. You can choose to scan the computer weekly, monthly or automatically. If you choose the automatic setting, Norton will perform a scan when no one is using the computer. Click Apply to confirm your scan schedule.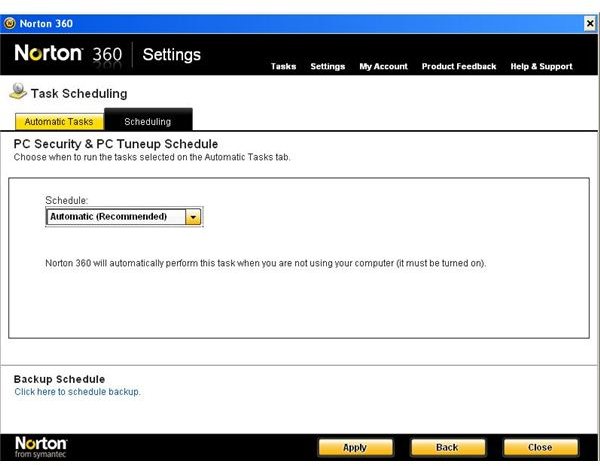 Resources
Source: Author Experience
Norton 360's Official Product Page: https://us.norton.com/360/
All screenshots and references taken from Norton 360 Version 4.0