Incompatible Software: Can I Use Avast and ThreatFire in Windows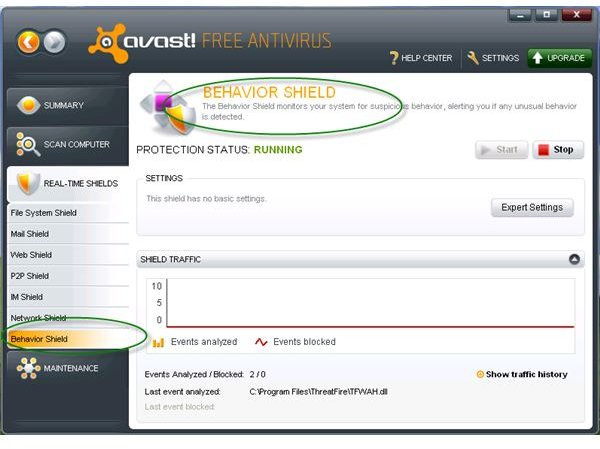 Protections by ThreatFire and Avast
PC Tools ThreatFire monitors the computer for signs of suspicious behavior and potential attacks. It's known as a behavioral-based protection anti-malware program that should run along with antivirus software. Some antivirus programs don't include behavioral-based detection or protection which means ThreatFire complements the protection offered by antivirus software.
The Avast antivirus program was recently updated by adding a Behavior Shield. It's the same protection that ThreatFire is already providing. Avast and ThreatFire problems started when its end-users reported applications such as Firefox, Add or Remove Programs, System Restore, and Thunderbird had stopped working or were not responding.The problem started to occur after installing the new build of Avast 5.
How to Fix Avast and ThreatFire Problem
Most security software vendors and security experts recommend not using security software that provides the same functionality. This recommendation is correct and should be followed. It can prevent system instability and application crashes. It will also prevent interference in removing malware and scanning the computer.
If you are using the new version 5.1.889 or a higher version of Avast and also using ThreatFire, you will need to adjust the settings or remove one of these programs to fix the Avast and ThreatFire problems. Below are some methods you can use to fix problems caused by the recent update in Avast software.
Method 1: Remove ThreatFire Program
Since Avast antivirus added Behavioral Shield, it is best to remove ThreatFire that also provides the same protection. Removing ThreatFire is easily done by using the Add/Remove programs utility in Windows.
After removing the ThreatFire software, your computer will be protected against potential attacks or malware with the same behavior that is known to the Avast detection signature.
Method 2: Removing Behavior Shield by Avast
If you prefer to keep using ThreatFire protection against zero-day malware attacks, you can remove the Behavior Shield in Avast software:
Open the Add or Remove Programs utility in the Windows' Control Panel.

Select Avast program in the list of installed programs.

Click Change or Change/Uninstall button.

Avast Setup will be displayed. Select Change and click Next

Select the box before Behavior Shield to change the mark from "green check" to "red x" or "red cross."

Restart the computer for changes in Avast to take effect.
You can now continue using Avast antivirus and ThreatFire by removing the Behavior Shield component of Avast.
Method 3: Add ThreatFire in Trusted Processes Using Avast
Another method to use to fix Avast and ThreatFire problems is to configure Avast Behavior Shield by trusting ThreatFire processes and drivers. Use this method if you really want to keep both programs and you are not worried about any interference when both programs have found malicious activity in Windows.
To add ThreatFire processes and drivers in Avast follow the steps below:
Open the Avast antivirus program. Click Real-Time Shields at the left pane and select Behavior Shield.

Click Expert Settings button to display the Behavior Shield Settings window.

Click Trusted Processes and click the browse button.

Browse the folder of ThreatFire (C:\Program Files\ThreatFire). Select TFService.exe and click Open.

Click the Add button in the Trusted Processes window of Avast.

Repeat the same steps by adding TFGui.exe, TFHS.exe, TFNotice.exe, TFRC.exe, TFTray.exe, TFUD.exe, TFUN.exe, TFVS.exe and TFWSC.exe.

Browse for C:\Windows\System32\drivers folder to add ThreatFire drivers as Trusted Processes by Avast.

Locate TfSysMon.sys, TfNetMon.sys, and TfFsMon.sys in C:\Windows\System32\drivers and add them to be trusted by Avast Behavior Shield, as well.

Click OK and close the Avast user interface. Avast should now stop monitoring the processes and tasks by ThreatFire. Also, it should stop other applications from responding.
Final Words
You can use Avast and ThreatFire provided that you use either method two or three above. The vendors should be able to release an update to fix incompatibility issues on their product with other software but if you choose one of fix methods, you won't have to wait for such a fix.
Screenshots courtesy of Avast Version 5.0 - https://www.avast.com