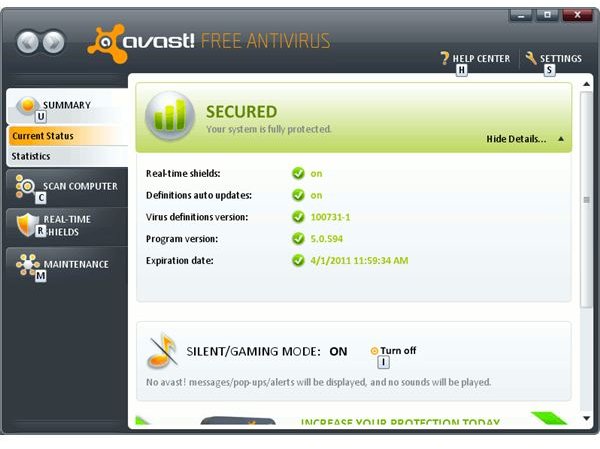 Avast 5 Overview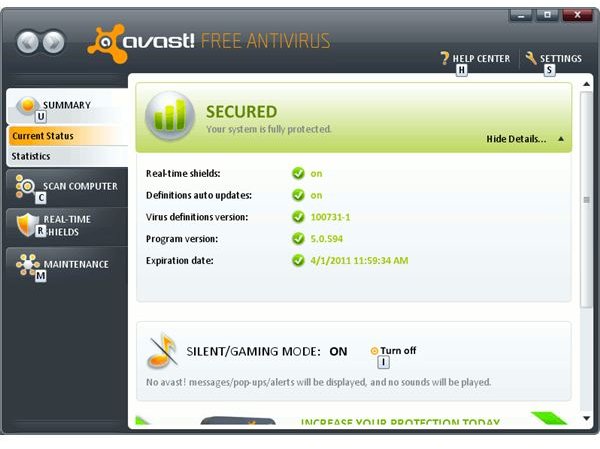 Avast 5 is a really good antivirus program, but it's not that odd that you'd have to remove it.
If you're moving to a different antivirus program, you will probably need to delete it. Having multiple antivirus programs on your computer is generally not a good idea, as similar programs tend to interfere with one another. You will need to remove old programs before installing a new one, or your current Avast package could be corrupted and need to be reinstalled. If you'd like to clean Avast 5 off of your system, you have a few options.
Screenshot courtesy of Avast.
Remove Avast 5 with Windows
The easiest way for most users to remove Avast 5 is to just use the standard Windows uninstaller.
You can access this by going to the Control Panel. Inside, you'll need to either use the "Add or Remove Program" button or the "Uninstall Program" button in Windows 7. This will pull up a list of all the programs on your system. Since you want to uninstall Avast 5, I suggest you just let it form the alphabetic list and pick it out from the top.
Click the icon for Avast and confirm that you want to start the uninstall process. You'll be presented with the Avast 5 uninstaller at this point. Just work through the instructions and let the program run to take it off of your computer.
I would say that this is probably going to be enough for the average user. In general, Windows can do maintenance work alright by itself.
Remove Avast 5 with the Avast Uninstaller
If you really want to make sure that every last trace of Avast 5 is off of your computer, you will want to look into getting the official uninstaller from Avast.
Like I said, this is probably not necessary for the average user. The most practical reason to use an uninstaller is if there are registry keys hanging around and interfering with the installation of other antivirus suites. If your install was also badly corrupted, then you may also want to make sure that all the files are taken off cleanly.
You can currently download the Avast uninstall utility here. Once you download it, Avast suggests that you actually boot into safe mode before you run the program. It's probably a good idea to follow their lead. The program itself is generally fire-and-forget. Once you're ready, launch the uninstaller and confirm your Avast folder from the list. If you didn't put it in a custom location, it should find it all on its own. If it isn't in the usual location, you'll need to pick the folder out yourself.
Find the folder and confirm that you wish to delete it, then just wait for the uninstaller to do its work. This should take out all of the traces of Avast 5 and leave your system open for a new antivirus program or a clean reinstall of Avast 5.