Detailed Trend Micro Titanium Maximum Review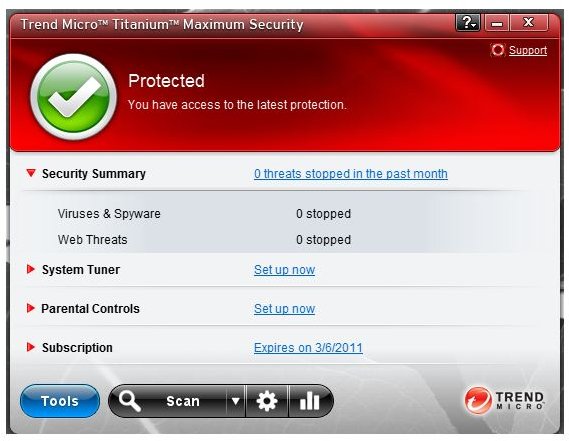 Trend Micro Titanium Maximum Security
When we hear maximum security, we expect good defense against several types of computer and Internet threats. Titanium Maximum Security is the new product offering by Trend Micro that provides all-in-one security for Windows. What intrigued me with this product is the lack of firewall controls and yet, it is called an Internet security suite program. We'll see in this Trend Micro Titanium Maximum review if the decision by the vendor is a good move. We will also check if the malware prevention of Trend Micro has improved. Is Titanium Maximum Security any good? Read on to find out.
Installation and System Requirements (4 out of 5)
Trend Micro Titanium Maximum Security runs on XP with Service Pack 3, Vista with Service Pack 1 or higher, and Windows 7. It's best to use Titanium Maximum Security on a computer with a broadband or faster Internet connection to enjoy the cloud-based antivirus technology.
Installing the product is quick and straight forward. It simply installs all components without having to go through a long process of installation or customization. The problem is some features are disabled by default which is quite odd. We'll discuss these disabled features in the features and options section of this article. The program will add a toolbar for Internet Explorer and Firefox browsers. The toolbar is used to display the security rating of web addresses.
Features and Options (4 out of 5)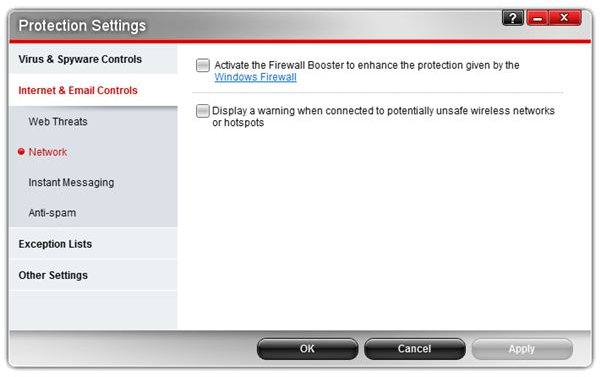 The features in using Trend Micro Titanium Maximum Security are as follows:
Note that some features are disabled or turn-off by default.
Real-time virus and spyware protections - using the Trend Micro Smart Protection Network which is the cloud-based antivirus technology of Trend Micro and what most antivirus vendors have added protecting computers from advanced threats. The on-access detection for compressed files is not enabled by default. It's recommended to enable this for extra layer of protection against unsafe compressed files or when downloading zip, jar, cab or rar file extensions.

Firewall Booster - a surprising but smart decision by Trend Micro is when they removed its firewall controls. The firewall protection by Trend Micro is now called Firewall Booster. This feature is disabled by default. If a user enables the Firewall Booster feature for Windows firewall (which you should!), the Intrusion Detection System and Generic Stream Scan** is activated. Note that

will report on two software firewall running in Windows. Ignore this warning because you only have one firewall enabled and that is Windows' built-in firewall with intrusion detection system by Trend Micro.

Anti-spam - spam and unsolicited advertisements can be filtered by the program but this is also disabled by default.

Secure Erase - secure delete or shred files.

Parental Controls - protect children from visiting unwanted and malicious websites and can limit them in using the Internet or PC, and view reports.

Vault - keep private files private by putting them in Trend Micro vault.

System Tuner - cleanup the system's unnecessary files, registry, browser history, startup manager and Internet cookies.

Data theft prevention - stored personal and private information such as your credit card number, email address, mailing address and others will be guarded by Trend Micro.

Backup with sync and sharing - the program includes 10GB of storage space to backup important files.

Web protection - malicious websites and scripts will be prevented from loading. Search results using search providers (Google, Yahoo, Bing and others) will be marked with safety ratings.

Option to use free tools that were made available to TM Titanium Maximum Security customers. You can find the list of free tools at the vendors' website.
In addition to the above features, there is option to run a quick, custom and full system scan. TM also provides a report of the found threats in your computer. Updating the program is automatic but you can always manually check for updates by clicking "Help" and then click "About" or right-click the tray icon of Trend Micro and select "Check for program updates".
** Generic Stream Scan - this technology detects network threats and is updated automatically.
User Interface (5 out of 5)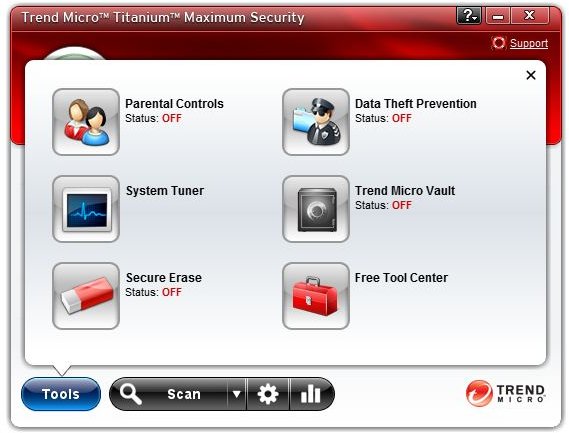 A big overhaul on the user interface of Trend Micro products is seen this time and I believe that it's the best UI I've seen. It's slim and sleek with better buttons and navigation controls. The tooltips for each menu does help a lot in using the program. I like the way the tooltips works in the UI because there's no delay.
Advanced features of Titanium Maximum Security are not visible in the main window but in another Window that will pop-up only instead of opening another window.
Performance (4 out of 5)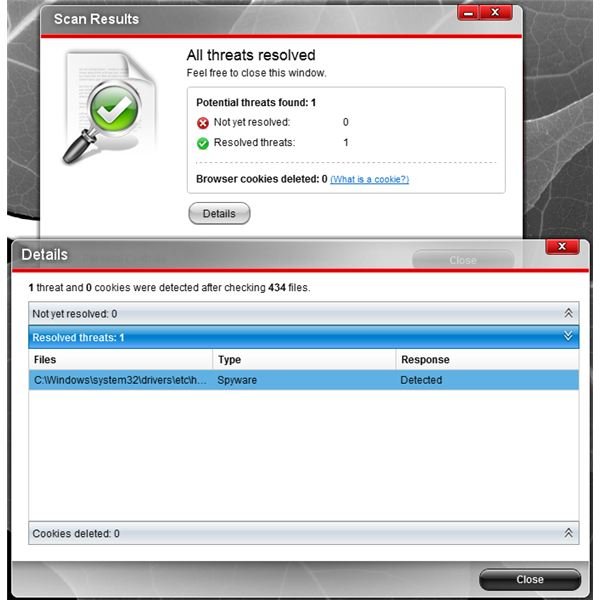 The all-in-one protection offered by Trend Micro does not slow down the computer or other applications, even if its processes are using 61MB of memory. The scan time is also acceptable for it finished running a quick scan in less than 1 minute while a full system drive scan with 150GB hard-disk space has finished in less than 45 minutes.
Trend Micro scanner did report a false detection on my clean test system. The quick scanner found Adware_MemWatcher in the Windows hosts file, which is a false positive because I'm using a customized hosts file that blocks malicious websites from communicating to my computer or network.
Browsing Protection (5 out of 5)
The web browsing protection offered by Trend Micro is impressive. I visited several malicious URL's and tried downloading unsafe files to check the ability of the program to prevent infection. 9 out of 9 URLs were blocked in real-time. Below are the screenshots of the detection by Trend Micro Titanium Maximum reviewed here.
Screenshots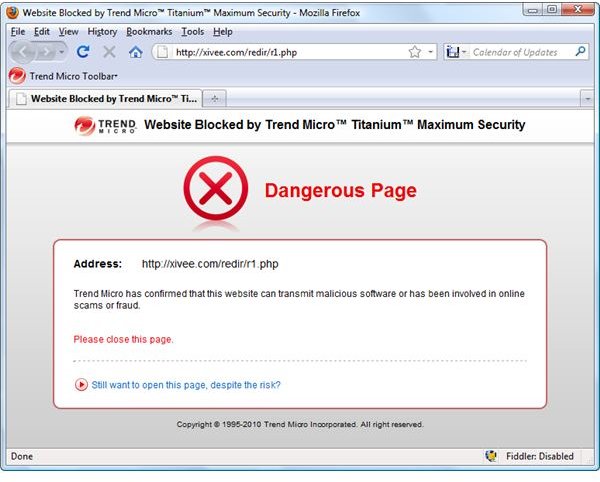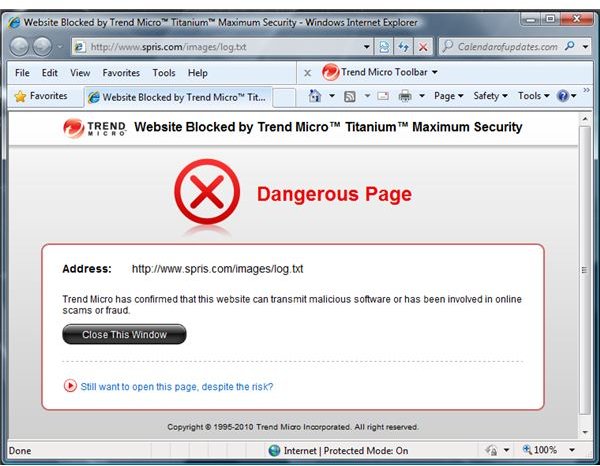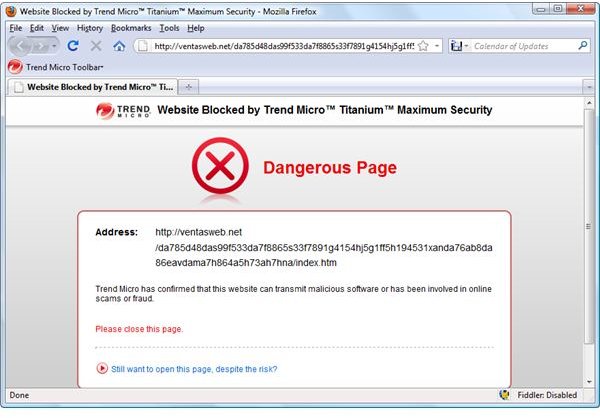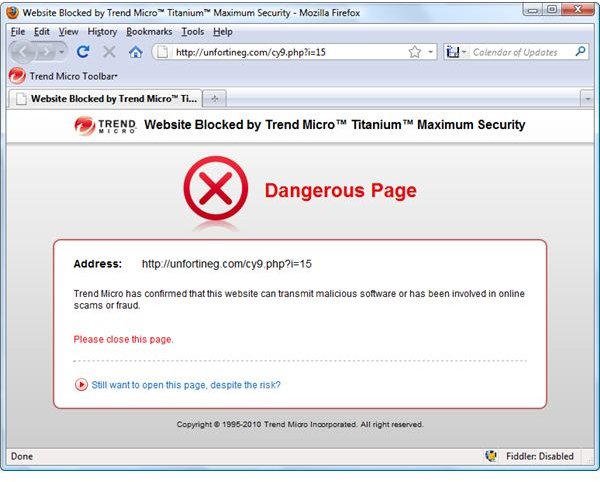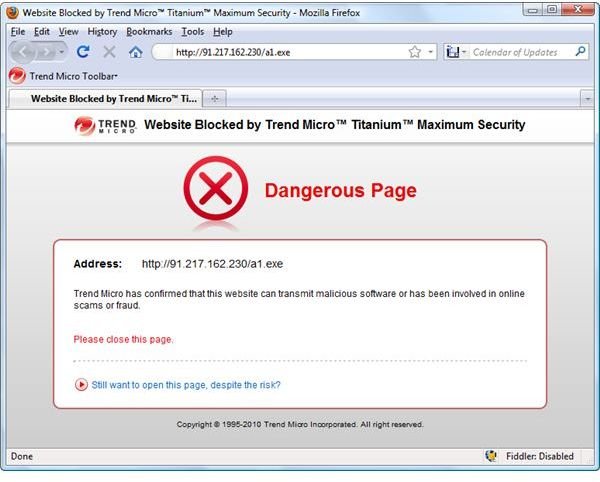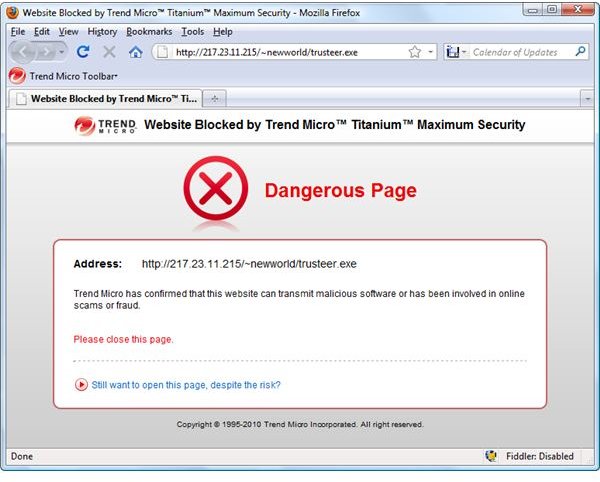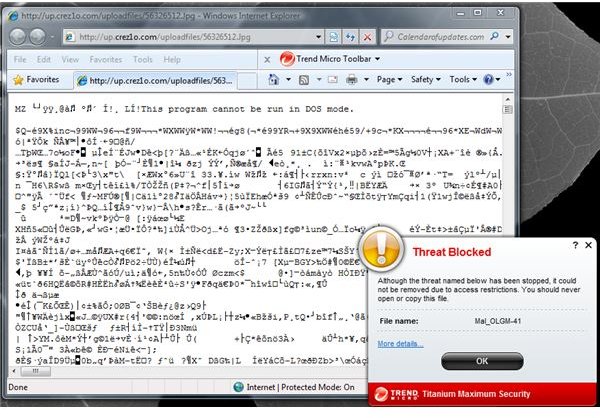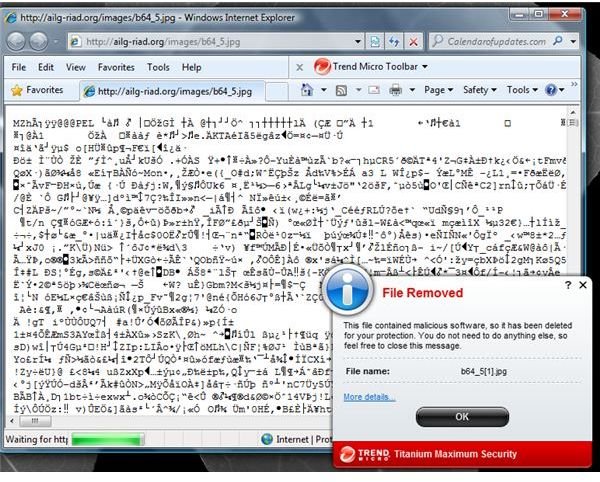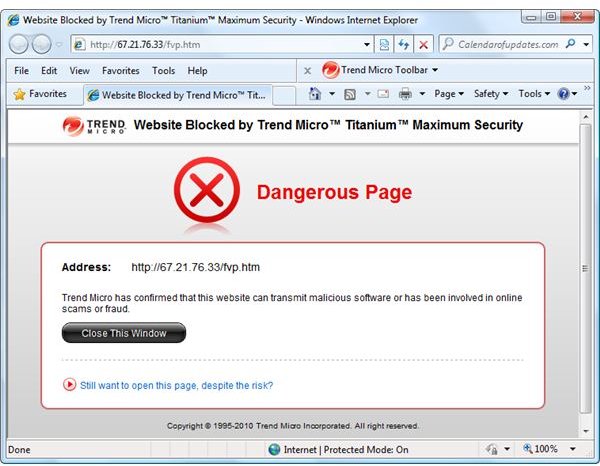 Malware Protection (5 out of 5)
This review is not complete without checking the real-time protection by Trend Micro antivirus on positive malware samples. I transferred 150 malware files to the system drive to check the ability of the program to stop and delete the threats. The real-time protection has detected and removed 143 out of 150 malware samples, leaving the computer at risk from 7 threats. Every threat that it detected were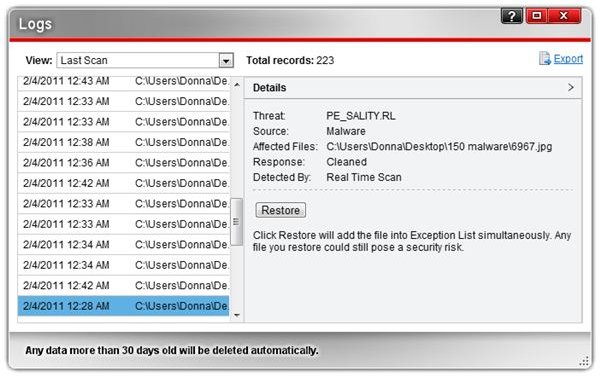 .
Price to Value and Support (5 out of 5)
Trend Micro Titanium Maximum Security costs $80 with 1 year subscription for up to 3 computers. Technical support is provided by visiting support forums or logging into your account at the Trend Micro website.
Conclusion
The addition of the Firewall Booster in Trend Micro antivirus is indeed a good move. I mentioned in my comparison of software firewalls for Windows that a good firewall comes with an Intrusion Detection System (IDS) and this is what the built-in firewall in Windows is missing. Trend Micro's decision to add a Firewall Booster instead of the traditional firewall controls is a smart move. Also, the malware prevention offered by Trend Micro has improved big time for adding Trend Micro Smart Protection Network technology.
Image credit: Screenshots taken by the author.