Free Spybot Search and Destroy Software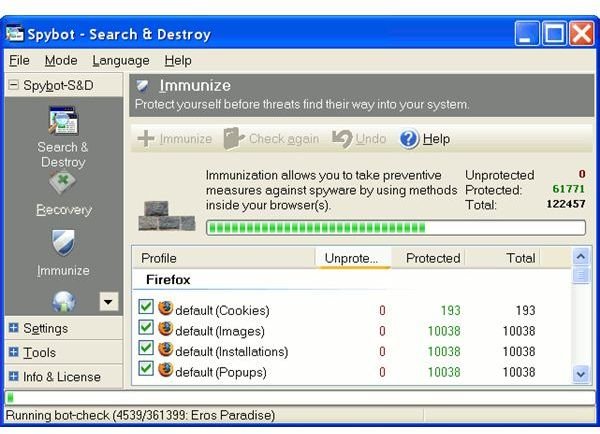 Spybot Search and Destroy Software - Overview
Spybot Search and Destroy is a great tool for protecting your computer against spyware. It's fairly specialized, but it's free and easy to use. It's main competitor is Ad-Aware, which is also a fine product. If you'd like a quick rundown of these programs, we have a comparitive review of Spybot: S&D.
If you'd just like to learn a bit more about what free Spybot Search and Destroy software can do for you, just read more below. I'll walk you through the installation process and cover what neat features it has to offer.
Spybot S&D - Installation
Spybot Search and Destroy is quite easy to install. You just have to go to the official site at https://www.safer-networking.org/en/mirrors/index.html. Once you click on the download link, you'll be presented with a list of mirrors.
They offer a few official download links that are just tied to the Safer-Networking website, although the ad-supported official mirrors should be fine too. As a rule, it's kinder to use an ad-supported external mirror if you don't plan to donate to the main site and pay down their bandwidth.
Regardless of how you manage to get your installer, wait for the download to finish and just run it. The default setups should be fine, although be careful what you agree to. Teatimer's a good program, but it's a little hard on processors.
Once the installation finishes, you can just run it and allow it to load. Update your program and then get ready to use some of the cooler features inside.
Spybot Search and Destroy - Features
Spybot Search and Destroy has a basic spyware scanner in it. It works as you'd expect it to work. It has fairly good detection, and it is generally quite good for taking out some minor annoyances, such as lingering advertisements or tracking cookies.
On your first installation, you will have an opportunity to also make a backup of your registry. Spybot Search and Destroy software has good recovery options in case you make any mistakes while working.
There should be a secure file shredder program. I doubt the average user will need this very often, but it's a nice feature to clean up secure files.
There are also a few browser plug-ins for IE that can help your security.
Teatimer is technically a separate program, but it's a good source of active protection that monitors your computer and keeps an eye on the registry. It will send up alerts any time a major change happens and should prevent some of the more nasty pieces of spyware from drastically changing anything on your computer.
The really interesting feature is the "Immunize" button though. By using the immunize button, you can pull up an analysis of your browsers and use Spybot S&D to close security holes and shut down exploits. It's a great idea and it doesn't take too much time. While it may not give you a fortress, it does make the malware work harder for it.
If you'd like to learn more about its detection rate and general performance, you can look at our more technical Spybot Search and Destroy review.