The New McAfee AntiVirus Plus 2011 Review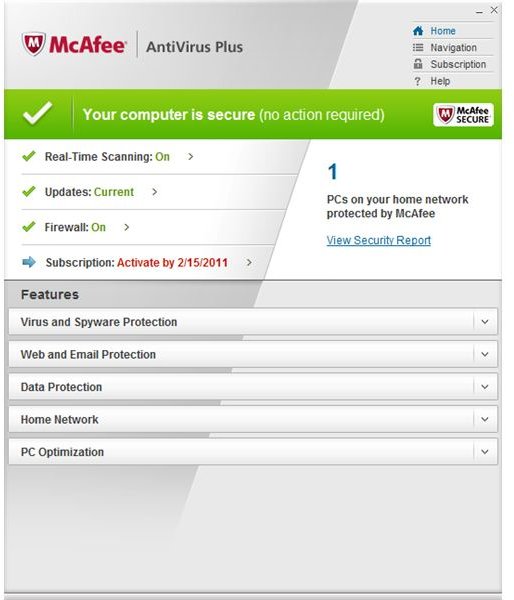 McAfee AntiVirus 2011
Similar to the previous version of McAfee AntiVirus, the new edition provide protections for virus, spyware, web and e-mail. It continues to offer a personal firewall, browser add-on, shredder, PC optimization, and viewing of devices connected using a home network. So what's new in McAfee AntiVirus Plus 2011? Should you upgrade or use the new edition?
New and Improved Features
McAfee AV Plus 2011 highlights the following new and improved features:
Idle timer and scheduler – the program will no longer disrupt the user for any scheduled scans because the antivirus program will only run a scan when the PC is not in use.
Home Screen – the GUI of McAfee AntiVirus Plus 2011 may not have new looks but the home screen or security center has been updated to display the security status of the system. It will also report how many PCs are covered by the license.
The Help center, personal firewall, alert system, faster scans, installation and SiteAdvisor has received improvements.
Integration to Outlook 2010.
Easy account management.
Integration to Network Manager in Vista and Windows 7 – changes made to Network Manager of Vista or Windows 7 will now update McAfee firewall setting.
System Requirements and Installation (3 out of 5)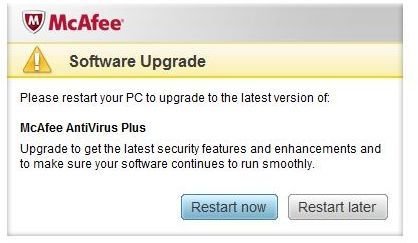 McAfee Antivirus runs on 32-bit and 64-bit editions of Vista and Windows 7. It can be installed to XP 32-bit but not to 64-bit edition. The supported browsers of SiteAdvisor are Firefox and Internet Explorer. McAfee products do not support multi-touch screens but will continue to protect the computer.
Installing McAfee is a breeze since there is no need to restart the computer even if you chose to install the personal firewall. Like the previous versions of McAfee AntiVirus Plus, the end-user can customize the installation. You can select to install only the virus protection without installing shredder, QuickClean, personal firewall, and SiteAdvisor.
The only time you'll have to restart the computer is when the built-in updater downloaded and installed program updates. Existing customers of McAfee can upgrade to the 2011 edition as long as the subscription is active. If you are going to upgrade the computer from earlier versions of Windows, it is recommended to update to the new version of McAfee that provides support to newer operating systems such as Vista and Windows 7. Only upgrade the operating system with McAfee antivirus after installing the latest version of the antivirus program.
If you opted to install McAfee SiteAdvisor, an option to enable secure search will be displayed. Secure search is not required to use because the product will continue to check the status of sites that you will be visiting. Secure search only integrates a third-party search provider.
The installation of McAfee AV 2011 will add mcagent.exe in the startup item of Windows. It will also install a service (McSvHost.exe) that is integrated to many components of the antivirus program. Other services that you will notice are mcods.exe, mcshield.exe, mfefire.exe, and mfevtps.exe. Those are required to be running to enjoy full protection offered by McAfee AntiVirus Plus 2011.
Performance of McAfee AntiVirus Plus 2011 (4 out of 5)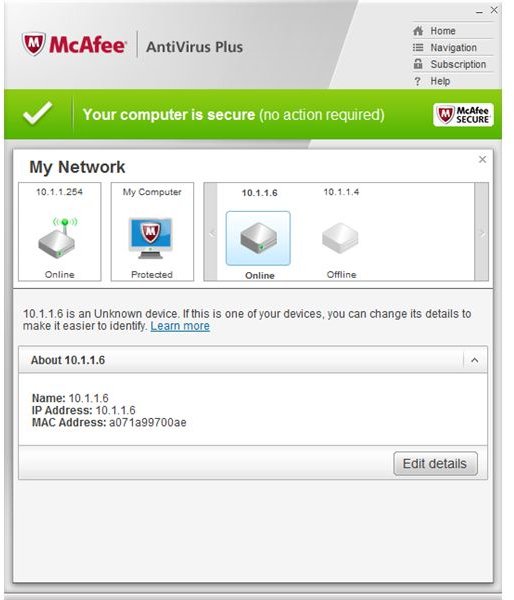 McAfee Antivirus can use 50MB to 70MB of memory and you can blame McAfee on-access scanner service because it is using large part of McAfee's memory usage. The computer does not show performance issues except when the program connects to its server to display notification about your account e.g. if your product is not activated yet.
The taskbar and desktop stops responding while McAfee AntiVirus Plus 2011 is checking the status to McAfee servers. This is annoying if you are working on the computer.
The scan time using McAfee AV is indeed faster than the previous version which is a huge improvement. The home network detection in McAfee AV is neat because it does not only detect the laptop that I allowed access to the network but it can also detect my smart phone device – a Nokia N8 phone. The only issue is that it does not display the device name. It only displays the assigned local IP address.
Browsing Protection (4 out of 5)
McAfee's antivirus program provides real-time protection while you browse the Internet or download files. I saw it blocked some unsafe downloads but allowed others. The screenshots below are examples on how McAfee may display or not display threat notice.
Note that the browsing protection of McAfee Antivirus Plus 2011 does not only rely on SiteAdvisor, but also depends on the virus database installed on the computer so as to keep it up-to-date to get better protection when browsing the internet.
Images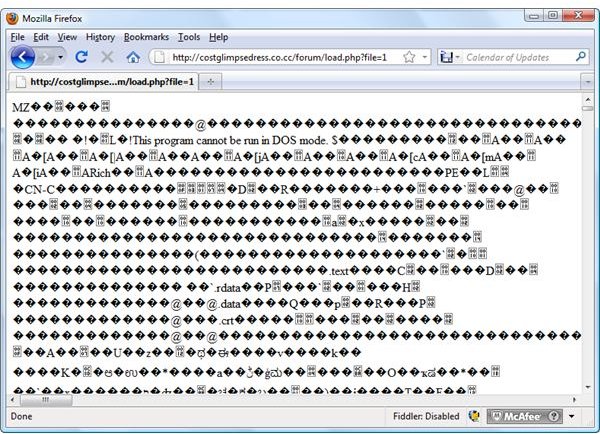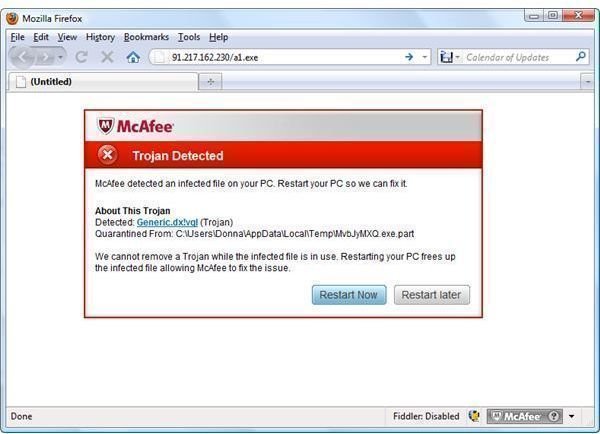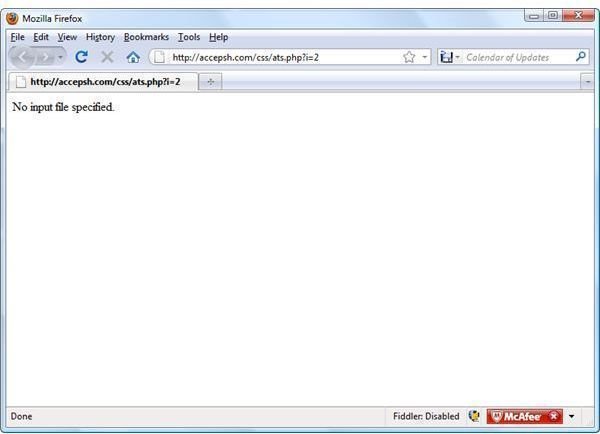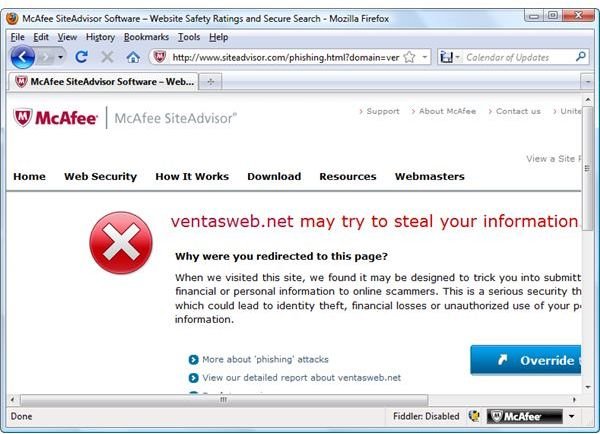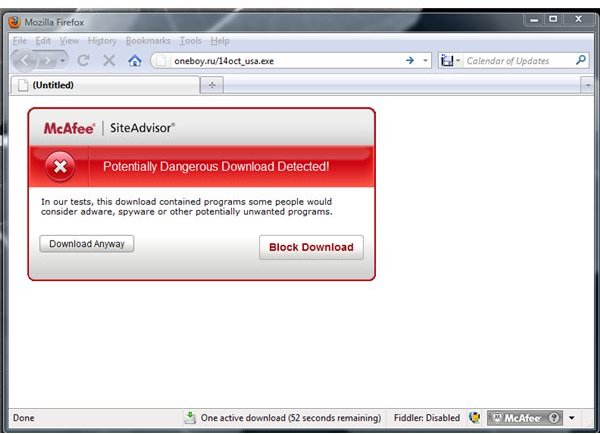 Malware Detection (5 out of 5)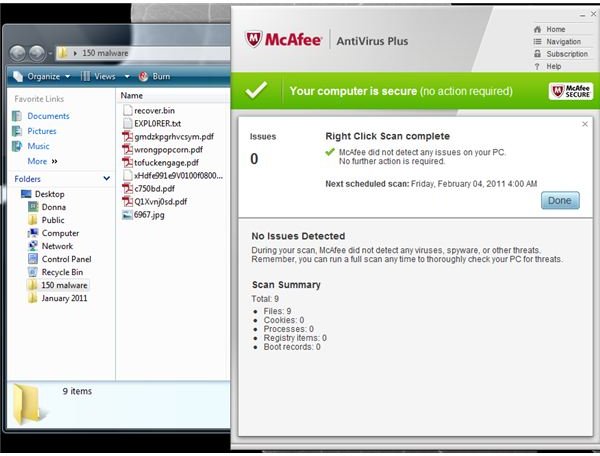 The virus detection by McAfee continues to be impressive. I transferred 150 malware samples in the system drive. The real-time protection is able to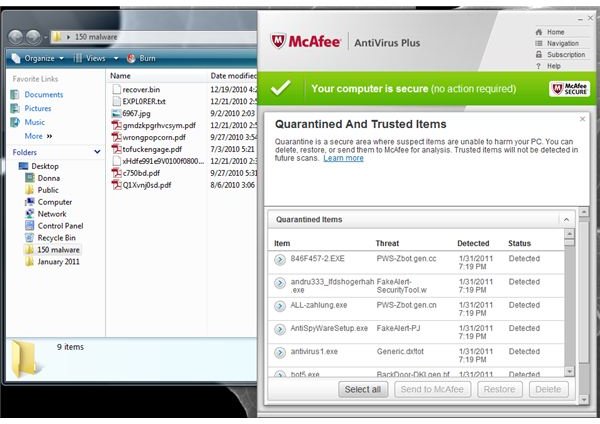 141 out of 150 malware files. The on-demand scanner is able to disinfect 1 out of 9 remaining malware files which means McAfee only leaves 8 malware files undetected.
Support and Price to Value (4 out of 5)
At $49.99, McAfee AntiVirus Plus 2011 can fit the bill because it provides above-average protection against malware and viruses. Support is provided by McAfee via community forums or a user-account on the McAfee website.
Conclusion
It's easy to setup the antivirus program by McAfee but navigating the settings can confuse new users. Overall, the program is worth using or upgrading to because the advanced malware detection by its real-time scanner is great.
Image credit: Screenshots taken by the author.