Free Malwarebytes Antimalware Download Review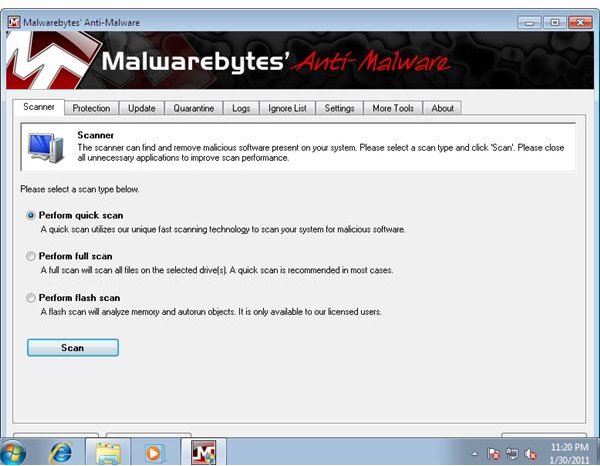 Introduction
Free malwarebytes, version 1.5, as indicated on the vendor's website, is a sophisticated tool against infections of viruses, worms, Trojans, rootkits, spyware, and other malicious pieces of software.
System Requirements & Setup (4 out of 5)
Malwarebytes says that its Anti-Malware version 1.5 supports the Windows 2000 operating systems and later, including 32-bit and 64-bit Windows 7. On our Windows 7 test machine the software uses approximately 20 MB of disk space.
Setup involves the following steps: selecting setup language –> setup wizard –> EULA –> Information Window about the latest version –> Install starts. The next screens present the install destination path –> Start Menu Folder selection –> shortcut placement on desktop and Quick Launch –> install summary –> install executes.
Upon completion of setup, the software starts and updates its database.
Interface & Features (2 out of 5)
The GUI of Free Malwarebytes is logically organized, but not very esthetic. Menus, with little configuration options, are found in tabs.
On the scanner tab, you find Quick Scan and Full Scan, which speak for themselves. Flash Scan checks for memory-resident malware and automatically started programs in autorun. This and many other features cannot be used with the trial edition.
This, for instance, is the case for real-time protection, which you find on the next tab. The next useful "free" tab is Logs, where you supposedly find results from scanning and items detected during runtime. Then, on the Ignore tab, you can whitelist trusted applications.
It is worth noting that the Settings tab contains an activated checkbox stating that you want to report usage statistic to malwarebytes.org anonymously, and the Tools tab includes FileASSASSIN, a utility that deletes any type of locked files.
We are not sure how capable Malwarebytes Anti-Malware really is. There is too little information and little can be configured.
Performance
As site protection, real-time protection and scan scheduling of Malwarebytes - version 1.5 cannot be tested free, we do not want to rate performance.
Help and Support (3 out of 5)
Free support is available through email and by means of a forum. Phone support is also available, however, at hefty costs.
(2 out of 5)
Malwarebytes Anti-Malware for personal use has a onetime price tag of $24.95. For annual corporate licensing you need to contact the vendor.
Other full-featured applications, such as Spybot, are free. For little more than the price of Malwarebytes Anti-Malware, you can purchase the reputed PC Tools Spyware Doctor 2011 with AV, protecting up to three computers.
The Bottom Line
In this free Malwarebytes version 1.5 review, we have caught a glimpse on the latest suite of antimalware from Malwarebytes, which is a black box in large aspects. As things currently stand we cannot recommend it, but we will openly look into future releases.
Computer security and computer user security is very important, your files, data and online identify are at stake. Therefore, we recommend you look at these top-notch products to have maximum protection from a renowned vendor: