Norton 2011 Internet Security Review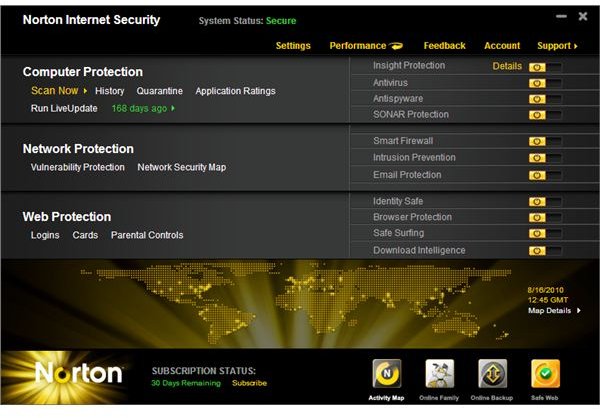 System Requirements (5 out of 5)
Norton Internet Security 2011 operates on 32-bit and 64-bit editions of Windows 7 and Windows Vista, as well as on 32-bit Windows XP with SP 2 or higher. The security suite requires a minimum of 300 MB free disk space, and a 300 MHz processor for Microsoft Windows XP or 1 GHz for Vista and Windows 7. Supported browsers - on 32-bit systems only - for vulnerability protection, identity safe, anti-phishing, and safe web search are Firefox 3 and Microsoft Internet Explorer 6 and their later editions. Norton's anti-spam module is available for MS Outlook 2002 and MS Outlook Express 6 including their later releases, as well as for Windows Mail.
Setup (5 out of 5)
Setup starts with Agree & Install, which covers the end user license agreement and joining the Norton community watch, an anonymous threat feedback mechanism to Symantec Norton. Norton services are started next, and soon thereafter the install routine completes. Setup then connects to the vendor for license activation. Upon completion of activation Norton Internet Security 2011 is ready for use, yet it is strongly recommend you run Live Update from the Computer Protection menu as malware signature files, and thus your protection, aren't up-to-date otherwise.
Interface (5 out of 5)
The GUI of Norton Internet Security dubbed Control Center has a really cool look and feel including a world map of cybercrime activity in the last 24 hours, function-wise it is state-of-the-art with logically organized menus including useful tooltips. Great reporting functions and a history are also included.
Protection Features (5 out of 5)
Norton Internet Security 2011 protection combines computer protection, network protection and Web protection into a suite which defends you against any sort of computer and Internet threats.
For computer protection through scanning and real-time monitoring of processes you have antivirus engine, an antimalware engine, Insight Protection for white-listing known, good applications, as well as SONAR, which is Norton's proactive threat detection mechanism to identify and eliminate dangerous pieces of software based on behavior (heuristics).The scan options can be configured to suit your needs along with scheduling in the menu bar settings. The security modules not only stop viruses and potentially unwanted software, but also keep keyloggers, rootkits and Trojans at bay.
For Network protection Norton Internet Security 2011 has an integrated firewall monitoring and controlling inbound and outbound traffic, intrusion detection by means of watching out against Windows and application exploits, as well as email protection which includes email virus scanning and anti-Spam filters. Web protection includes a password manager for web site logons as well as an autofill option for frequently visited websites, whereas browser protection fends off vulnerabilities in Internet Explorer and Firefox as exploited by malicious web sites and malware.
Norton's Safe Surfing prevents you from visiting fraudulent or malware infected sites; downloads are checked for being safe to install using reputation gained from Norton Community Watch.
Also included in the latest release of Norton Internet Security are parental controls for controlling your kids' online activities. Should malicious software stop your computer of booting properly, you can make use of Norton's bootable recovery tool, a downloadable image, to clean your PC by attaching a USB device or DVD drive for example.
Last, but not least, Norton Internet Security 2011 makes use of pulse updates: your computer receives the latest signature every couple of minutes by means of a silent background process to guard you from emerging threats.
Performance (5 out of 5)
While using Norton Internet Security on our test machine we noted normal systems performance without slow-downs, and there were no unnecessary popups. Frequent (pulse) updates ensure maximum protection around the clock.
Help and Support (5 out of 5)
The software ships with a comprehensive guide, and in the GUI you have integrated support menu with links to tutorials and one-click support to overcome common issues. Free vendor support by email, live chat and phone is guaranteed 365 days a year.
Price to Value (5 out of 5)
The Norton Internet Security 1 year protection for up to 3 PCs costs $69.99, prices slightly decrease for longer subscription periods. For this competitive price you get top Internet and computer protection by an award-winning protection suite from a reputed vendor.
Norton Internet Security 2011, fully functional, can be tried 30 days for free. Please find the link for the trial version in our references section.
The Bottom Line
As we have seen in this Norton 2011 review, this protection software suite defends your computer and your online activities to a maximum at an attractive price. Buying Norton's latest security suite simply lets you use your computer worry-free, set-and-forget if you want. Besides that, this computer protection suite has the coolest look! An online backup option is also available for an additional fee.
If budget is a concern don't miss out our review on Avast 5.0 Internet Security, which has a low price tag.
References