New Panda Antivirus 2011 Review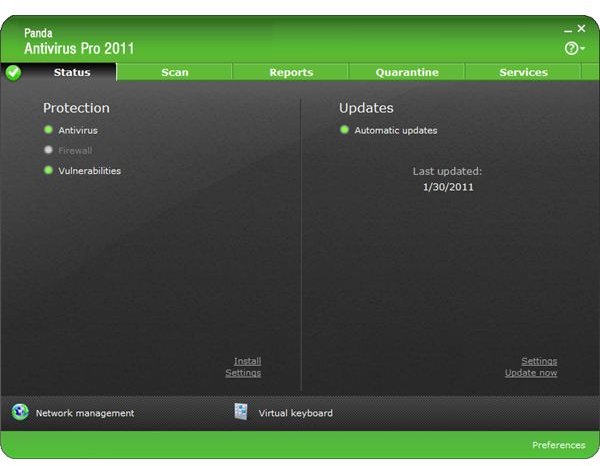 Panda Antivirus Pro 2011
Panda Security is now offering the 2011 edition of Panda Antivirus. The version number of Panda Antivirus 2011 in this review is version 10.00. It features new and improved security options that you might want to consider using to protect your computer, e-mails, browsing, and instant messaging activities.
Panda Antivirus Pro 2011 includes malware protection in real-time and an on-demand scanner. It is also offering a vulnerabilities scanner and neat utilities.
System Requirements and Installation (4 out of 5)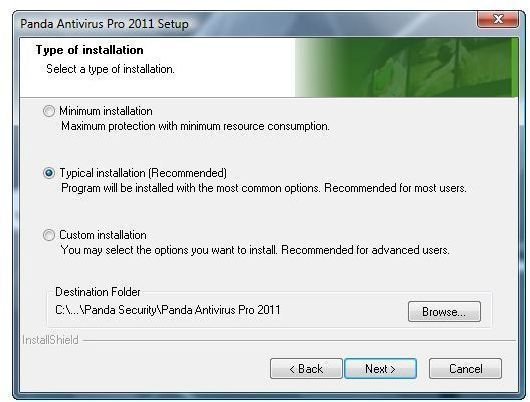 What is neat with Panda Antivirus 2011's installer is that it's not bundled with a third-party toolbar or any browser add-ons. There's an option to install the program using three methods: Minimal, typical and custom installation.
The default installation method uses a typical installation which means the program will not install the firewall protection. The firewall program by Panda Security can be installed any time the user decides to use the service.
A PC restart is not required after installing Panda AV unless the end-user chose to install the firewall protection by Panda. The program will automatically check for program and virus database updates and a computer restart is recommended. The only issue that I noticed is that it took 3 minutes for Panda Antivirus to restart the PC.
Panda AV 2011 runs on Windows 7, Vista and XP computers. It does not support the 64-bit edition of XP.
Features and Options in Using Panda Antivirus v10 (5 out of 5)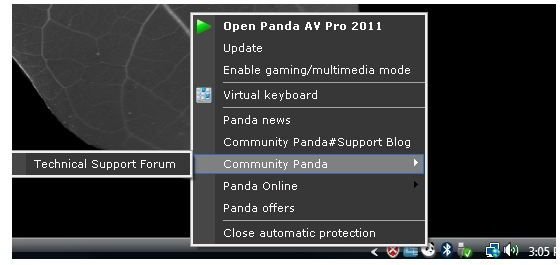 The antivirus program in Panda AV 2011 provides an option in handling known and unknown malware. Other features in Panda Antivirus 2011 are as follows:
On-access protection and on-demand scanner with heuristic detection capabilities.
E-mail and instant messaging protection
Support for Google Chrome, Firefox and Internet Explorer
Virtual keyboard
Sandbox using Panda Safe Browser
Game and multimedia mode
Optional personal firewall with Home Network Manager
Context menu scanner
Exclusion and quarantine manager
Activity logging
Built-in Updater
Panda AV does not add any browser helper objects which means any browser can be protected when browsing the Internet or downloading files.
Performance and Malware Detection (5 out of 5)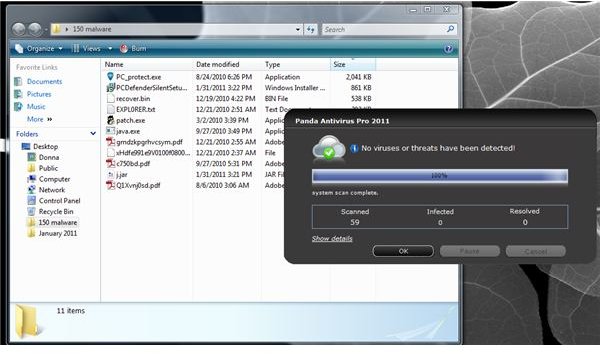 In this Panda Antivirus 2011 review, I put to test the real-time protection of the antivirus program by transferring 150 malware samples. The on-access protection module is only able to detect 63 out of 150. I started using its on-demand scanner which uses Collective Intelligence, the cloud-based antivirus technology. It was able to detect another 72 malware samples which means it leaves the computer at risk with 11 malware files.
Using Panda AV does not show any performance issue, even during a scan or while using widely-used applications. The program is only using 5MB of memory while it is monitoring for malicious activity.
Price to Value and Support (3 out of 5)
Panda AV costs $50 with 1 year product support and updates. The price of its single license antivirus program is similar to Kaspersky AV 2011. Panda Security is providing email for technical support, if the user created an account.
Conclusion
Panda Security only provides 93% of malware detection during this Panda Antivirus 2011 review. It's considered an average protection with important features that most end-users require to help protect Windows and data from Internet threats.
Image credit: Screenshots taken by the author.