McAfee Total Protection 2011 Review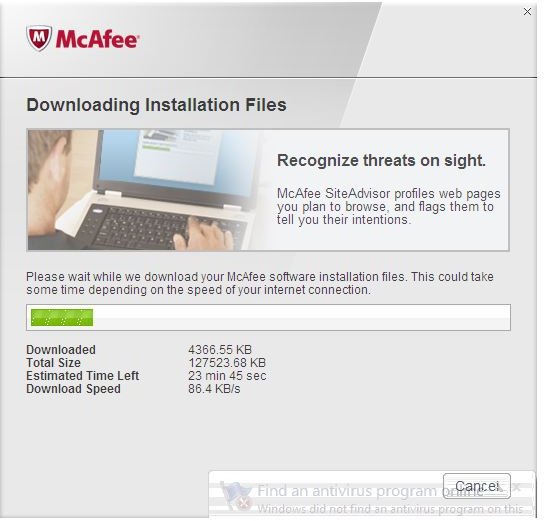 Introduction
McAfee Total Protection extends McAfee Antivirus Plus with McAfee Anti-Theft encryption vault, online backup, spam filters, email protection, home network defense, McAfee SiteAdvisor for safe browsing as well as parental controls to monitor your kids' online activities.
System Requirements (5 out of 5)
McAfee Total Protection 2011 runs on 32-bit and 64-bit editions of Windows Vista and Windows 7, as well as on 32-bit Windows XP with SP2 or later. It requires 200 MB of free hard disk space and a CPU speed minimum of 1 GHz. The complete list of requirements including supported browsers, email and Instant Messaging programs, as well as the requirements for McAfee's anti-Spam toolbar plug-in can be found on the vendor's website.
Setup (5 out of 5)
The software install comprises the following steps: activation of McAfee total protection, install then leads over to downloading the source files. The next screen displays the consent to anonymous McAfee Customer Response, a threat feedback mechanism benefiting the community of McAfee users. The files are then being installed, and when you click Finish on the next windows you exit setup and are ready to go.
Protection Features (5 out of 5)
McAfee Total Protection 2011 fends off viruses, Trojans and other sorts of malware and spyware through a real-time protection engine which watches files and processes in use. Complementary scans identify and eliminate malicious pieces of software hiding in files and archives. As a best practice it is recommend scheduling regular scans which suit your needs.
McAfee's Web protection mechanism include a two-directional firewall, including a gaming mode suppressing pop-ups when you launch applications in full screen view, as wells as Site Advisor Plus, a link scanner which informs you whether websites are safe before you visit them. Email protection includes total protection taking care of dangers arriving by email such as phishing attacks, and fighting unsolicited mails by means of filters and friends lists.
McAfee Data Protection: The integrated online backup with 2 GB remote storage capacity lets you store away a copy of your most important files and photos. The remote storage is powered by Mozy, and thus extendable according to your capacity needs.
In turn, when you want to make sure no longer needed files containing sensitive information are permanently deleted you can make use of the shredder, which you can configure in the Quick Clean configuration menu under PC Optimization, which also lets you run defragmentation routines and maintenance tasks.
What's more is that McAfee Total Protection 2011 includes Home Network Defense; that is intruder blocking, and an overview and management options of your computer's interaction with other PCs and devices. Last but not least there are parental controls to protect your children from the dangers lurking on the Internet.
Interface (4 out of 5)
McAfee Total Protection 2011 is logically organized and allows for headache-free navigation. Menu items include a link to further information, yet the look and feel of the GUI is not what makes McAfee Total Protection stand out against its competitors.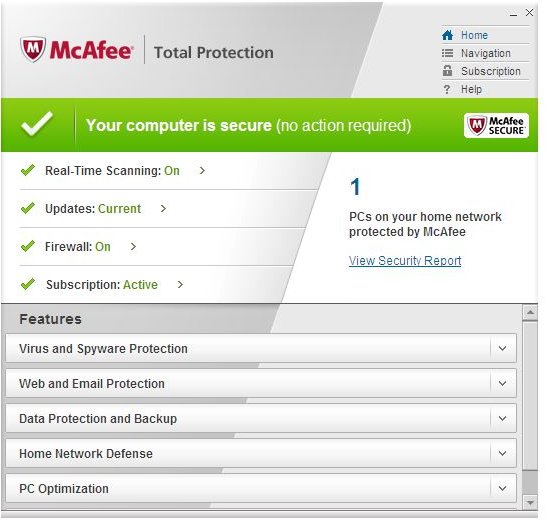 Performance (5 out of 5)
What makes McAfee stand out from the croud is performance. When you choose McAfee Total Protection 2011 you get award-winning protection against malware: McAfee is said to have the highest virus recognition rate [1], and at no time has the test system shown signs of slow-downs. On the plus side we also note the integrated link scanner Site Advisor Plus which some competitors lack, but has proven very effective against fraudulent and malware infected web sites.
Help and Support (5 out of 5)
The McAfee Total Protection 2011 interface contains a help menu where you can find links to help files, FAQs as well as virtual assistants. Total protection support is also available by means of McAfee chat and email help throughout the entire subscription period. Phone support is free for the first 30 days since product activation.
Price to Value (4 out of 5)
The regular price tag of McAfee Total Protection 2011 is $89.99, the protection for up to 3 PCs for 1 year is currently $20.00 off, which brings price down to $69.99. The vendor gives a 30 day money back guarantee. Alternatively, a fully functional 4 weeks trial edition of total protection 2011 (URL in reference section) can be obtained to try before you buy.
The Bottom Line
McAfee Total Protection 2011 gives you a high level of computer security at a competitive price including online backup and restore. The security of both the computer as well as the computer user has been lifted to the next level by McAfee Customer Response automatic threat feedback and Site Avisor Plus to fend off phishing sites and to prevent malicious drive-by downloads.
Should you have no need for online backups, and also to learn about another top Internet security product, make sure to check out Norton Norton Internet Security 2011 - maximum protection including a really cool interface, as well as Avast 5.0 Internet Security with its unbeatable price.
Reference
McAfee Total Protection vendor product page - https://home.mcafee.com/store/total-protection?ctst=1
Trial version download link: https://home.mcafee.com/Store/Downloads.aspx
Screenshot taken by the author
[1] Reference: AV-Test.org