New ThreatFire Review - Free Malware Protection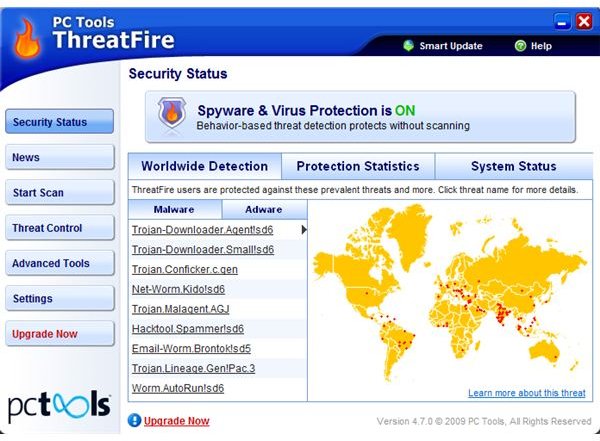 ThreatFire Antivirus
PC Tools ThreatFire is free software that can protect Windows computers against virus, spyware, trojans, potentially unwanted programs, rootkits and other types of malware. It is also known for providing zero-day attack protection from malware that is distributed by crooks when new security vulnerability is in the wild.
ThreatFire runs along traditional antivirus software to help detect and remove new and known malware.
System Requirements and Installation (4 out of 5)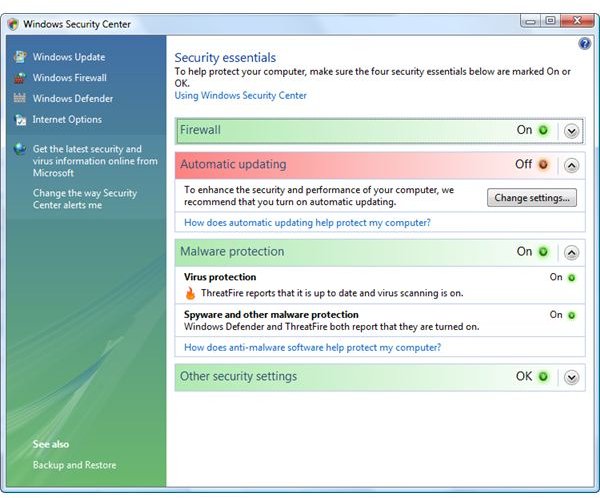 Windows 7, Vista, Windows Server 2003 and XP computers can use ThreatFire. It will install a startup program Tftray.exe that runs in the notification area in Windows. ThreatFire runs as a service which is why you'll find Tfservice.exe processes. It is not recommended to disable the ThreatFire service because it is required when the program finds a nasty infection such as a rootkit infection.
ThreatFire will check the security protection installed on the computer and provide recommendations if the computer does not have antivirus, firewall, or antispyware programs. It will also run a quick scan for malware. Note that PC Tools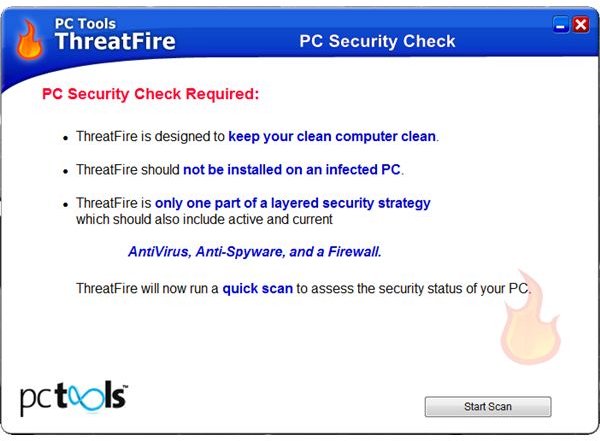 in a computer that is infected with malware.
A

after installing ThreatFire so the drivers will be loaded and installed successfully. The program can register itself to Windows Security Center or Windows Action Center as an antivirus program but it is not necessary, unless you want to be notified by Windows Security Center on the status of ThreatFire.
ThreatFire installation will use up to 17.7MB of hard disk space and it is listed in Add and Remove Programs utility in Windows but the program will add its own uninstaller shortcut in the Start Menu, as well. An e-mail registration is not required before you can download, install or start using ThreatFire.
Note that installer of PC Tools ThreatFire is
which is not required to continue using ThreatFire. Uncheck the box to prevent installation of Google toolbar.
Features and Performance (4 out of 5)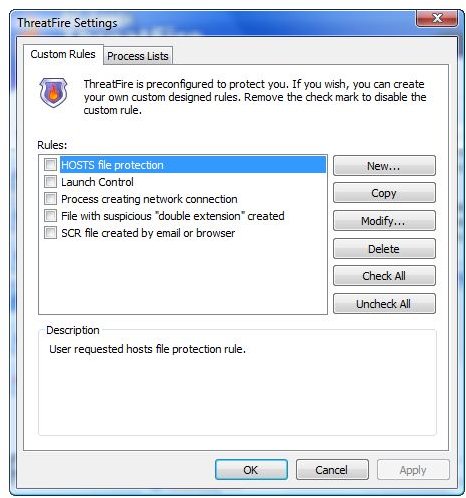 ThreatFire includes several features and options that will attract end-users to using the program. In addition to real-time protection against Internet and computer threats, ThreatFire also provides the following features and options:
Smart Update - it is not necessary to manually download new versions of ThreatFire because the program has a built-in program and detection database updater.
Handy menu - the notification tray icon of ThreatFire includes handy commands such as opening the user-interface, suspend the protection, smart update, status, tutorial or guide.
Advanced Tools - there is an option in ThreatFire to protect the computer from hosts file modification, launch control, network connection by processes, double extension files, and SCR files created by e-mail or browser. Another advanced tool in using ThreatFire is by allowing users to adding processes to trust.
Rootkit scan - ThreatFire includes a full or quick scan for rootkit infection.
Program settings - you can configure the program's sensitivity level, the default action on detected malware, system restore creation before removing malware, schedule a scan, use community-based detection, and cloud-based detection. See comparison of cloud-based antivirus: ThreatFire vs. Panda Cloud Antivirus.
ThreatFire uses 5MB of memory while guarding the computer against malware. However, the memory usage will be higher during a scan and there's a lag when using the computer during a scan. The performance of the PC will go back to normal after the scan.
Price to Value and Support (5 out of 5)
A free support forum for ThreatFire is available at PC Tools forums. The program is free!
A removal tool of ThreatFire is available also in their forum but the uninstaller in the program will work without the need of using the ThreatFire removal tool. Note that you will notice in the user interface of ThreatFire an option to upgrade. This is not necessary to do because it is offering an upgrade to Spyware Doctor with Antivirus. Upgrade only if you want their antivirus program that includes ThreatFire module.
Conclusion
ThreatFire is one of the popular protection tools in protecting Windows against zero-day attacks. It is highly recommended to use ThreatFire as an extra layer of protection especially if you are using a free AV program with limitations or basic protection.