How to Get Certifications in Network Security

IT Security Jobs
If you are thinking about getting into the computer field or are looking for something new to do in the industry, it would be greatly beneficial to complete some certifications in network security. I can tell you that as of this writing, there are several job openings at U.S. Air Force bases that all focus around IT security and part of the minimum job requirements involve having a CompTIA Security+ certification. Not only do these network certifications look great on a resume, but they may make the difference in a potential employer choosing one candidate over another because security is so important.
Having a college degree doesn't always translate to applied knowledge when it comes to the computer industry. The main reason for this is that the degree curriculum is not up to date with the technology, so you end up learning concepts instead of specific knowledge. As such, a graduate fresh out of college won't likely be as able to perform an IT job as well as someone who has prepared for and completed one of the many certifications available today. I've heard bosses say that while a degree shows you can work hard and go to class, a certification in network security from Microsoft or Cisco actually proves that you know what you're doing.
CompTIA Security+
CompTIA is an organization that has helped to set the standard for IT professionals since the 1980s. In many ways, CompTIA certifications are worth more than a college degree because the tests are so specific and not very easy. The CompTIA Security+ certification is one of several that you can take through their program, and it covers a wide variety of security issues related to Windows and networking.
If you are just getting started in the IT field, it is highly recommended that you get the CompTIA A+ certification. It proves you have a strong understanding of computer software and hardware, and is sort of the equivalent of an Associate's Degree in computing. After that, you may consider getting the Network+ certification for a more detailed understanding of networking hardware and configuration. It's also a big step toward earning a Microsoft certification. It is strongly recommended that you get the A+ and Network+ certification before delving into Security+ because there is some overlap in the subject matter.
CompTIA exams are administered through approved testing facilities and require a fee to take the test. The test themselves are presented in a multiple choice format where questions are selected from a bank of questions so that no two tests are exactly the same. A great many CompTIA books and online help guides are available so that you can take practice tests very similar to the real thing. I personally recommend taking the practice tests over and over until you can pass them every time, then go take the real thing.
For more information on the Security+ certification, visit CompTIA.org.
(Image credit: https://www.CompTIA.org)
Cisco Security Specialist Certifications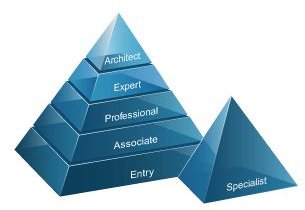 Cisco Security Specialist Certifications are separated into five different categories:
Cisco ASA (Adaptive Security Appliance) Specialist - Deals mainly with firewalls and VPNs.
Cisco IPS (Intrusion Prevention Systems) Specialist - This certification is for creating total network security systems.
Cisco Network Admission Control Specialist - Designed specifically for configuring and maintaining the Cisco NAC Appliance.
Cisco Security Sales Specialist - A certification that encompasses the Cisco Self Defending Network (SDN) Strategy so that you will be able to address the specific needs of a customer.
Cisco Security Solutions and Design Specialist - This is a more in-depth version of the Sales Specialist certification.
The certification for Cisco programs involve a series of lengthy and difficult tests. This is why job applicants with Cisco certifications are so desirable because it's not easy and is very specialized. On the other hand, not every network is entirely managed by Cisco products and as such, these certifications may not apply. It would be very helpful for you to find out what kind of systems are being used by employers in your area so that you can educate yourself about them before you send in that job application.
For more information, visit the Cisco Learning Network.
(Image credit: https://www.Cisco.com)
ISC2 Certification
The most difficult and well-respected network security certifications you can get comes from ISC2, which stands for International Information Systems Security Certification Consortium. Their top certification is called CISSP for Certified Information Systems Security Professional and it's like the PhD of security certifications. Just qualifying for this exam requires years of experience and a sponsorship.
Other ISC2 certifications include SSCP (Systems Security Certified Practitioner) which is meant for 'hands-on' professionals who work under more highly certified managers. They also offer the CAP (Certified Authorization Professional) which deals with the personnel side of security, and CSSLP (Certified Secure Software Lifecycle Professional) that deals with long term security procedures relating to software.
For more information, visit the ISC2 website.
Conclusion
Part of working in IT involves staying current with new technology like computer hardware and software, and the network security field requires this more than any other aspect of computing. New threats are identified on a weekly or even daily basis, so the fight never really ends when it comes to protecting your computer systems from hackers, thieves, viruses, and more.
Having any of these or other IT-related certifications is essential to both providing solid operations with your current work, or for making yourself more appealing to prospective employers. With a struggling economy and highly competitive workforce, anything you can do to make your job application and/or your abilities stand out is highly recommended.