Norton Ghost vs. Acronis True Image - Which Is Better?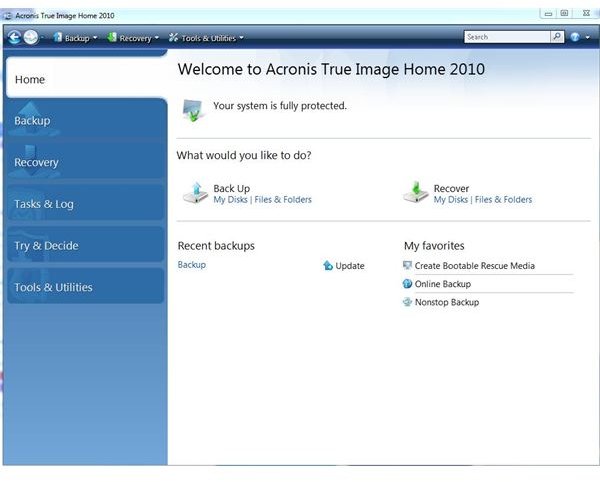 Norton Ghost vs. Acronis True Image: The Bonuses of Acronis True Image
Acronis True Image is easy to use and includes wizards that walk you through most tasks. The program's Backup Center has tools for creating one-click backups and lets you backup your entire computer, specific partitions or even individual files and folders. In addition to backing up files to a drive or external device, the program supports online backups to those who subscribe to the service. You can also choose to turn on the Nonstop Backup feature that monitors your computer for changes around the clock. If you ever need to restore a previous version of a file or folder, you can use Time Explorer to go back and recover the file to its previous condition.
When it comes to file recovery, Acronis does an excellent job. The Data Recovery and Backup Management lets you choose backups and mount them as a drive in Windows. This allows you to simply drag and drop files from the mounted drive to your Windows desktop or another location you desire. If you need to restore your system drive, you can use the Acronis installation CD that doubles as a bootable CD. Other drives can be restored from within the program itself.
What makes Acronis unique is its bonus utilities. One of these is the Try & Decide feature that lets you try risky software without putting your entire computer in jeopardy. The feature works by reserving a set amount of hard drive space for trying programs and allows you to quickly discard any changes. In addition, Acronis includes useful utilities for securely erasing files, erasing computer history, cloning disks, adding new hard drives, partitioning drives and converting backup files. Acronis is priced at $49.99 for the home version.
Norton Ghost vs. Acronis True Image: Norton Ghost as a Basic Imaging Utility
Symantec Norton Ghost is known mostly for its backup and restore abilities. It is easy to use and offers one click access to backup and restore utilities from its home screen. While you can backup your whole drive, it also lets you choose to backup specific files and folders. The software also allows disk cloning so that you can use the same configuration on another computer and allows a feature called Offsite Copy. Offsite Copy allows you to create copies of your recovery points so that you can store them on separate devices. This ensures that you have an extra copy to store in another location in case of fire or another disaster.
Norton Ghost also makes recovery easy. Its installation CD is a bootable recovery disc that allows you to recover your computer even if you cannot boot into your operating system. While Ghost does not allow you to mount your recovery files as a drive in Windows, it has a built-in browser and also supports Google Desktop search. This allows you to search for a specific file or folder to recover.
While Norton Ghost lacks some of the advanced features of its opponent, its ThreatCon feature is worth checking out. When the software detects that there may be a security risk on your computer, ThreatCon can automatically create incremental backups. This can be worthwhile if it saves your data from a virus and can be useful to many users. In addition, the program has a utility that lets you monitor your ThreatCon level. Norton Ghost is priced at $69.99.
Norton Ghost vs. Acronis True Image: Which Is Better?
Norton Ghost and Acronis True Image both do a great job at disk imaging. However, your decision may rest on some of the advanced features that both include. Acronis True Image seems to be the best bang for your buck since it is more affordable and includes interesting utilities that Norton lacks. Norton Ghost would be good for someone who needs the ThreatCon feature and is good to have in a critical environment where data loss could cause a mess. In the end, Acronis surpasses Norton in terms of value, but both meet the needs for data backup and recovery.