Free Anti-Spam: Windows Live Mail | Blocking Spam and Phishing Using WIndows Live Mail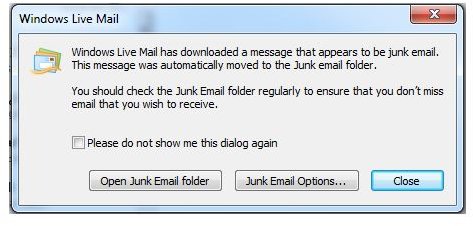 Windows Live Mail and Spam Blocker
Windows XP, Vista and Windows 7 users can take advantage of a free spam and phishing filtering service by Microsoft by simply using Windows Live Mail program. The built-in spam blocker uses several technologies to prevent unwanted emails, phishing messages and viruses. Check out the options of the free anti-spam for Windows Live Mail in this article.
By default, the free anti-spam solution by Microsoft in Windows Live Mail is enabled. The junk mail filtering, anti-phishing and virus prevention are important safety options in using an e-mail program, in addition to ease of use or managing email accounts, contracts, calendar, RSS and newsgroups.
How to Block Spam Using Windows Live Mail
Blocking spam and phishing emails using Windows Live Mail requires no advanced-knowledge. All you need to do is use the program to download incoming messages, and the program will automatically handle junk and phishing messages for you, by moving it to Junk Mail folder. If any message is flagged as junk, Windows Live Mail will notify you:
A notification on phishing message will be displayed, as well: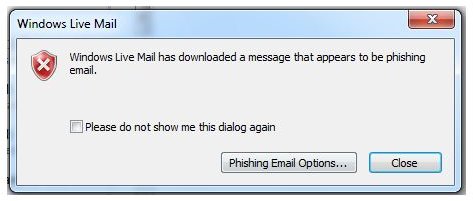 The screenshot below shows Windows Live Mail has downloaded 291 emails and detected 165 as junk or phishing messages. It automatically put the unwanted and potentially dangerous emails in the Junk Mail folder. However, it failed to detect other unwanted emails because the default setting uses "Low filtering." Low filtering means only obvious junk emails is moved to junk folder. Adjusting to "High filtering" of junk messages will definitely increase the protection against phishing and spam messages.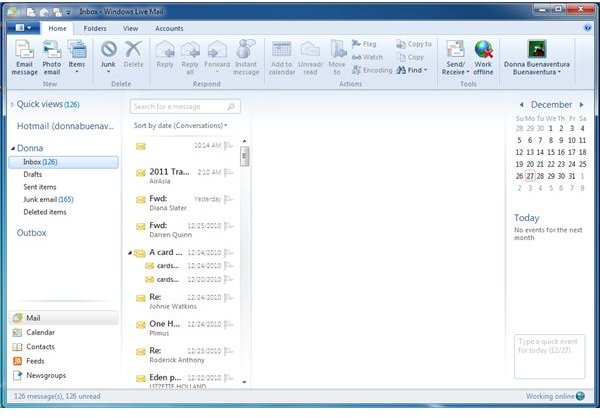 If any of the junk emails reach the inbox, all you need to do is to mark it as junk. You can mark it as junk by right-clicking the message, or if the message is already opened, click the Junk button in the menu bar of Windows Live Mail.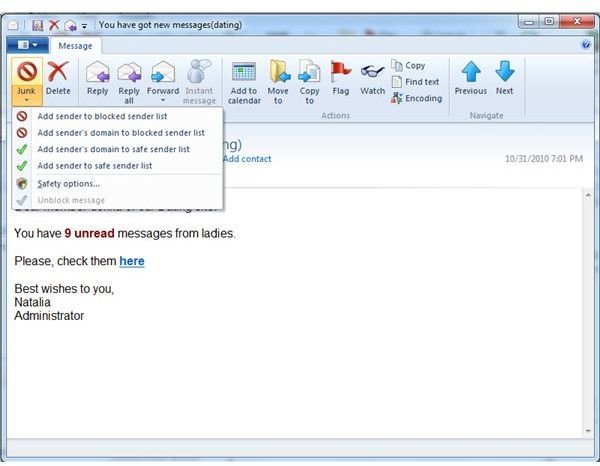 Another option is to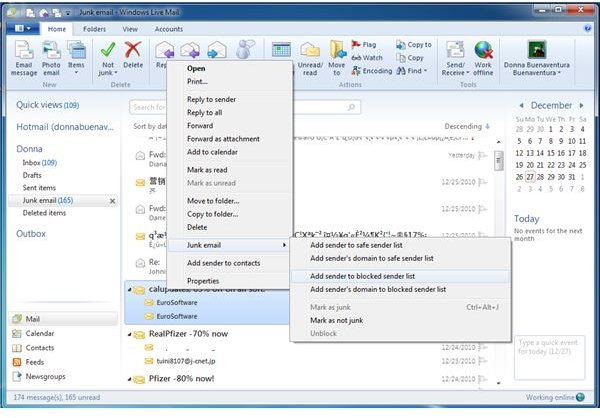 , but you have to be careful using this option because some spam messages are actually spoofed. Spoofed email means the email address is legitimate, which could be your friend's email address. It is recommended to click the Junk mail button or mark as junk mail instead of sending emails to the blocked senders list in order to prevent mistakes in blocking important messages from contacts.
It is also recommended to report junk emails to Microsoft and its partners so they can add them to their database, which will be released in the security update for junk mail filters for Windows Mail, Windows Live Mail, Windows Live Hotmail, and Microsoft Outlook. This option is not enabled by default.
How to Block Phishing Message Using Windows Live Mail
Like a web-browser that uses anti-phishing filter, Microsoft has added the Microsoft SmartScreen technology in its Windows Live Mail software. The anti-phishing technology is enabled by default in the email client which means not only spam is blocked, but also a phishing message: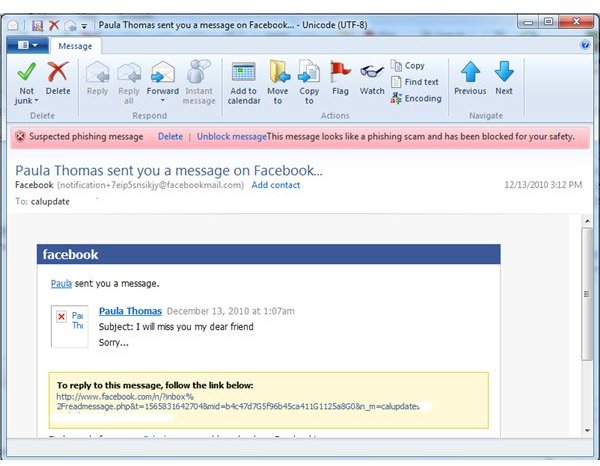 Final Words
Take advantage of the safety options in Windows Live software and Windows Live Mail since it is free and quite useful in daily computing. Blocking spam and phishing emails help protect your private information and your computer against fraudsters and malware distributors. You can download Windows Live Mail for XP here and for Windows 7 and Vista at https://explore.live.com/windows-live-mail.
Image credit: Screenshot by the author.