Where Can I Find Free Computer Security Software? Free Computer Security Systems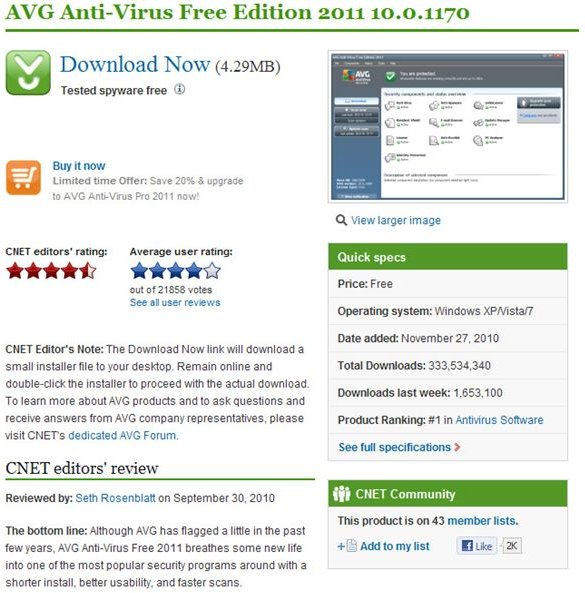 Download Free Security Software
Free computer security systems software is available all over the web. With so many choices, it's best to do a little research before you install something on your system that may not be as effective as you need, or it may actually be part of a scam. The three main sites listed below are trusted and reliable places where you can find free computer security software.
Download.com
The most reliable website for downloading free software is Download.com. The site has been around since the early days of the web and is currently operated by cnet.com. What I like so much about this site is that they not only have editor's ratings, but they allow user ratings and comments. Why rely on just one person's opinion when you can see what dozens or even hundreds of people have to say about a particular product?
Download.com divides their offerings into categories so you can go straight to their Security Software section and then sort the free computer security systems software by popularity, downloads, ratings, and more. It's the quickest and easiest way to find not only the highest rated free software, but what more people are using than anything else.
Because Download.com screens the software they put onto their site, it helps to guarantee that you won't get tricked into downloading a fake virus scanner or some other kind of malware. Some of their software is ad-supported, but there will be warnings on packages that contain piggy-backed adware.
(Image source: Download.com Screenshot)
Softpedia.com
Another good site where you can find free computer security software, among other programs, is Softpedia.com. This site offers user ratings and reviews and you can also sort in various ways, and you don't need to login to anything before you can download.
While Softpedia.com is a good source for downloads, the design of their site comes across as rather busy and I find that I have to hunt down links to proceed to pages. For example, when I go to the download page for a particular utility, I see several graphics that indicate Download buttons and have to scan over the whole page to find what I am looking for. It's like the design was made to trick you into clicking on an ad. Softpedia is still a good place for when you are looking for something specific that may not be available on Download.com.
FileHippo.com
Another good source for free security software downloads is FileHippo.com. I really like how clean the site looks with a minimal amount of advertising interference and everything is clearly laid out. The only downside to this site is that they don't have user reviews or ratings, so it's not a good place for research. However, they do offer downloads of old versions of many programs, which most sites do not have. Often times technicians like to use older versions of software for testing purposes or when they encounter compatibility problems were other software updates.
Other File Download Sites
Another popular file download site is Brothersoft.com, but I have personally never used them and was immediately turned off by their advertising of a browser toolbar. I detest browser add-ons and toolbars and for that reason I didn't look any further with the site. They also lack user reviews.
Always be careful when going to search engines and looking for security software, because you may wind up being shown ads for software that may not be the best choice for you. Instead, do lots of research and read comparative reviews before you make a choice and always download from a reputable source.