Is Kaspersky Antivirus is Good as Norton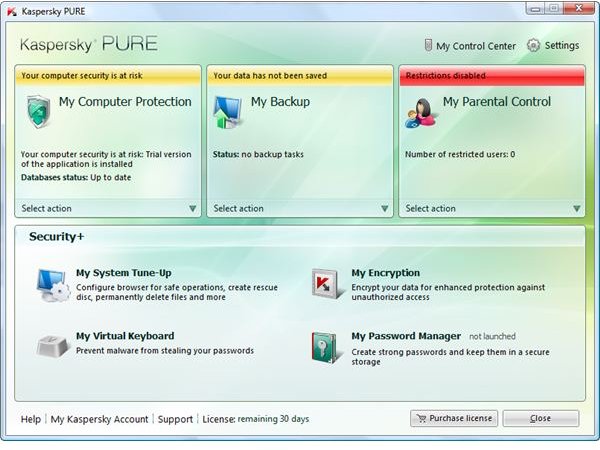 Kaspersky and Norton Antivirus Programs
Kaspersky Labs and Symantec provide antivirus protection for home computers but their software does not offer the same features. End-users have different opinions or thoughts after trying a Norton or Kaspersky solution, based on their experience. When a Kaspersky AV user experienced a major problem when using the antivirus software, or the false detection has damaged the system, they often look for another security protection e.g. Norton antivirus.
Before jumping to Norton, let us find out if Kaspersky antivirus is as good as Norton and if it provides better features, security and support.
Performance and Features Comparison
Norton is far better than Kaspersky if you are concerned with memory usage. I previously compared the security suite of Norton and Kaspersky, and found that Kaspersky uses more memory than Norton.
However, Kaspersky provides comprehensive features when using their antivirus or Internet security applications. Norton and Kaspersky offer the following:
Virus protection
Frequent daily updates
Web protection
E-mail protection
Game mode protection
Kaspersky antivirus includes sandboxing and application control and PC security tune-ups. These features are not offered by Symantec in its standalone antivirus solution.
Malware Prevention and Detection
Both antivirus programs have been awarded or certified and they have been tested against thousands of malware samples by several virus testing laboratories. The on-demand and on-access protection by Norton and Kaspersky are always neck-to-neck, but if you compare the testing results, the user needs to understand that the tests are done using different operating systems. Below is the recent certification or awards gained by Kaspersky and Norton:
AV-test.org – Kaspersky has received 5.0 score in Windows 7 while Norton got 5.5.
Virus Bulletin – Symantec Norton has received an overall success rating of 88.5% with 7 failures, while Kasperskys' overall success rating is 75% with 18 failures. Kaspersky failed to get a VB100 award on an XP system.
AV-Comparatives – Kaspersky has received the "AV Product of the Year" award for the years 2004 and 2005, while Norton received the same award for the year 2009. When they recently ran a dynamic test, both programs received the Advanced rating which is the highest level of rating by AV-Comparatives and the test result shows Kaspersky provides a 98.3 protection rate while Norton is better when it gained 98.9%.
Support and Price to Value
Symantec provides free 24x7 emails, phone and chat support for a period of 1 year from the initial product installation. They also offer an interactive support forum, moderated by Norton staff or employees. However, virus removal is not free if you need to call them for help.
Kaspersky also provides email and phone support and have a user forum available.
The price of the antivirus programs by Symantec and Kaspersky is almost the same. One computer with a 12 months subscription costs $39.99 and $39.95, respectively.
Final Words
Kaspersky is indeed as good an antivirus solution as Norton for it provides above-average protection that Norton users are enjoying. It even has useful features that Norton antivirus does not offer, but it's best to use Kaspersky on a modern computer with lots of RAM.