Office for Mac 2011: Outlook for Mac 2011 Reviewed
Outlook for Mac 2011 Has Finally Arrived!
In the other reviews of the elements of Office for Mac 2011 I often mentioned a new start for the applications, as they somewhat feel like a first version of an entire new philosophy. With Outlook for Mac 2011 this is entirely the case, as the application has no predecessor on the Mac. Entourage in Office for Mac 2008 formerly took the spot for Email/Tasks/Contacts/Calendar applications, but it provided nothing more than a stripped down version of Outlook for Windows to support exchange on Mac. Now that a full-fledged Outlook for Mac has been released, Microsoft has finally matured the Office for Mac suite. However, is Outlook for Mac 2011 as good as its Windows equivalent and does it really add anything? Find out in this review.
Features of Outlook for Mac 2011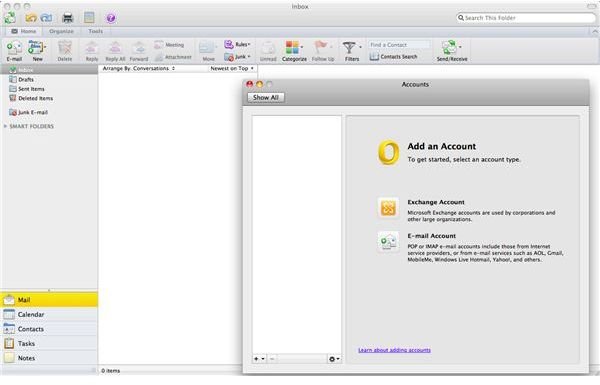 The reasoning behind releasing an Office for Mac instead of just turning Entourage in a mature product is fairly simple and in line with the overall philosophy behind Office for Mac 2011. As the suite is finally in line with its Windows equivalent it is essential to include Outlook for Mac 2011. It is almost astonishing how much Microsoft is facilitating users to switch from Windows to Mac and with Outlook for Mac 2011 this is no different. A vital new feature for migrating is PST support, which is now included, paving the road for a seamless Windows to Mac transfer.
Although Outlook for Mac 2011 is essentially the Mac version of Outlook for Windows 2010, which becomes clear upon even glancing at the layout, there are many aspects that are Mac-only. Even more so than with any of the other Office for Mac 2011 applications, Outlook incorporates Mac features, such as attachment previewing and Time Machine support. Although these features cannot rival with Mail in terms of integration, it is nevertheless a welcome extra.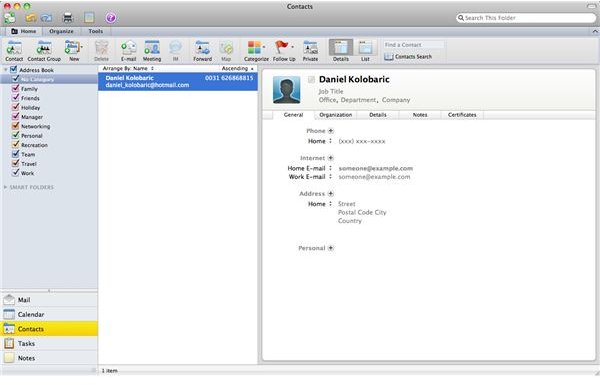 Outlook can however rival with mail, and other email software with the shear volume of features. Not only does it handle Exchange and other (POP/IMAP-based) email services, it incorporates advanced tasks, contacts and calendar functionality all at once. While it is very good in what it does, and especially Windows users will feel very familiar with them, it is unfortunate that the calendar part does not support the CalDAV protocol for calendar synchronization. This feels especially strange because Outlook for Mac 2011 thrives on Mail synchronization. Nevertheless, as an isolated product suite, Outlook for Mac 2011 has an excellent list of features built-in.
Usability of Outlook for Mac 2011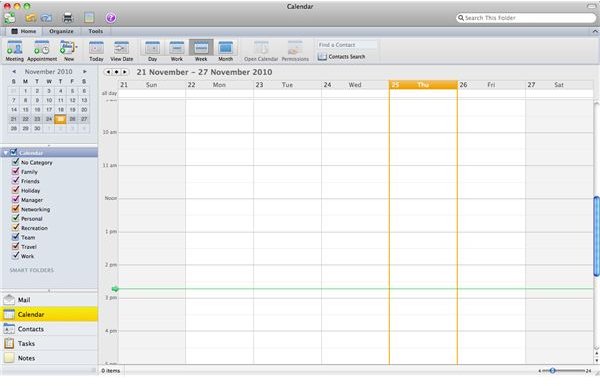 As desktop email clients are increasingly becoming redundant, with Outlook for Mac 2011 Microsoft tried to increase the ante with providing outstanding support for exchange. In this they succeeded, and exchange is a product of the company itself so this will come as no surprise. The same thing can be said for support for other forms, and the tested Gmail configuration also works exquisitely. The speed and rate of which Gmail settings where applied and emails downloaded and configured is unrivaled by any other desktop email client. Communication with the servers is swift and emails even appear faster in Outlook than it would sometimes on the web version of Gmail.
Like with any of the Office for Mac 2011 suite or Office for Windows 2007/2010 applications, Outlook for Mac 2011 also incorporates the 'ribbon' style of feature tabbing. Although Entourage was the only Office for Mac 2008 application that didn't come with too many annoying floating elements, the ribbon is nevertheless a welcome addition. The feature pack has increased dramatically and the ribbon tabs do a good job separating things from each other and easily sort the features like it does with the other Office for Mac applications. The ribbon tabs are less extensive however and are limited to a 'Home', 'Organize' and 'Tools'. As emails, calendar, contact or task items are not heavy on formatting or other processing elements, more tabs are not needed.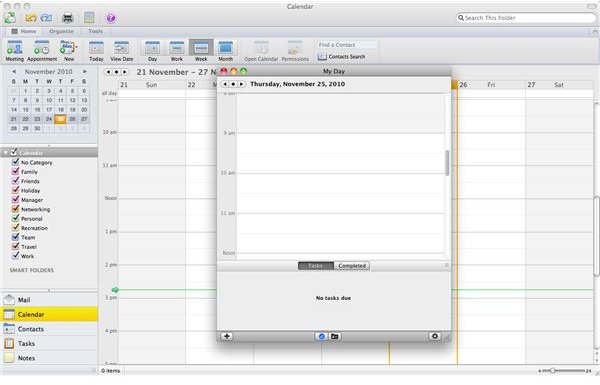 Outlook for Mac 2011 sports the same layout as the Windows equivalent, which is essentially pleasing any migrators. The three-screen layout works well here as well and keeps everything clear. In terms of usability Outlook for Mac 2011 therefore scores high points and will please many of its users.
Outlook for Mac 2011, A Worthy Newcomer to the Series?
Outlook for Mac 2011 scores high marks as both a newcomer and a respected Email client in general. As the application sort of combines Mac integration with a Windows feature-set it can best be described as 'the best of both worlds'. The application comes at a bit of a price and can only be purchased as part of Office for Mac 2011 a buyer should be confident in using it. Therefore it is a pity that little aspects like missing CalDAV support are lacking but hopefully Microsoft can fix this with future updates.
As part of Office for Mac 2011 office suite however, Outlook for Mac 2011 is truly icing on the cake and more then justifies the overall purchasing price. The entire suite has made big steps forward and finally reached a level where Mac and Windows users can cooperate happily, without either of them lacking in terms of features. Office for Mac 2011 is an excellent upgrade to the 2008 version and an entire upgrade for your Mac system.
This post is part of the series: Microsoft Office for Mac 2011 Reviewed Component by Component
Microsoft Office for Mac 2011 is the newest in a long-lasting series of office suites for Apples' OS X platform. Discover what is new with version 2011 of Office for Mac and read a part by part review of Word, Excel, Powerpoint and Outlook for Mac 2011.