Office for Mac 2011: PowerPoint for Mac 2011 Reviewed
PowerPoint for Mac 2011
PowerPoint for Mac has for long been a bit of a snowed-under application within the Office package. This is somewhat of a surprise as this application is the one that was perhaps the least frustrating of the whole bunch, although that is most probably not due Microsoft's old philosophy for the application. The new vision that Microsoft has set out for its entire Office line, including Office for Mac 2011 has made a great impact on PowerPoint as well. This review of PowerPoint 2011 is to conclude whether or not this has led to the desired result.
PowerPoint for Mac 2011 vs. PowerPoint for Mac 2008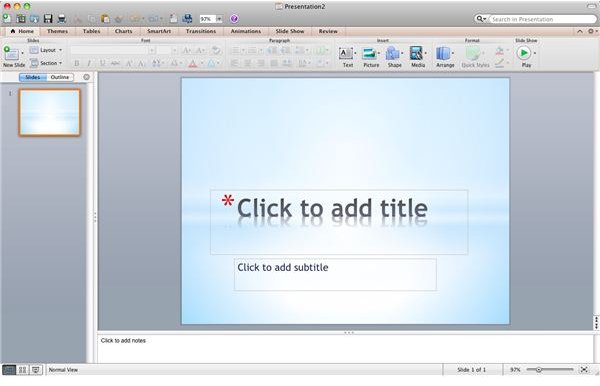 As with any of the Office for Mac 2011 applications, the ribbon interface makes all the difference. However, with PowerPoint for Mac 2011 the ribbon interface has never been more useful. Although some may have criticized the whole idea behind the ribbon, in PowerPoint for Mac 2011, it makes for easily accessing all the features. The various ribbons available in PowerPoint for Mac 2011 are as follows:
Home
Themes
Tables
Charts
SmartArt
Transitions
Animations
Slide Show
Review
The new ribbon interface incredibly speeds up the process of creating tabs, especially as a template can already be chosen from an opening screen before the whole application loads. As creating slideshows is most of the time a purely visual occurrence, intended to impress (a group of) people, this method immediately boosts productivity and creativity as something already has been created when a new worksheet is opened.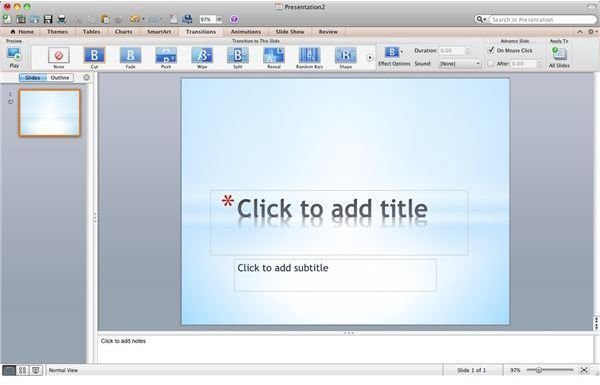 This is also exactly what PowerPoint for Mac 2008 was missing, namely a logical working order. The floating toolbox, already mentioned earlier in the reviews for Word and Excel, present in PowerPoint for Mac 2008 often obscured a clear view of the working area and even shifted focus of the user from a slide to the tools. With PowerPoint for Mac, this is not an issue anymore and all the features are easily accessible in the ribbons, with no floating elements getting in the way and making the work more difficult than need be.
Another new, and rather nifty, new feature is the ability to visually rearrange the different graphical elements in a slide. This is especially helpful if order of appearance is of importance. This new feature is even fun to use and will again add to the creativity of the user. Obviously Microsoft has gotten the point of what PowerPoint should be about. All the new features and user interface alterations combined, PowerPoint definitely made the biggest leap forward out of all the Office for Mac applications.
Speed Test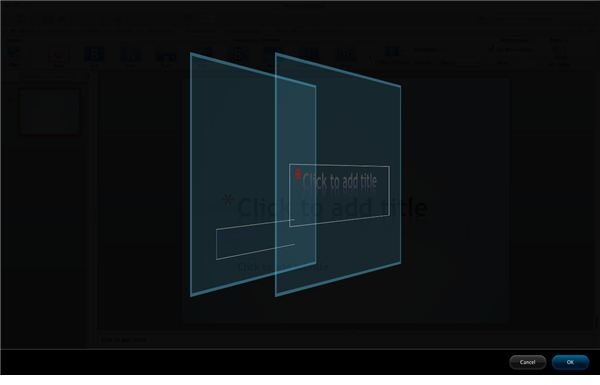 One other improvement that Microsoft advertises for PowerPoint for Mac 2011 is a speed improvement. As any slideshow application will usually be heavy on graphical elements, speed is a vital aspect of the application. Unfortunately, this wasn't one of the strongest aspects of PowerPoint for Mac 2008. These few tests will determine if any progress has been made with the 2011 version of PowerPoint for Mac.
Opening of New Document in PowerPoint for Mac 2011: 1.8s
Opening of New Document in PowerPoint for Mac 2008: 3.6s
Opening of Saved 32-slide Document in PowerPoint for Mac 2011: 2.4s
Opening of Saved 32-slide Document in PowerPoint for Mac 2008: 4.9s
These test show that Microsoft has indeed achieved a speed improvement in PowerPoint for Mac 2011. The overall speed has doubled compared to the 2008 version of the program, which is definitely a noticeable and significant improvement, making PowerPoint 2011 a clear improvement in terms of speed.
PowerPoint for Mac 2011 vs. PowerPoint for Windows 2010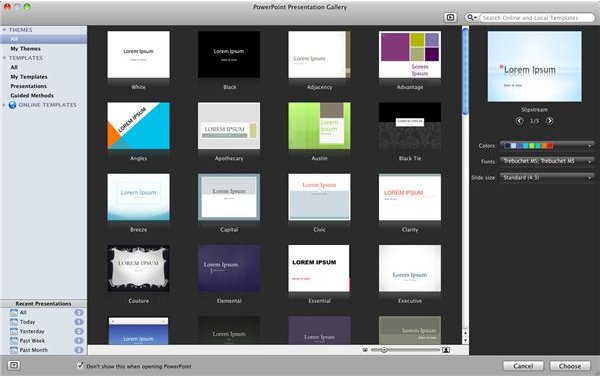 As with the previously mentioned elements of Office for Mac 2011, Word and Excel, it is not a matter of pointing out the differences between the Windows and Mac version of PowerPoint, but the similarities. As is the case with the entire Office suite, all the applications are now 100 percent compatible with its Windows counterparts. Also in the case of PowerPoint for Mac this brings some additional benefits in the field of collaboration, besides the obvious revision benefits when exchanging PowerPoint presentations between systems.
First of all, there is Microsoft SkyDrive option that lets anyone use the PowerPoint Web App to make simultaneous alterations to the same document. Through SkyDrive anyone with the right permissions can also grab the document to make changes to it, locally on his or her own (Mac or Windows) computer.
Another handy new feature that is taken from PowerPoint for Windows 2010 is the PowerPoint Broadcast service, which lets a user upload its presentations online for everyone to see in a web browser. This method provides a compelling way of broadcasting presentations over long distances, although not all features of a local presentation are supported. Limitations exist in the types of transitions and a lack of support for some audio and video files.
Differences with PowerPoint for Windows 2010 do exist and one major feature that is missing from Macs' 2011 version is the advanced timeline. This graphical advancement would have fit well with the earlier described rearrangement tool. Hopefully this feature will be added in a future update of the application.
PowerPoint for Mac 2011, A Worthy Upgrade?
PowerPoint for Mac 2011 is a fresh new version of the Mac version and is even up to scratch with its Windows equivalent. While this might lead the way for Windows users to find their way to Mac systems easier, it also provides Mac users with an excellent collaboration tool as well as another reason to not use Windows on the side. The new features in combination with the revamped interface make PowerPoint for Mac the first real mature version of the application on Mac and might even be considered a fresh start. Hopefully Microsoft can build on this version and keep providing improvements in future upgrades. Even at this moment, you can't really go wrong with PowerPoint for Mac 2011.
This post is part of the series: Microsoft Office for Mac 2011 Reviewed Component by Component
Microsoft Office for Mac 2011 is the newest in a long-lasting series of office suites for Apples' OS X platform. Discover what is new with version 2011 of Office for Mac and read a part by part review of Word, Excel, Powerpoint and Outlook for Mac 2011.