Office for Mac 2011: Review of Excel for Mac 2011
Excel for Mac 2011
Excel for Mac 2011 is the latest in a somewhat long line of versions of the popular spreadsheet application on Mac. With the 2011 iteration, it follows the new philosophy Office for Mac 2011 has set in motion. Is Excel for Mac 2011 a worthy reinvention of the concept or is it a new episode in a long line of disappointments? Find out in this review of Excel for Mac 2011.
Excel 2011 vs. Excel 2008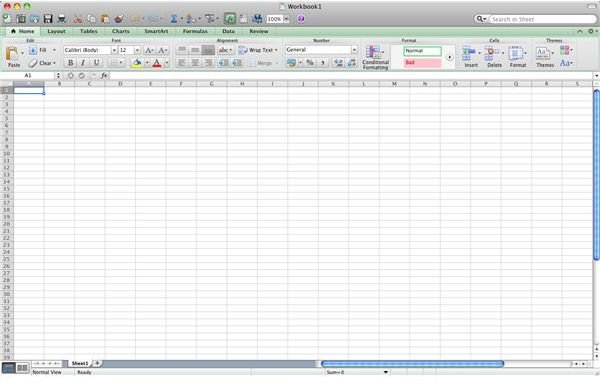 One of the greatest characteristics of the Office for Mac series in general has always been the floating elements that didn't at all work in favor of usability. Excel for Mac 2008 was the worst in this aspect as it contained the most floating elements of all the applications. Luckily this is now gone in Excel for Mac 2011. Better yet, with all the Office 2011 applications, the entire interface is revamped for the better, which was already the case with Word for Mac 2011. An additional bonus is the return of Macros in Excel 2011, last seen in the 2004 version of the software. Many will breathe a sigh of relief with this news.
In the Word for Mac 2011 review I called Word 2008 a puzzle that Microsoft solved in the 2011 version. In the case of Excel for Mac 2011 this remark holds even more ground, as Excel for Mac was even a greater puzzle. And with Excel 2011 the solution lays in the ribbon interface. In the case of Excel for Mac 2011, the various tabs are as follows:
Home
Layout
Tables
Charts
SmartArt
Formulas
Data
Review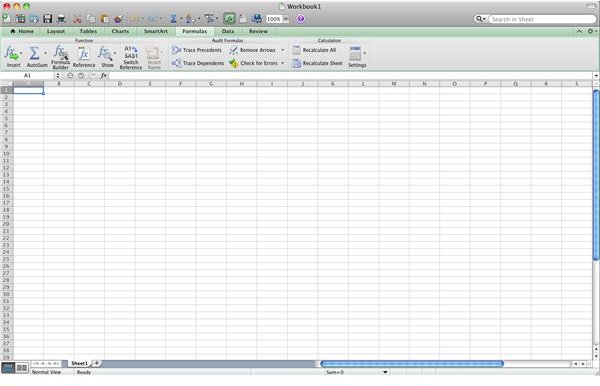 Unsurprisingly, this very much resembles the tabs available in the entire Office for Mac 2011 line. It also doesn't necessarily come as a surprise that it works really well. The biggest improvement however is the absence of the floating toolbars. Where Word 2011 only had a floating toolbox, Excel 2008 had floating toolbar, which severely damaged the overall core functionality of a spreadsheet processor. Now that the toolbars are fixed and present, the applications just works. Calculations can be done in the designated toolbar, which familiarly has been positioned above the worksheet. With the ribbon to complement the application, Excel 2011 is a gigantic step forward over the 2008 version in terms of both usability and the overall user interface.
Speed Test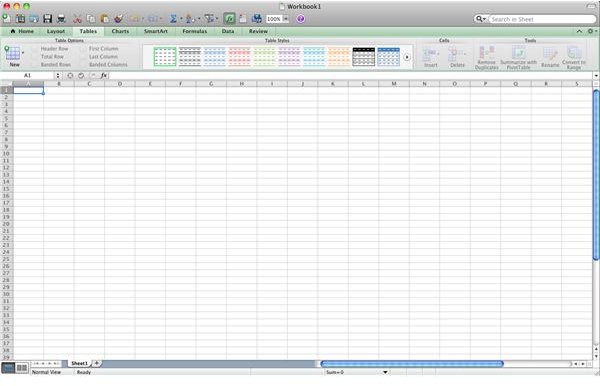 Another promised new enhancement of Excel for Mac 2011 over its 2008 counterpart is an improved level of speed. The claim has been put to the test with the following results:
Excel 2011, Opening a Blank Document: 1.7 s
Excel 2008, Opening a Black Document: 4.2 s
Excel 2011, Opening a Saved Document of four worksheets: 2.2 s
Excel 2008, Opening a Saved Document of four worksheets: 5.8 s
The above findings clearly indicate a considerable speed advantage of Excel for Mac 2011 over the 2008 version. Microsoft has definitely improved this part of the application, more so even then with Word for Mac 2011.
Excel for Mac 2011 vs. Excel for Windows 2010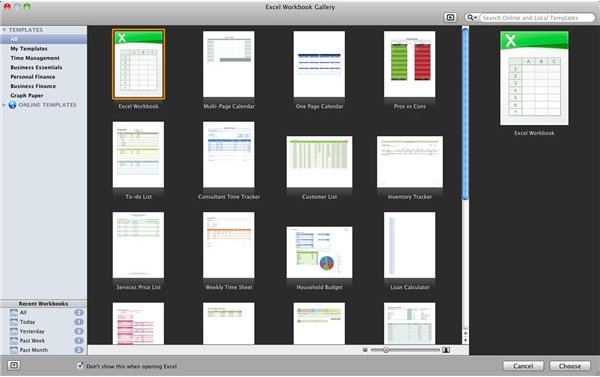 Whereas Excel for Mac 2011 and Excel for Windows 2010 are essentially two different versions, the new (and for the first time) philosophy of the latest round of Office suites (which includes Office 2010 and 2011) is incorporated in both versions. A direct result, like with Word for Mac 2011, is a 100 percent compatibility ratio, which will please a lot of people collaborating on documents that own different versions of the software.
Talking about collaboration, power users of the application, both in a corporate, student or a home environment will definitely enjoy the newly incorporated collaboration options in Excel 2011. As with Excel 2010, Excel documents can now be uploaded to Microsoft SkyDrive, where documents can be edited with the Web App version of Excel. Through the Web App of Excel, multiple users can co-author the same document. However, coauthoring is not possible locally, like with Word for Mac 2011, which is a bit of a drawback.
There are also a few differences between Excel 2011 for Mac and Excel 2010 for Windows. The main improvements in core functionality in Excel for Mac 2011 lay in conditional formatting, sparklines (an entirely new feature, also seen in Excel 2010), pivot-tables (a complete reinvention of the concept), visual basic and the sorting & filtering options. Whereas most features seem to be a direct port of their Windows counterparts, especially the sorting & filtering options, and are a step forward even from Excel 2010. The amount of options have gone up so considerably that mastering this aspect of the software will result in a considerable increase in efficiency. Naturally, the fact that Excel 2011 manages to outperform Excel 2010 is ironic and might even drive away people from Windows in favor of choosing the Mac platform.
The Definitive Spreadsheet Processor on Mac?
Excel has made big steps in its development on the Mac and after years of what seemed unfinished products, Microsoft has finally stepped up to the task of created a proper Mac version of Excel. Excel for Mac 2011 is so complete that no other software is needed to either replace or complement it. Especially for those that are heavy users of spreadsheet processing and rely on fully capable software, Excel for Mac 2011, as part of the Office for Mac 2011 suite is an excellent purchase. Excel for Mac now matches the Windows version in terms of compatibility, features and usability, there is no reason to not upgrade to this version. Whether you are a student, home or business user you will benefit from the upgrade. In a sense, for many it has even improved the Mac platform as a whole. I wonder if this is what Microsoft had intended.
This post is part of the series: Microsoft Office for Mac 2011 Reviewed Component by Component
Microsoft Office for Mac 2011 is the newest in a long-lasting series of office suites for Apples' OS X platform. Discover what is new with version 2011 of Office for Mac and read a part by part review of Word, Excel, Powerpoint and Outlook for Mac 2011.