Office 2011 for Mac: Microsoft Word for Mac 2011 Reviewed
Word for Mac 2011
Word for Mac has forever been a point of discussion. As the Windows version is used by many, the lack of an identical Word experience on Mac has stopped many from making the switch. Now it seems as if Microsoft themselves will remove all doubt, Word 2011 is the first grown-up and truly useful version on Mac.
Word 2011 vs. Word 2008
Word 2011 is not just a minor update to the 2008 version, just to catch up with some new document extension standards. Word 2008 for mac was received with mixed reactions, the interface was not conceived as very usable, with the floating toolbox as the absolute low point. The application had a steep learning curve, especially for those coming from any of the Windows versions, and especially from 2007. Word for Windows 2007 introduced the new 'ribbon' interface, which by itself was a bit controversial. However, after the release of Word 2008 for Mac, many users would definitely have opted for a ribbon interface like that of the Windows version. Their wishes have been granted in word 2011.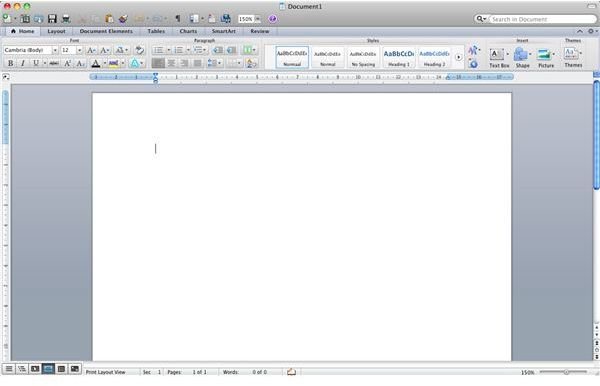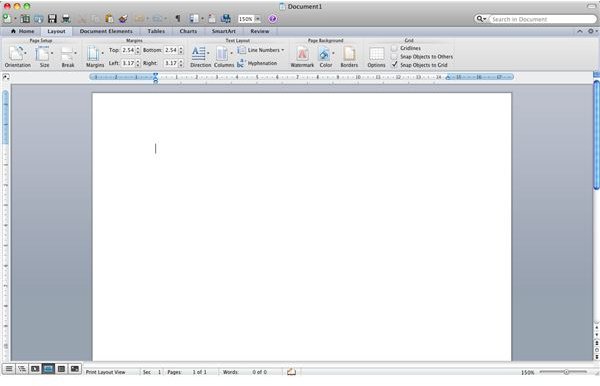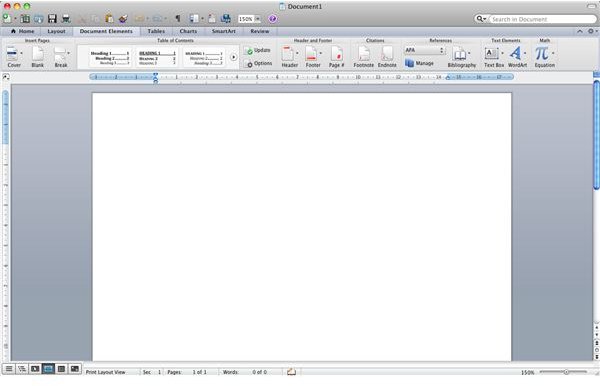 It is of no surprise then, that the most obvious improvement is the revamped user interface. It is as if Microsoft solved the 'puzzle' that is Word 2008. The result is therefore a streamlined application that is a lot more intuitive to use and a proper word processing application that no one has to feel awkward with. Whether you like it or not, the ribbon interface is a massive step forward compared to the floating toolbox of the previous version. The different features, which were mostly housed in the toolbox, are now easily accessible through the various ribbons. The various ribbons available by default are:
Home
Layout
Document Elements
Tables
Charts
SmartArt
Review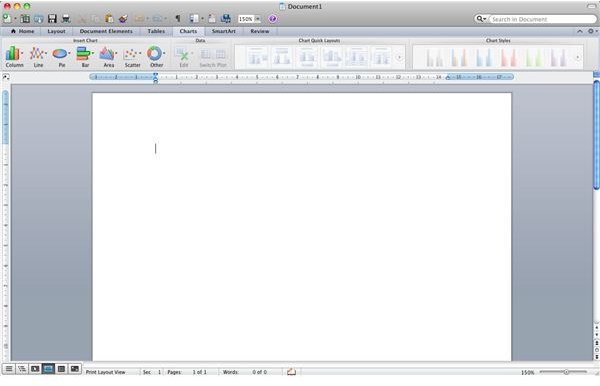 However, the user interface itself is not the only upgrade. What Microsoft has done is completely streamlined the word experience on Mac. Whereas the previous versions were often considered just a way of offering something similar to the Windows counterpart of Word to Mac users. This is not the case, the new features for example have a greater variety of templates, enhanced SmartArt and themes, easier means of adding charts, graphs and the most pleasant enhancement, increased speed.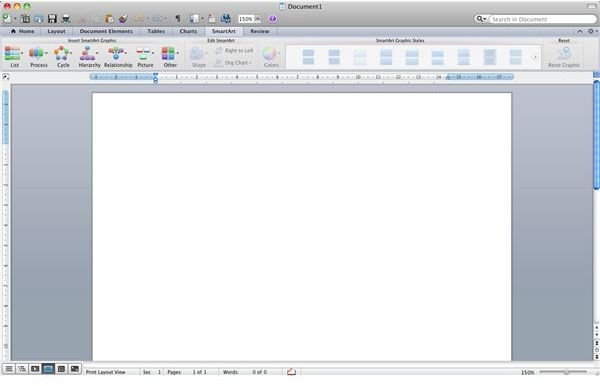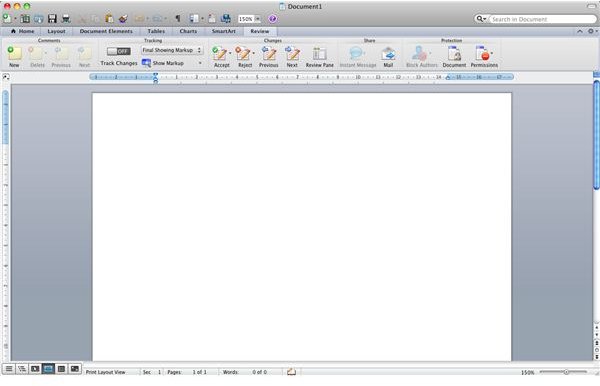 Speed Test
Every user of Word 2008, frequent or non-frequent, will be able to confirm that in terms of speed, the application was not impressive. Word 2008 made a big impact on the RAM available on the Mac it ran on. With Word 2011, Microsoft vowed to improve this. These test results, done directly after a reboot with no other apps open illustrate the progress made.
Word 2011, Opening of a Blank document 7 seconds
Word 2008, Opening of a Blank document 9 seconds
Word 2011, Opening of a 40.000 word document 14 seconds
Word 2008, Opening of a 40.000 word document 18 seconds
The above findings clearly show that progress has been made in terms of speed. While there are other factors that determine the speed during usage, such as scrolling speed, speed of saving a document, speed of adding pictures, etc, these tests show that the very first version of Word 2011 is faster than a fully upgraded version of Word 2008. As Microsoft will surely keep updating its latest version of Word, speed will definitely not suffer.
Word for Mac 2011 vs. Word for Windows 2010
Word 2011 is everything people were hoping for with the 2008 version. Microsoft completely separated its Mac division from its Windows counterpart, the Mac version of word (and office for that matter) was built with a different philosophy in mind entirely. The application should have a native Mac feel to it, which made it considerably different from Word for Windows. These times are now over, as Word 2011 compares fully with the Windows equivalent. The 'vs.' in the title is therefore misleading as Word 2011 for Mac is nothing more than an excellent Mac version of Windows' Word 2010. The times where documents had to be edited every time between the Windows and Mac versions of Word are now over, as a document will look exactly the same in either version. This is good news for many who require cooperation of both Windows and Mac owners.
Talking of cooperation, Word 2011 comes with the same features in this aspect as Word for Windows 2010. This includes support for Microsoft SharePoint, SkyDrive and the ability to collaborate on the same document in real time. Users of Word 2011 are even able to communicate with Word 2010 users while simultaneously editing a document. Furthermore, Word 2011, like 2010, supports Word Web App, which enables online document editing. Although not able to fully test these new features, there is no real reason why it wouldn't work as advertised.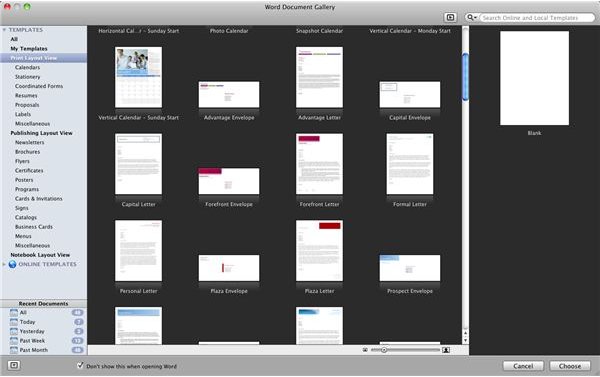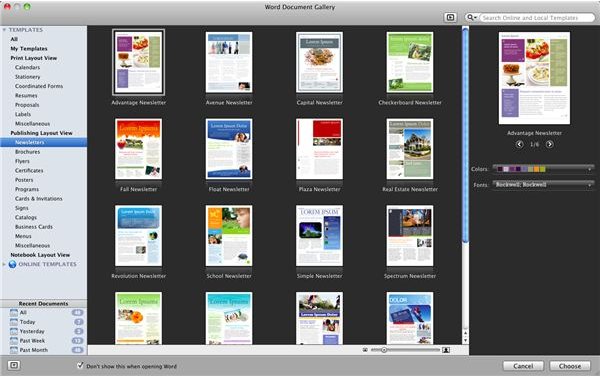 Word 2011, the Definitive Word Processing App on Mac?
Word 2011 is a big step up from the previous version for Mac, it is safe to say that this is the version all Mac users and Word devotees have been waiting for. It is the first version that is on par with its Windows equivalent in terms of both features and ease of use. It is almost ironic how this version of Word will be a factor for those wanting to switch from Windows to Mac.
Within its own merits, Word 2011 is an excellent word processing application for both professional and 'casual' users, although the price of the application (as part of office 2011) leans more towards the prior group of users. The new interface, improved features, speed of use, handling of larger applications, and the large database of templates and themes makes Word for Mac 2011 a great application and a great purchase for every Mac owner that has any association with word processing.
This post is part of the series: Microsoft Office for Mac 2011 Reviewed Component by Component
Microsoft Office for Mac 2011 is the newest in a long-lasting series of office suites for Apples' OS X platform. Discover what is new with version 2011 of Office for Mac and read a part by part review of Word, Excel, Powerpoint and Outlook for Mac 2011.