Curio (5 out of 5)
The first thing you will see when you open up Curio is a Welcome panel. The screenshot below is the tutorial that appears after you select it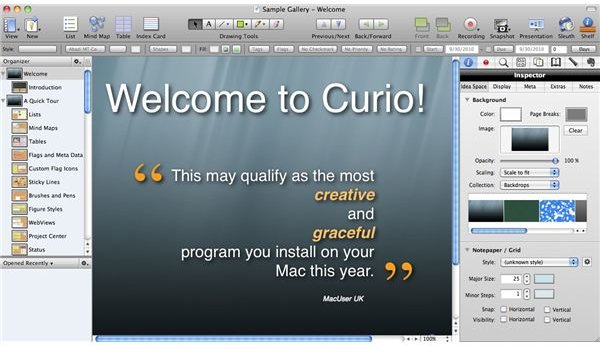 in the Welcome panel.
The tutorial will walk you through the basics of Curio, but you will need to spend some time with it to really learn everything that it has to offer. It didn't take me any time to figure out how to customize my workspace, how to create a mind map, note, or list.
Evernote works seamlessly with Curio, which is a big plus if you have to collect a lot of research. You can research online or check your email without having to leave the Curio program. Use the Audio and Video feature to record what sites you visit so that you will not have to do as much typing.
Toggle between projects in the Project Center. The GTD (Getting Things Done) task manager helps you keep track of when your projects are due so that you will never miss a deadline. The GTD feature is for the Pro version of Curio only.
Curio offers three ways that you can take notes. You have the traditional index card. Then you have a list. Finally, there is the mind map. I tried the mind map out and found myself somewhat disappointed by the cumbersome designing process. The majority of the mind map process should involve jotting ideas and concepts down, not designing the mind map itself. That said, I did like different features in the designing process.
I liked Curio for book writing software. If I hadn't invested money in other mind mapping, outlining or GTD programs, I would pay the $150 to use it. Although there is a learning curve, it's not too difficult to use right out of the box.
Source: Zengobi
Tinderbox (4 out of 5)
Unlike Curio, Tinderbox is not user-friendly out of the box. In order to use this software you will need to watch the tutorial, and then consult the user manual in order to learn the most basic things. Here are some of the features that Tinderbox has to offer writers.
Use colors to keep track of notes.

Create your characters by summarizing them with notes.

Create containers for certain kinds of notes (e.g., persons, places, events).

Outlines, charts, treemaps and other views.

Outline view is good for making lists and lateral outlines for your stories.

Create prototype notes called Locations. Locations inherit the attributes like text style and color to the prototype. So any change you make to one link causes the others to change.
Tinderbox has a very steep learning curve, but it also has fans who rave about it for book writing software. You will find many examples of books that were written, using this tool, on the Tinderbox website. The $250 price tag. The time it takes to learn the program was the deal breaker for me.
If I were to get it, I would not only consult the detailed user manual but I would try to find as many video tutorials as I could, namely on the website and on YouTube.
Source: Tinderbox
Conclusion
Both Curio and Tinderbox are exceptional software for writers. Curio is for people who would rather dive into their projects and not spend too much time worrying about how to play with the software. Tinderbox is for people who enjoy delving under the hood to get the best experience from their software as they can. Have you used Curio or Tinderbox? If so, what was your experience?