Review of the Moshi Trackguard Protector Multi-Touch Pad Macbook Pro
Installation: Stick and Stay (5 out of 5)
The Moshi Trackguard comes in a silver matte color, akin to the rest of the unibody MacBook Pro's aluminum finish. To install, simply peel it off from its containing film, align correctly to the trackpad, and stick it on. The Trackguard is thick and sturdy so you don't have to worry about any sort of bubbling when applying it onto the trackpad: it's as simple as wiping it smoothly into place.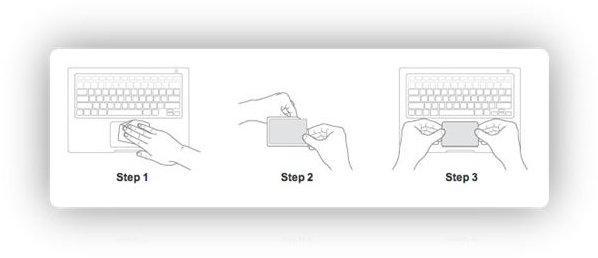 Making a mistake when putting the trackguard on is not a problem: you can peel it off and put it back on with no worries. The adhesive side of the Moshi Trackguard doesn't wear off so quickly, and it can be re-positioned a number of times without losing the film's ability to latch onto the trackpad. Also, if you decide to remove it at any point, you can peel the film off without any adhesive residue on your trackpad.
Trackpad Responsiveness Afterwards (4 out of 5)
Due to the thickness of the Moshi Trackguard - which makes it so easy to apply - it comes with its own consequences. One of the most identified common cons of the Trackguard is it would take you some time to adapt to the additional pressure from your fingers needed to make your taps to register on your MacBook Pro.
Scrolling, pinching in and out, and other multiple finger gestures are normal though, so you can still use your favorite trackpad gestures to launch Exposé or to navigate up or down a document or webpage with two fingers. The only thing you might have to be concerned about is the responsiveness of the trackpad when you have "Tap to Click" switched on in your trackpad preference pane.
If you've been using your multi-touch trackpad bare or have been using other thinner trackpad protectors before, you may notice that there is a slight inconvenience when tapping to click. Making your trackpad respond better with your taps will simply require a bit more pressure than normal. With the Trackguard in place your muscle memory will adapt to it eventually.
Value (5 out of 5)
Moshi sells it's trackguard for $12 USD and it can be ordered online. Each box comes with two trackguards, which is a surprising treat. What's most handy for this product is that across all MacBook Pros, the multi-touch trackpads have a uniform size (whether you have a 13", 15" or a 17" machine), and you can apply this film protector on any sized MacBook Pro you may have as the Trackguard fits all.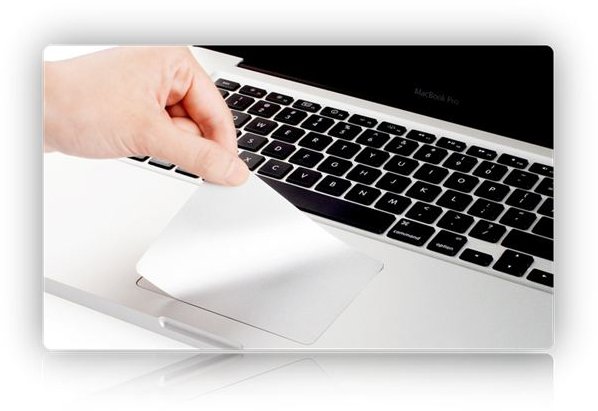 It's easy to stick and the sturdy film works great in protecting your trackpad - don't forget the trackpad is made of glass. You can feel confident with the Trackguard protecting it from being hit by a pen you may have lodged on your opposable thumb, key chains that may hit it inadvertently, or from bracelets or metallic watches you may be wearing while using your laptop.
The Good, the Bad, the Verdict
The Good
Easy to install
Sturdy
Comes in twos
Matches the unibody aluminum finish
Edge to edge precision cut
The Bad
Thickness will require additional finger pressure for "Tap to Clicks"
The Verdict
This is a great product choice for trackpad protection. So if you're in the market for a trackpad protector, this product is an excellent choice.
Image Credits