Nicecast - Online Streaming App for the Mac

Nicecast is a Mac application that will allow you to broadcast your media over the internet. Rogue Amoeba (apart from the awesome name) are also makers of some of the coolest audio applications (Airfoil,Radioshift, Audio Hijack Pro, and more) available on the Macintosh platform came up with Nicecast to satisfy all those audio fans out there who wish to run their own online radio stations. Nicecast is based upon the opensource Icecast streaming application, which if you've ever used could require considerable technical know-how and patience to setup and run. Rogueamoeba's implementation of Icecast, aptly named Nicecast is a breeze to work with.
Interface & Usability (5 out of 5)
Nicecast is designed for everybody, meaning even if you haven't done any kind of broadcasting on the Internet before you will find Nicecast to be very simple to handle. Setting up a broadcast is all about selecting an audio source, play the audio and push the broadcast button! Ofcourse you could have a Shoutcast hosting server, such as one from Wavestreaming which will provide with the site URL and port details which you should enter into the Nicecast application so that the stream can be appropriately set up. The application also comes with its own server which means you can stream the radio directly from your computer without any intermediary server provided you have a static IP and suitable internet speeds.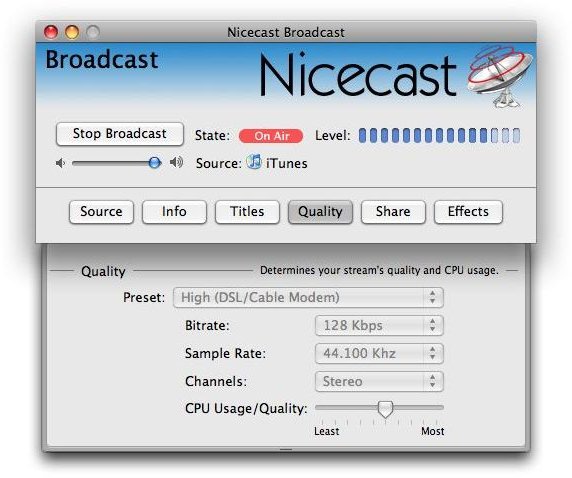 Features (5 out of 5)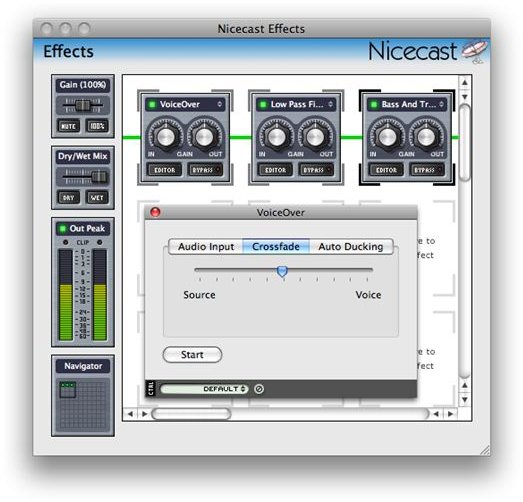 Nicecast brings in functionality from the other suite of audio products from Rogueamoeba such as the ability to select your audio input source, like you could pipe audio directly from a Skype conference into your Nicecast broadcast making it capable of handling talk radio as well. Other significant features like Archiving your broadcasts, password protecting streams, listener statistics etc. make this one powerful broadcasting solution for the amateur and even probably for a decent professional requirement. Features such as DJaying with Voice over support, compatibility with hundreds of VST plugins makes Nicecast a sweet package for anybody looking to get into broadcasting over the internet. The plugin support will allow you to tone or add effects to your tracks or broadcast as well the voice over support would provide a very professional quality appeal to your broadcast.
Verdict
The simplest use that I found for Nicecast is to stream my music so that I can tune in on my iPhone/iPod Touch or at any other computer that has an internet connection and applications like Winamp, VLC media player or Windows Media player to play the stream. Streaming your music library is a cool idea if you've got several gigabytes of music lying dormant in your internal/external hard drive. Nicecast works perfectly with Djay which will make your boradcast look more professional and interesting to tune into. Given that Nicecast provides such great functionality at a reasonable price of $40 makes the deal irresistible. If you are into audio streaming or just love to enjoy your massive collection wherever you go Nicecast is a wonderful application. A trial version of Nicecast is available for download from Rogue Amoeba which can be used to assess the suitability of the app to your needs. Happy broadcasting!.