Solid PDF to Word Document for Mac Review
System Requirements (5 out of 5)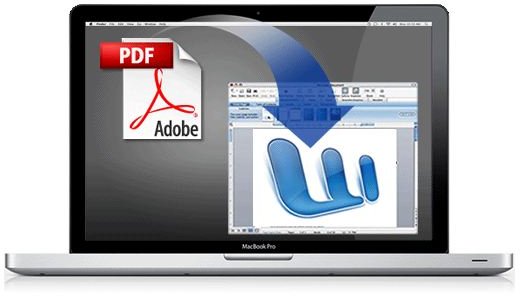 The System requirements for Solid PDF to Word are fairly standard, and any modern Mac will have no problems running the program.
The Mac system requirements are:
A Mac PC with an Intel Processor
Mac OS X version 10.5 or later (Leopard and Snow Leopard fully supported)
150 MB of available hard disk space
This software is not developed to be cross-platform (Mac, Windows and Linux) and I'm hesitant to downgrade it for only being available for the Mac platform. Some may call this a drawback, in many cases I see this as a positive. I find that software built from the ground up for the Mac tends to be truer to the Mac OS X GUI (Graphical User Interface) and integrates itself better into the OS (Operating System).
Installation and Setup (5 out of 5)
Installing Solid PDF to Word is as simple as visiting their website to download the image file (28MB), mounting the image file and dragging Solid PDF to Word to your applications folder. That's it, the program is fully installed.
Once installed the first thing you should do is launch the program from your applications folder and adjust the default preferences to fit your personal needs. There is a Save tab where you can set your default save path and program behaviour when the target file already exists. A Layout and Formatting tab where you can tailor how your PDF files are reconstructed in general based on the intended use of your content. Finally, there are the Header and Footers Tab, the Text Recovery tab and the Plain Text tab where you can further customize your copy of Solid PDF to Word. Each option on each tab is well documented telling you exactly what the option does. I recommend taking a close look at all options available on these tabs before you start producing content with Solid PDF to Word.
User Interface (5 out of 5)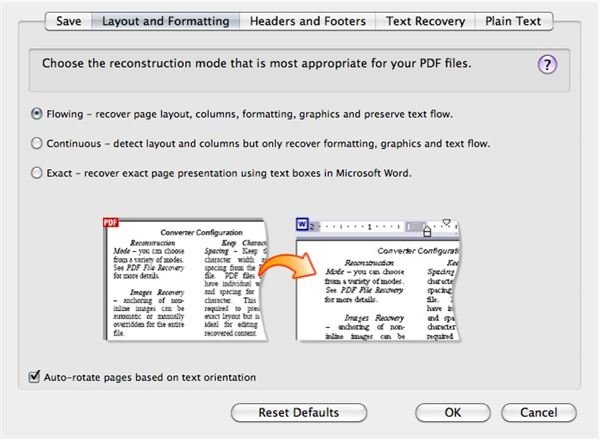 Solid PDF to Word was designed exclusively for the Mac platform therefore the user interface fits quite well into the Mac OS X desktop. The main window is well designed and easy to navigate and the preference pane is well documented and includes some great customization options to help you get the most out of Solid PDF to Word. I personally prefer applications written specifically for Mac OS X and find, in many cases, applications written for Windows and then ported to Mac OS X tend to clutter up my pretty Mac OS X GUI (Graphical User Interface). In all seriousness though, Solid PDF to Word visually fits into Mac OS X very well and it's immediately obvious it was coded with Mac OSX in mind.
Features and Performance (4 out of 5)
Solid PDF to Word boasts some pretty impressive features. With the ability to convert your PDF files to 6 different formats you will rarely encounter a situation where you can't recover some, if not all, of the information in properly formatted PDF files.
Easily convert your PDF files into fully editable Microsoft® Word documents.
Flawlessly convert PDF to iWork Pages (.pages) and retain text, images, page layout, tables, headers/footers and more.
Extract and re-use tables from your PDF files into Microsoft Excel worksheets.
Use advanced document reconstruction to convert PDF to formatted W3C-compliant XHTML. Formats columns. Remove headers, footers and images.
Extract flowing text content from PDF. Header, footer and column options available.
Save time on reformatting and reworking your converted Word File.
Advanced options for converting or removing headers and footers.
Reconstructs bordered and borderless tables as table objects, with formatting, in Word.
PDF form fields are recognized and converted into text boxes for easy editing in exact re- construction mode.
Convert text from your PDF, no matter the orientation.
URL hyperlinks in the original PDF are automatically transferred into the new Word document.
Save time by using batch conversion through selecting multiple PDF files to convert at the same time.
Combine the above features with a responsive GUI and conversions that complete in an acceptable amount of time and you've got a program that does what you want as quickly as possible. In my tests Solid PDF to Word was able to reconstruct my documents with a high percentage of accuracy.
Ease of Use (5 out of 5)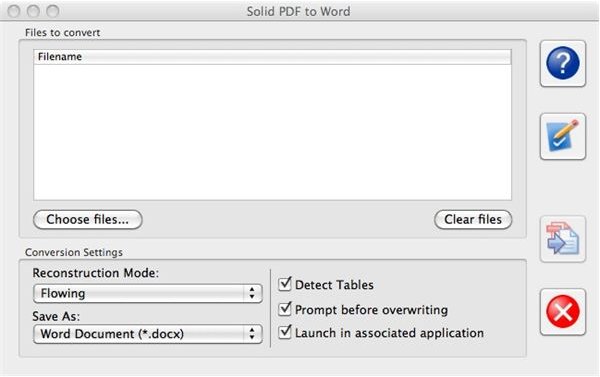 Using Solid PDF to Word is as close to easy as you get. You select your file(s), choose your reconstruction mode and what format you would like the file saved as and hit convert. The program does the rest …
Value (4 out of 5)
If you have frequent need to convert PDF files to other common formats for editing Solid PDF to Word will pay for itself in no time at all. At $79.95 per licence this may at first seem a little steep for a program that is so simple. Keep in mind though that this is a specialized piece of software, the magic takes place behind the scenes, and similar programs that do the same thing can cost you considerably more. For example, Recosoft makes a similar product which will cost you $129.00 for a similar core set of features.
Overall Rating (5 out of 5)
As I said above, if you frequently encounter situations where you need to convert a PDF file back to another standard format which you can easily edit, Solid PDF to Word performs quite well. In my limited testing of the beta it was able to convert my PDF files back to Word, Excel and RTF with ease. The only real limitation I see when it comes to Solid PDF to Word is Word itself. My tests were mostly done with files produced through Word, Excel and the iWork suite of programs. If you were to use a less mainstream or overly complex desktop publishing program to create the original documents your mileage may vary. Solid PDF to Word may be able to reconstruct the entire document but if Microsoft Word cannot handle some of the formatting you may have some minor editing to do to make your document look like the PDF you were converting.
Overall, Solid PDF to Word is a useful tool for many businesses and anyone needing a "Solid" program to convert their PDF files to Word documents. This program is just now being released to the public, April 28, 2010, and seems to be bug free. Should you have opportunity to purchase Solid PDF to Word and put it through some thorough testing please let me know how you make out via the comments form below.