Delibar : Delicious client for Mac - Review
Social Bookmarking & Delicious
Social bookmarking is one of the strongest applications ever devised from social networking. Discovering and sharing interesting sites found in the information jungle, that is the Internet, is a practical and well executed use of the "wisdom of the crowds". Delicious is one of the most popular social bookmarking sites on the planet. Their web interface has been revamped to be user friendly, including their system of using Bookmarklets to add pages to the system.
Interface & Features (5 out of 5)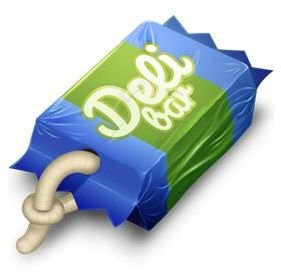 Delibar starts up with a dialog box asking for your delicious login information, which once entered is saved and from now on you can access your bookmarks without any further authentication procedures. The app has a spotlight-like interface which makes Mac users feel at home. The app serves up a HUD with 4 main tabs - bookmarks, recent, network, and saved. The bookmark section provides information such as total number of bookmarks and tags as well as friends you may have on the delicious network. You can call up a bookmark by typing a corresponding name, tag or description - which then provides a drop down list of bookmarks to choose from. This is an intelligent approach, since loading the thousands of bookmarks that I have on delicious would slow down the app tremendously! Again the app imitates Spotlight functionality here. The recent tab shows the recent bookmarks that you've added and the network tab provides the bookmarks that members in your network have added. The Saved tab functions as a "smart folder" feature, a particular search query can be saved and the bookmark results are updated accordingly for quick access.
Delibar - Delicious Mac Client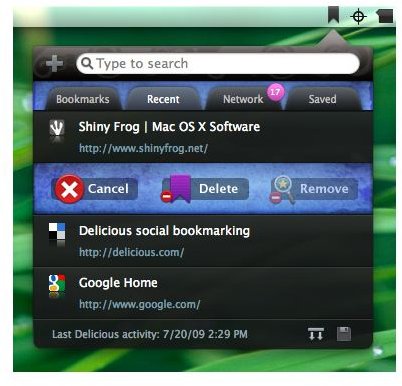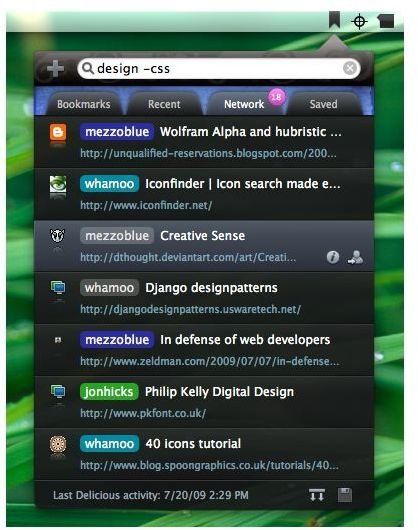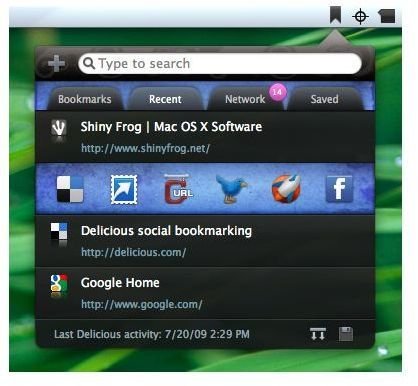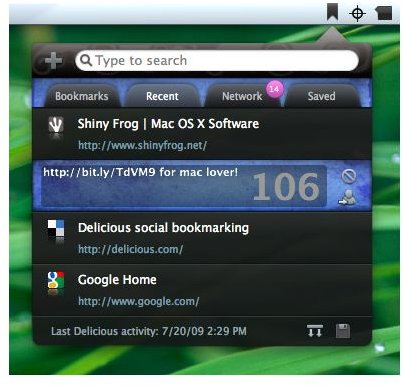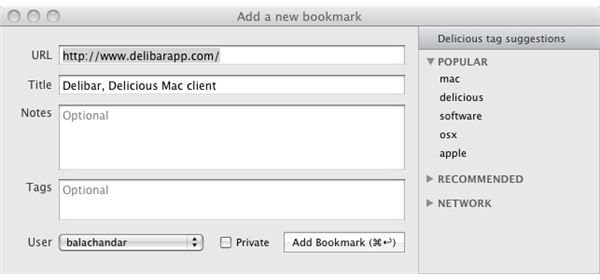 Usability (5 out of 5)
Delibar includes several intelligent features, such as network list refresh time - so that you don't get bogged down by the constant updates of bookmarks and growl support, which displays a small growl message when a new bookmarks is added to your network or by a friend in real time as well as capability to share bookmarks via. twitter, facebook etc. The app also extensively supports applications like NetNewsWire, Marsedit, twitterrific, yojimbo etc. allowing you to do even more with your bookmarks.
In fact Delibar provides so many useful features that using the web interface of delicious becomes a moot point. The bookmarklet feature is also included with the application so adding bookmarks is never a pain. Almost all features that are provided on the bookmarking page of the delicious web application are contained within the app itself. The free version of the app only allows searching and accessing your bookmarks, but the paid Pro version brings the application to full speed with bookmarks management, discovery as well as sharing.
Verdict
If you're a heavy internet user, researcher, student etc. chances are you've accumulated hundreds of bookmarks and having them on delicious makes more sense since they can be accessed from any computer connected to the internet. Now if you're on the Mac make the smart choice of getting to use Delibar to manage and access you bookmarks on delicious - it just makes the delicious experience so much more pleasurable.
You can download the Delibar application from delibar homepage and play around with it, for 15 days it functions as a pro - paid version with all features enabled, after which it reverts to the free version which allows you to just quickly lookup your bookmarks. If you're like me you will be hooked immediately and would definitely go for the pro version. The asking price of $18 might seem like a bit much, but once you start using the app you'll know that its well worth the price. Even if you don't decide to buy the pro version, the free version is such a better tool than the slow loading firefox delicious extension. The guys at Shiny Frog software need to be commended for their great app and in fact this should be the default application to access delicious bookmarks.