SuperDuper! Review: An useful utility for creating bootable backups for the Macintosh
Overview
One advantage of being on the Macintosh platform is the ease with which the operating system can be booted from an external drive. In order to take advantage of this, software is needed to create a bootable copy, or disk image, of your Mac's drive. Enter SuperDuper!, an incredibly useful utility that creates bootable backups for the Mac.
Download and Installation Process (4 out of 5)
To download SuperDuper!, head over to the product website and click on the download link. A free version of SuperDuper! is available from the site that allows for unlimited backups to be created forever. A paid version is also available for $27.95 that adds the ability to schedule backups and to use the Smart Update feature which only copies files that have changed since the last backup.
Once the download is complete, open the downloaded file, and drag SuperDuper! to the application folder to complete the installation.
Ease of Use (5 out of 5)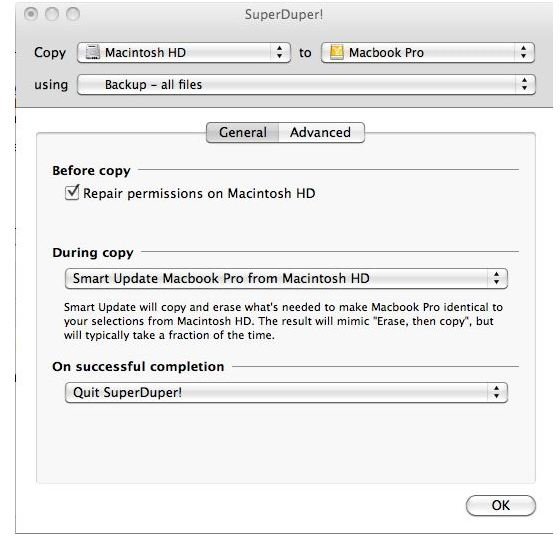 Once SuperDuper! is installed, simply plug in an external drive with a previously created partition that is roughly the same size as your Mac's internal drive. Drive partitions can be easily created using the Drive Utility program built into Mac OS X. Launch SuperDuper! and tell it to copy your Macintosh HD to the partition previously created using the "Backup - all files" method. In the figure shown here, the partition is named Macbook Pro.
Under the General tab, there are options to Repair Permissions before beginning the backup, which type of update to do, and what SuperDuper! should do after the backup. Note that the Smart Update feature shown here is only available with the paid version. The free version only allows the option to erase the partition and recopy all files.
After SuperDuper! is complete, be sure to test the bootable backup by restarting your Mac from the backup. This can be done by going to the Startup Disk preference pane in System Preferences and selecting the partition created for start up. Once the contents and usability of the backup are verified, go back into the Startup Disk preference pane and select Macintosh HD for startup before ejecting the external drive.
Value and Overall Usefulness (5 out of 5)
With the amount of data being stored on computers now, having a backup of that information is very important. For this reason, SuperDuper! should be in the application folder of every Mac user. Even if you decide not to purchase the paid version for the Smart Update or scheduling features, be sure to at least try the free version for creating backups. Even for $27.95, the paid version is a great value considering the time and trouble it will save in case of a drive failure or theft.