PhoneView - File Browser for your iPhone and iPod Touch
Overview
With the strict iTunes-only control for the iPhone, people have been trying to find a better way to quickly browse through its files like a usb drive. PhoneView solves this problems and adds a bit more. While some choose to jailbreak their phone to access these features, PhoneView offers this without the hassle. A quick and simple menu system streamlines this process and allows all users to efficiently use PhoneView. With the new 2.3 update, more features have been added. Read more to see if this is just what you need.
Function (5 out of 5)
Formerly known is iPhoneDrive, Ecamm Networks has updated this program several times to bring it to where it is today. PhoneView uses the familiar Finder menu style. Rather than having a complicated organization system, this program allows the user to drag and drop any file they want into the system. The same can be done the other way around, allowing you to quickly take photos off your phone and into your computer. You can also add folders through their simple buttons. If there is a particularly large file you want to download, PhoneView shows a status bar to see how long the process will take. You can also delete files with a click of a button. To provent accidents, a prompt always as once a file is deleted, it is gone forever.
Features (5 out of 5)
PhoneView offers a huge list of features that cover all the major things your Phone can do.
1. You can simply use the Phone as a disk to quickly browse through files.
2. The ability to play music stored on the phone right in the system files. This goes the same for videos and podcasts.
3. Use PhoneView as a backup system, easily restoring all your data if something were to happen to your iPhone.
4. Organize contacts and export them from different locations. If you miss a person, you can simply add their data right from the menu instead of using the tedious touch screen controls on your phone.
5. Download the photos you've taken and add ones you want to share.
6. Manage your notes, as well as create new ones. This feature is great for when you want to quickly type a note to be used later on.
7. Use your phone as a portable harddrive, keeping files in the system for other uses. These files are not shown in the iPhone menu so nothing is obtrusive.
8. Export your SMS and MMS conversations to your computer quickly to a text editor or spreadsheet program.
9. Save voicemails to be played on your iPhone.
10. Play and save voice memos to your computer.
11. Browse through Safari bookmarks and history and open windows. You can also use a Search feature to find a website from your history.
Images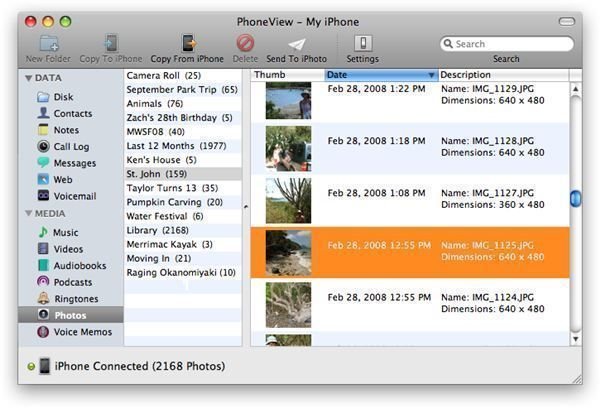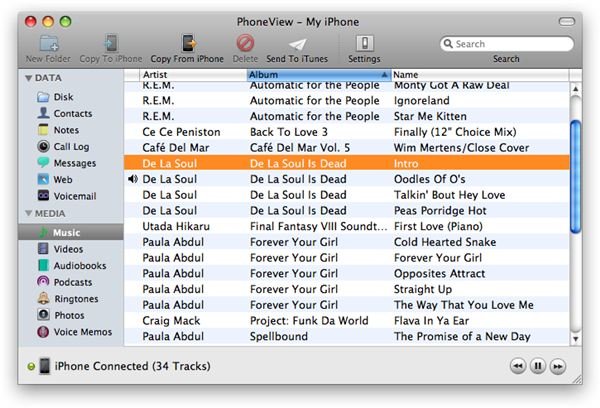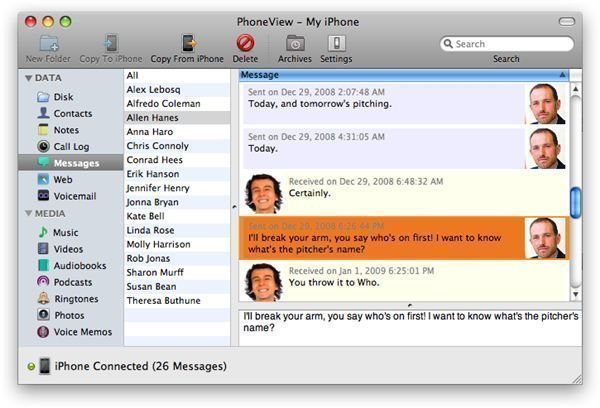 Conclusion
PhoneView offers a completely legal and mess free organization system to Mac users. It uses a format similar to the Finder program and offers the same ease. At this point, there aren't any features that PhoneView doesn't cover and it also gives your phone a ton of new uses. With a great price of $19.95 and a demo to try it out yourself, this program is great for iPhone and iPod Touch users out there. If you aren't completely satisfied, updates are always free and are always adding new features.