Fugu Review: Upload and Download Files Securely
Fugu allows Mac users to use an FTP like program that runs on the graphical users interface (GUI) and is encrypted. That means it is easy to use and third party interception is less likely. Sounds pretty cool, huh?
Download and Installation (4 out of 5)
You can download Fugu at the developer's website. It is award winning freeware, so you are in good hands. After you have downloaded the file it will mount on your desktop. Then all you have to do is open it and give Fugu a try.
Features (4 out of 5)
Fugu allows all the ease of the graphical user interface with all of the security of a secure file transfer program, rolled into one. However, in order to connect you will need to know someone's username and server address. But once you do the set up is easy. Just type that in, connect and you are ready to go.
Fugu's interface is easy to use and understand, however, it is not intended for the novice computer user. Only those who have an understanding of FTP applications will be able to use it with ease.
Fugu has some interesting features which are, according to the website:
* Drag and drop upload and download of files.
* External editor support.
* Image previews.
* Directory upload (not natively supported in SFTP).
* Permissions, owner and group modification.
* Directory histories.
* Support for international characters, including Chinese and Japanese glyphs.
* A Console, which may be used like a command line SFTP session.
* Support for Public Key Authentication.
* Support for connections to alternate ports.
* Full Aqua interface.
* SCP support.
* Ability to create SSH Tunnels.
* Keychain support.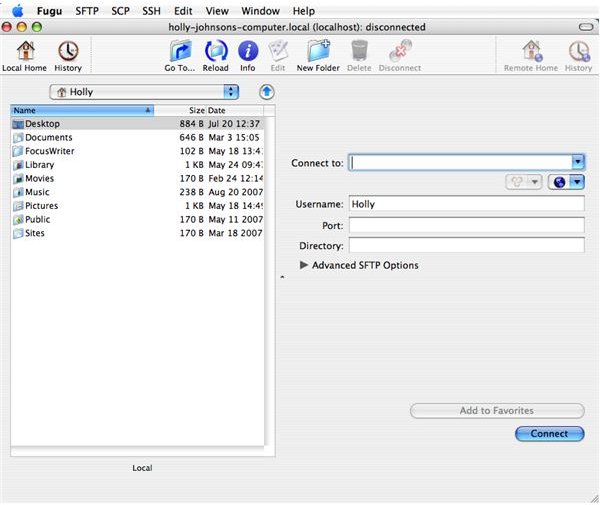 Usefulness (4 out of 5)
If you are familiar with FTP programs and want something with more security and an easy to use interface, Fugu is right for you. It is simple to set up and understand and the GUI makes it very easy to use. Plus, the added bonus of encryption makes it too good to pass up.
Overall (3 out of 5)
Fugu is award winning freeware for a reason. If it sounds like something that is up your alley, give it a try today.