Sandvox Pro Website Design Software Review
Sandvox Pro is a website design application made by Karelia Software exclusively for the Mac. I have been using this program for about six months now instead of Adobe Dreamweaver and I must admit that it has been a fantastic change of pace. Sandox is available in a regular edition and a Pro edition. Pro users are offered more options with regards to customization of the site through advanced html support and Google integration. Sandvox also offers developing and designing support documents as well.
Interface and Templates (5 out of 5)
The interface in Sandvox Pro is so user-friendly, which is an excellent feature for beginner web developers. The ease of starting a new website with its wide array of over fifty stunning templates is the first thing one falls in love with when using this program. These are not the boring, simplistic templates, but rather fully functioning and customizable websites that look so professional and flashy that one might assume that they were made by Apple. Here is my website that was created with one of these templates in Sandvox Pro: www.mikepiero.com
Choose a template from the top row, and begin to customize your new website. These included templates look just as stunning as the ones you have to buy for $99-299 from other websites.
The left hand column features easy access to all of one's web pages on a given site. It also has boxes for inputting important meta data like descriptions, tags, and keywords. Adding a new page is as simple as clicking on the Pages icon in the upper left corner and selecting a template page to work from. Sample pages include rich text, contact form, links, photo, video, site map, or even a custom html page.
Then, use the Pagelets button to add lots of interactive and necessary features to your webpages. It's so easy to use.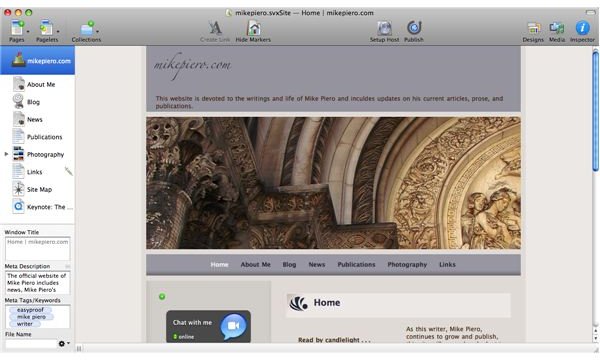 Power (4 out of 5)
One might not expect such a flashy and user-friendly interface to be accompanied by powerful website editing tools, but they are included in the Pro version.
Not only can one add his own html webpages that he designed in other programs (like my wordpress blog), but he can inject html code in any of the Sandvox webpages. When done, a small green needle appears next to the page in the left editing pane. This makes it easy to tell at a glance which pages you have, let's say, added some ad banners or inserted a custom counter.
Like many programs that run on the Mac, this one is more geared toward the home and entertainment user with easy drag-and-drop of files, photos, and videos. Uploading is simple and with the click of a button, Sandvox will upload your changes via ftp, sftp, Mobile Me, or WebDAV to your website.
Right now, Sandvox doesn't offer much in the way of building online stores, shopping carts, etc., but their newsletters claim that they have a lot of new features on the drawing books for future versions of Sandvox. If you already have an online store, you can add it to your Sandvox website by adding an External Page page and when a visitor clicks on that link, they will be taken to your online store.
Price (5 out of 5)
Sandvox is available for a free trial, which is how I found it. The regular edition cost $57 and the Pro version costs $97 as of the time this article was published. Before I bought the Pro version, I contacted Karelia and inquired about an education discount, and at the time they confirmed that they offered a 33% discount for students, which they had to verify. If you are a student, be sure to contact Karelia before making the purchase online.
Even at $97, Sandvox Pro is well worth the price. I cannot think of a software program (aside from Mac OS X Leopard) that gives you so many features for just around $100. And, if you are skeptical, Sandvox comes with a 100% satisfaction guarantee.
I am happy to be able to give Sandvox Pro my full recommendation. This is the website design program that I have been looking for my whole life.