Some Other Options For Keyboards and Mice For Macs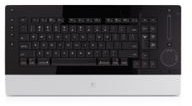 Logitech diNovo Edge Keyboard, Mac Edition ($180) (5 out of 5)
This keyboard is by far one of the nicest out there. The Mac Edition works flawlessly with Apple products as it gives you one touch access to iTunes, Safari, Mail, and more. The best, most unique feature about this keyboard is the Logitech "Touch Disk". This features a circular touch sensitive trackpad located on the left side of the keyboard which allows for smooth scrolling, and other gestures. It also features a similar touch sensitive volume slide control. This keyboard is bluetooth powered (30 ft. range) so it requires no usb connection. Other notable features include backlit keys, 10x faster scrolling speed, unibody laser cut design from aluminum.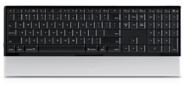 Logitech diNovo Cordless Keyboard, Mac Edition ($100) (5 out of 5)
This keyboard is very similar to the diNovo Edge in many ways, but price set much more reasonable at $100. It does not have as many features as the more advanced Edge, but it is Mac compatible to the T and does everything one basically needs. Features include 2.4GHz wireless connectivity through USB receiver, gloss-black finish with aluminum palm rest, and extended battery life. Both this model and the diNovo edge feature the Logitech "Perfect-Stroke Key System" which is designed to make typing fast, smooth, responsive, and silent.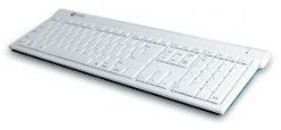 Macally USB Slim Keyboard - ICEKEY ($28.56) (4 out of 5)
This keyboard is designed specifically to complement Mac computers and laptops. It may remind many people of the previous generation Apple keyboards. It features built-in USB ports on both sides to give your more functionality when using any devices. With a price of $30, this is the featured keyboard that is significantly cheaper then the Apple keyboards. You can also get a matching Macally ICEMOUSE for this keyboard that will plug directly in to the expandable USB hubs on the sides. Very good choice for the price.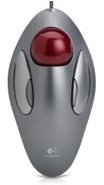 Logitech TrackMan Marble Trackball System ($29) (5 out of 5)
This product has been out for a while now, although it has recently been slightly redesigned for maximum ergonomics. It is completely compatible with Mac products and costs about half as much as a mighty mouse. The main feature with this mouse is easily seen as it is not really a mouse. Scrolling and tracking is done by rotating the trackball on the base. The left and right click buttons are positioned on each side of the trackball. This alternative may take some getting used to, but it is very smooth and requires no space to move as does a mouse. Other features include two programmable buttons on top of the mouse that can be used as shortcut keys.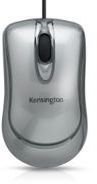 Kensington Pocket Mouse ($15) (5 out of 5)
Being the cheapest item on the list, the Kensington Pocket Mouse is surprisingly very reliable. This is more of a travel mouse, although it would work perfectly fine as an alternative to an Apple mighty mouse. At $15, you really cannot go wrong. This mouse is wired, so it will require an open USB port. The color matches the current line of MacBook, MacBook Pro, and MacBook Air line of notebooks very well. Features include plug-and-play usage with Mac computers.
Overview
For the most part, all keyboards and mouses are backwards compatible between Mac and Windows computers. However, many times the shortcut keys or specialty keys will not work right or be mislabeled when using a Windows keyboard with a Mac. All items on this list are featured in a "Mac Edition", which makes them the ideal candidate as Apple Keyboard and Mighty Mouse alternatives. If you are like many others who are not favorites of the Mac keyboard and mouse, take a look at these as they may be just what you are looking for.