Expandrive 2.0 - Network Drive Woes solved!
Network storage
There's just not enough storage for anybody these days. In a multimedia world of music, HD movies, 15MP cameras and more, storage is a concern and consumers are always on the look out for more ways to store their digital creations. On the Mac, the finder makes connecting to network storage locations accessible by loading them onto the sidebar. By clicking on them, you have to connect to the file share server. Theoretically this should also work with FTP/SFTP shares by entering the username and password in the path to the folder and then access the files. However accessing secure share FTP and SFTP shares on the fnder has always been a pipe dream so far. In today's world where cloud computing and cloud storage especially has become an integral part of our digital life, it is a pain to allow the finder to locate the share and then mount it and connect to it. What Expandrive allows you to do is to use your FTP/SFTP or your Amazon S3 storage space as a hard drive and work with files on it live and edit and save them. Your network drives or FTP servers can now act just like another USB drive.
Expandrive -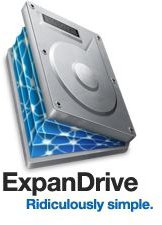 With Expandrive just mount your network storage devices or FTP/SFTP servers as a USB drive and go crazy with the data on it. As with the best Mac apps out there, Expandrive is a breeze to use. In fact once you start using it you just cannot live without it.
To start, you need to install Expandrive which after installation loads up on the Mac menubar and presents you with controls to setup your network shares and access other Expandrive settings. From the Add Drive menu you can select whether you want to add an FTP or SFTP server or the newly included Amazon S3 storage server. After that it is just a matter of entering in the settings such as the user access credentials for logging into the server and from then on Expandrive takes over.
Expandrive Functions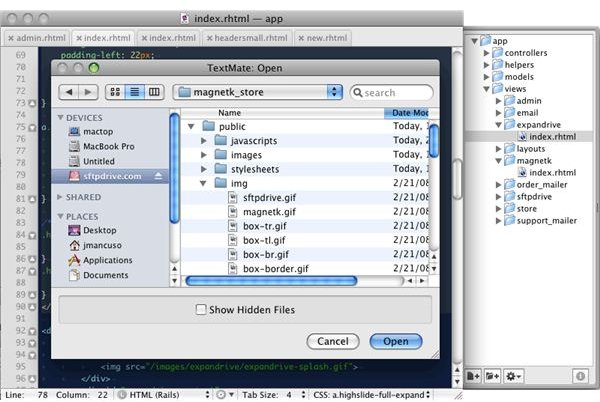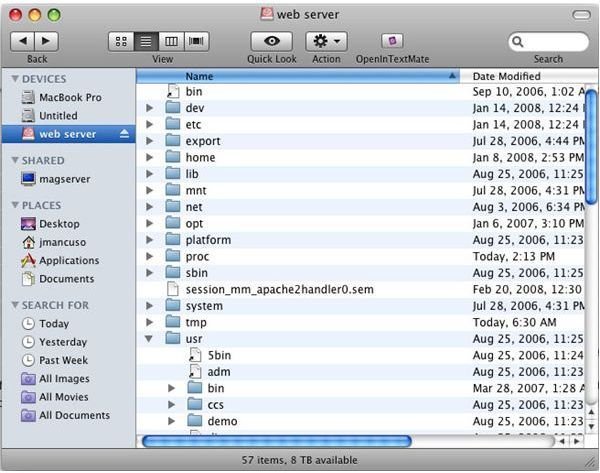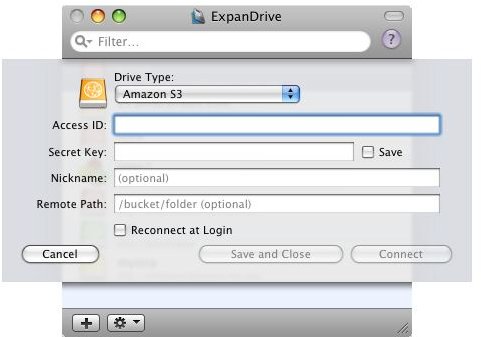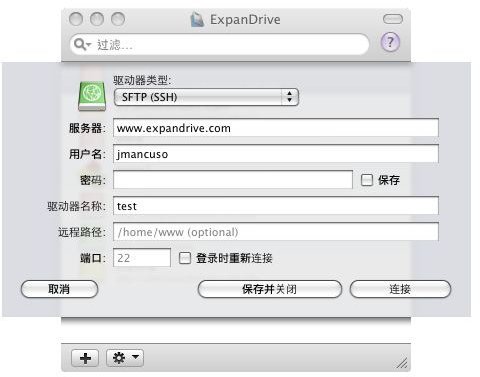 Features & Function (5 out of 5)
For an average user the added benefits may not rock his or her world, but for Web designers and other people who work with content that lives on a remote server and needs to changed often this is a blessing. Imagine opening your HTML files from your webserver and editing them live on Textmate or Textedit for that matter. Imagine how much functionality and ease that provides. I would highly recommend this app for users who have their own websites and access the hosting server via FTP. Now making changes to your files or adding that piece of Google analytics code need not involve firing up your FTP Client and logging into your server, downloading your html file and then editing it and so on. All it takes with expandrive is just a simple copy and paste.
The latest version 2.0 of Expandrive now supports Amazon S3 storage which means you can get an almost unlimited hard drive on the cloud and can safely keep all your precious belongings on the web and make them pop up on your desktop just like another USB drive. Ability to use the familiar finder to browse through the directories and make changes to files on the fly is just the icing on the cake. Expandrive does not do a plethora of things, but it does the single task that it is designed to do with utmost perfection. The newly included interface language options now make it widely available to people across the world.