MyPOPBarrier Review: Erase Email Messages From Multiple Accounts
MyPOPBarrier allows Mac users to collect mail from multiple accounts and erase it from the server without ever having to log on. One step up from Mail, I'd say!
Download and Installation (4 out of 5)
MyPOPBarrier can be downloaded at the developer's website. The site is in French and English (the software will be in English) and easy to navigate. Once it is downloaded all you have to do is open the file and MyPOPBarrier will be ready to launch.
In order to get it working you will have to set up the e-mail accounts you want it to import mail from. To do this you will have to fill out some simple information like the e-mail address, the password and the incoming mail server (this can be found online very easily). Once set up, MyPOPBarrier will start importing mail and you can get to work! If you set up Mail to work, you can set up this to work too.
Features (4 out of 5)
While the design is very spartan it does what it is supposed to do. In the window, there is a side for messages and a side for filtering out spam. The message side will import your e-mail however often you set it up to do so in the preference menu. The filter side allows you to block mail containing certain words or addresses or to allow all mail through. You can get the mail manually by pressing the Pick Up button in the lower right hand corner.
Once you have mail imported, all you have to do to erase it from the server is select it (it will have a red dot next to it) and press Purge. Then the mail will be permanently erased from the server. If you do not have it saved, be sure you really want to erase it forever before doing so.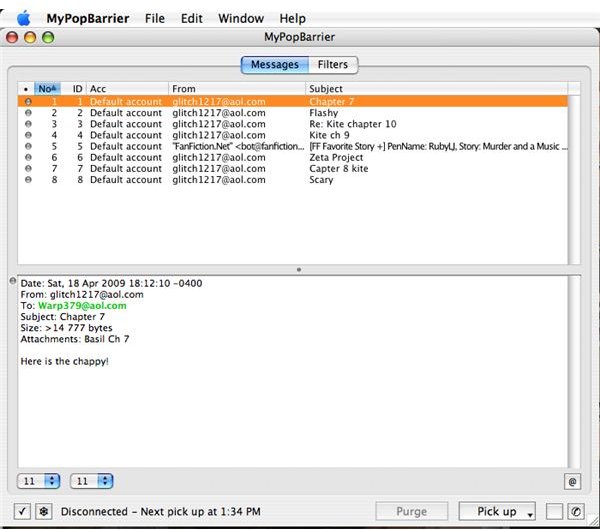 Usefulness (4 out of 5)
While I like Mail, it is annoying that I can only delete the messages it imports on my computer. In order to delete them from the server I have to sign on to that account and do it manually. However, MyPOPBarrier fixes all of that. It is easy to use, as long as you know how to use Mail, and it gets rid of mail remotely with the click of a button. Very useful indeed!
Overall (4 out of 5)
MyPOPBarrier is a simple program that does exactly what it says it will. It has no fancy bells and whistles, but it gets the job done. If you want something that takes Mail just that step further, I recommend MyPOPBarrier. You'll never need to log on to an email account again!