iAlarm Review: Use Your Mac As An Alarm Clock
iAlarm is software for your Mac that allows users to avoid having to by an alarm clock. Your Mac can be your alarm clock! While that sounds kind of cool, it also means your Mac has to be close to your bed and you have to keep it on all night. Not so cool anymore, is it?
Download and Installation (4 out of 5)
This part is easy. iAlarm is available at the developer's website. Just click on the download and wait for the file to mount on your Mac. After that, all you have to do is open it and put iAlarm anywhere you want. However, I had a problem keeping the file in the iAlarm mounted disk icon. I suggest you move the iAlarm icon out of it and put it in your Applications folder (or wherever you want, just as long as you remove it from that disk icon).
Features (4 out of 5)
Touting itself as "the best alarm clock for the Mac" iAlarm can do some cool things you'd be hard pressed to find in a regular alarm clock. It can wake you up in five different ways (all of which can be easily changed). They are: with music from your iTunes library, a normal beep, the local weather (this feature is only available in the US), a podcast you subscribe to, or with a pre-recorded message. It can also run an AppleScript you have programed into it, although this option is only suggested for advanced users. Also, if you want to be woken up with a podcast or the local weather, you will need to have your Mac connected to the internet.
The interface is easy to use and understand. There is a simple list of the ways you can be awakened (check the one you want) and you can test it and set it. Changing the time is also very simple, just choose it from a scroll down menu. You can also choose how many beeps you want. There is even a sleep timer function.
For all of those out there concerned about the environment, there is an energy saver option that allows iAlarm to let the computer sleep and only wake it when the alarm is slated to go off. This is a nice feature (and easy to set up) but a sleeping computer still uses energy, even if it does use less.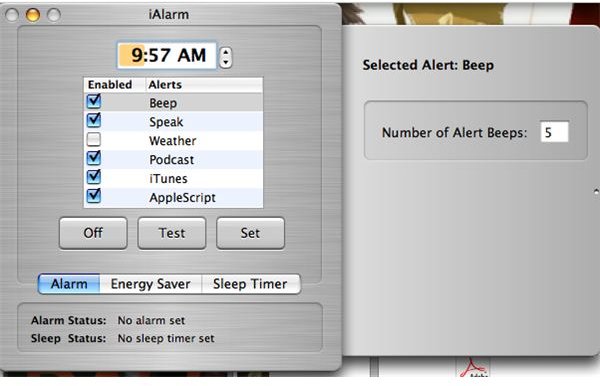 Usefulness (2 out of 5)
If you are trying to save money and don't have an alarm clock, this might come in handy. But, all in all, I can't see how. You have to leave your computer on all night for the alarm to sound, and you have to sleep in the same room as your computer. It just doesn't seem very practical if you have a home office. Plus, iAlarm doesn't take into account one of the most important aspects of an alarm clock is the clock. Even if your computer is in the same room with you, I doubt you'll keep in on your night-stand (unless it's a laptop). In that case, how will you know what time it is from a sleeping computer monitor?
Overall (3 out of 5)
iAlarm is freeware and it does work, but when a real alarm clock is only $5 I don't see the point in leaving your computer on all night (unless you do that anyway) just for a free alarm clock. If it sounds cool to you, go for it.