Spark Review: Create Custom Hot Keys For Your Mac
Spark is software for the Mac OS X (10.4 and 10.5) that allows uses to create hot keys for many commands on their Mac. Unlike some of the other software with a similar lean, Spark is actually both quick and very handy, if you are crazy about hot keys that is.
Download and Installation (4 out of 5)
Spark is available from this website. After a simple download, all you have to do is open the mounted file and copy it into your Applications folder. Do you just love it when installing an app is that easy? Once Spark is copied into the Applications folder you just have to open it and start creating hot keys!
Features (4 out of 5)
Spark can do a lot hot key wise. Not only can you create your own hot keys with it, you can create and edit AppleScripts, and issue commands to iTunes. It is also possible to import as well as export your hot keys library and save your list of hot keys as an HTML document and print it out for future reference*.
Spark is nice to look at and easy to use. There is a simple window in which you choose what you want to make hot keys for: Applications, Documents, iTunes, Menu, System or Text/Keyboard. After choosing that you will get a new window with a scroll down menu for the hot keys available and all you have to do is click on Shortcut to edit the hot key. However, you need to put either Command, Option, Control or Shift in the front of your hot key to be able to create it. This can get a bit annoying, actually, as there are only so many combinations that aren't overly complicated.
Spark can also make AppleScripts very easily. All you have to do is provide the source or file, check the script and run it. You can even add hot keys to each script!
Spark in Action!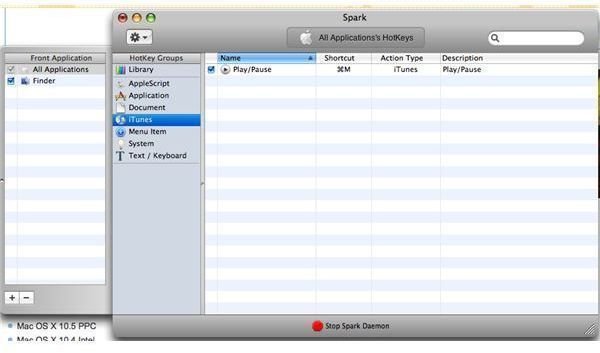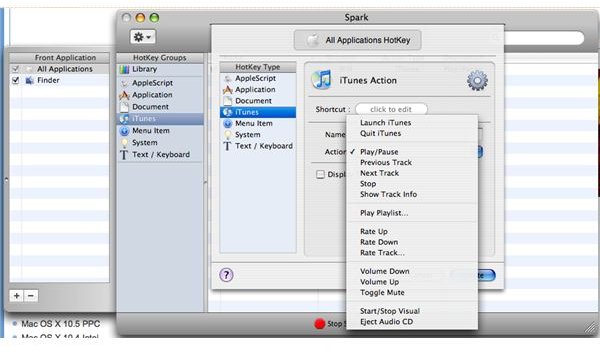 Usefulness (4 out of 5)
If you like hot keys you will probably like Spark. It is easy to create hot keys for iTunes and many system management commands. However, Spark falls short when it comes to application hot keys. With the exception of iTunes the only hot keys you can create for most applications are Launch, Quit, Hide and several variations of these. If you are looking for software in which you can create detailed hot keys for many different applications you will have to look elsewhere.
Overall (4 out of 5)
Spark is a good piece of Mac OS X software. Despite a few shortcomings it is still a nice program if you want to create some simple hot keys for your Mac. It's easy to use and the hot keys work well, so give it a try if you'd like. It's freeware!