iStache Review: Add a Mustache to Any Photo
Did you ever wonder what you would look like with a mustache? How about what your best friend would look like? Your boss? Your grandmother? Well, wonder no further. With iStache, the revolutionary new software for Mac OS X, you can put a mustache on a picture of anybody you have on your computer. That's right. Mustaches all around!
Download and Installation (5 out of 5)
Downloading and installing iStache is just as easy as using the program itself. Available at the iStache website, all you have to do is click download and then open it once it mounts on your desktop. Simple as pie. Mustache pie that is! Once you open it you can select a picture from anywhere on your computer and mustache-ify it to your heart's content.
Features (4 out of 5)
iStache has the most mustache friendly features of any Mac software to date. Take that, iWork and iDVD! There are twelve varieties of mustaches available for use and each of them have a handy name (many denoting the person who made that particular mustache famous, or infamous as the case may be). The names of the mustaches are: Bushy, Squirrly, The 6:30, Thin Curls, Thick Curls, Ben Affleck, Straight Gayness, The Hitler, English Gentlemen, Fuzz, Poe Poe and Got Milk?
In addition the the large variety of mustaches, you can also change the size of the mustache to better fit the face you are giving it to. This is done by a very easy to use sliding scale set between 1% and 100%.
Placing a mustache is easy too. All you have to do is select the mustache you want from the pull down menu and click on the spot you want to place it. However, this part can be a little imprecise. You can't move a mustache once you've placed it (you can undo it and start over though) so it may take several times to get the placement just right.
Usefulness (5 out of 5)
iStache has everything for your mustache needs. If you've been thinking of growing a mustache but would like to see how one would look before you go to all that work, download it. If you are envious of men who can grow glorious mustaches while your face is bare, download it. If you want to have some fun putting mustaches on your pets without them resenting you for it, download it. It's a whole lot of fun and will make you look at mustaches with new appreciation.
iStache at Work!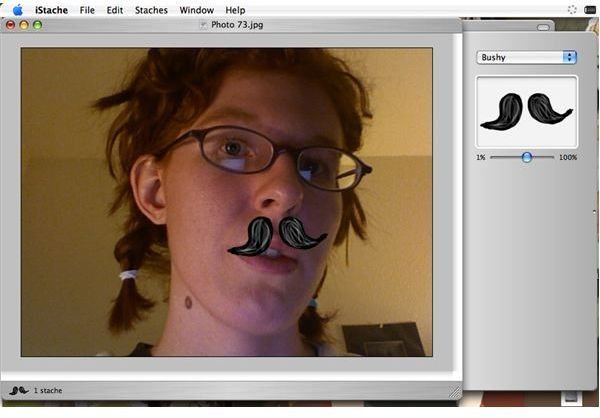 Overall (3 out of 5)
I enjoyed iStache very much. If you want to play around with mustaches and have the free time to do it, it is worth the download. It's freeware so you don't have anything to lose. And you'll be able to see what you'd look like if you every wanted to grow that handlebar.