Software Review: CoverSutra
CoverSutra (4 out of 5)
Picture this. You're working on an important article for Bright Hub and would like to select a different track or pause playback. Isn't it annoying that the only solution is to stop writing, switch over to iTunes and click the pause button or select a different song? You might have a high tolerance level but trust me, try doing that for a few times and you will get what I mean.
Thankfully there is a slick way to control iTunes without leaving the current application or window.
To put it simply, CoverSutra is an iTunes controller with style. It is the product of Sophia Teutschler, a german female software developer who runs her own company called Sophiestication. Notice the word female?
Features
Here are some features worth mentioning.
Music Search
Spotlight is an important feature in Mac OS X. You can find what you want by simply entering a few keywords. CoverSutra provides that same function and it is just a click away.
Album Art
Put a CD jewel case displaying the cover art of the currently playing album right on your desktop. Do note that the later versions of iTunes will automatically fetch the album art of songs you import. Enabling this feature can be done in the preferences pane within iTunes.
Global Shortcuts
Customize your own global shortcuts to play, pause, rate, skip, rewind or fast forward.
Last.fm Integration
Last.fm is a UK-based Internet radio and music community website. With over 21 million active users based in more than 200 countries, it is by far the most popular social network for music lovers. CoverSutra will update your profile automatically.
Instant Player Controls
With just a keyboard shortcut, a HUD player window can be accessed and you can see relevant information about the song that is currently being played.
Screenshots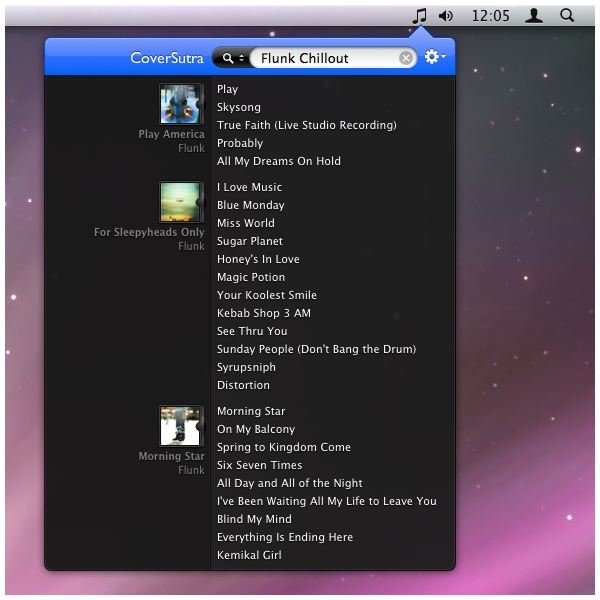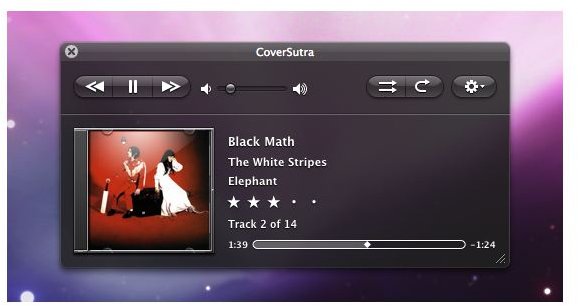 Conclusion
CoverSutra is priced at €14.95. Considering the current economic crisis, some of you might find the price a little steep for an iTunes controller but the good news is that a trial copy of the full application can be downloaded.
Don't just take my word for it. Try it out for yourself and see why I highly recommend it!