Henge Dock for Apple Macbook Pro Review: A Docking Station that Works
Henge Dock for Apple Macbook Pro
If you're in search of a Macbook docking station, the Henge Dock for Apple Macbook Pro for the Apple Macbook Pro is definitely a product worth checking out. Made specifically for the Mac notebook line, the Henge Docks docking station allows you to hook up your Macbook or Macbook Pro to an external keyboard, mouse, and monitor or an LCD/LED TV. I just purchased one of these for my 13-inch Macbook Pro, and here's what I have found. I won't comment on the reliability of the docking station for two reasons: 1) there really aren't any parts on it that would "go bad" and 2) I've only had the dock for two months now – a bit too early to comment, but I don't foresee any issues related to parts wearing out.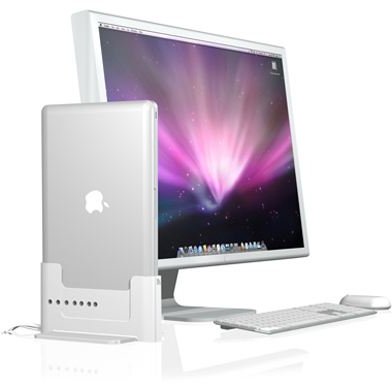 Quality (4 out of 5)
The quality of the Henge Docks docking station is excellent, especially given how new the company and product is (first model released in 2009). Cast out of a durable white plastic, the dock is stable and doesn't allow for much shake when the Macbook Pro is docked vertically in the unit. The Henge Docks dock comes with everything you need to get up and running (except unless you don't have a Mini Display Port adapter…more on this later). The parts are well crafted and finished nicely. My only complaint is that the inside of the docking station leaves some white residue on the aluminum body of my Macbook Pro. It easily comes off and isn't a surface scratch or anything - just something they might want to work on for future models.
Setup Macbook Docking Station (4 out of 5)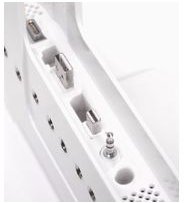 The initial setup is smartly laid out and is made easier by thorough instructions, unlike most modern day electronics. All in all, it took me about 20 minutes from opening the box to having everything customized exactly how I wanted it to fit my Macbook Pro. The great thing about the Henge Docks system is that it isn't an all-or-nothing unit. You choose each cable that you need to run through the dock, so you're not wasting space on unnecessary cables. The room gets a bit cramped in there, so the ability to leave out unneeded cables is good. The most difficult part of the setup process was getting the DVI cable to fit in there with my standard DVI to Mini Display Port adapter (an adapter that you'll need to buy if you don't already have one). Henge Docks does offer their own custom cables which feature longer cords that would really come in handy, but that's all at an additional cost. It would be great if they allowed each customer his or her choice on one additional cable to be shipped with their order. But, as it stands right now, each cable is at an additional cost. Besides the video adapter cable, all of the other cables you'll need come with the unit.
Cost and Features (3 out of 5)
As far as cost goes, the Henge Docks docking station for the Macbook Pro is reasonable at $59.99, although as I already mentioned, they should provide a DVI or HDMI converter cable with the purchase. Another nice feature would be for them to add in a separate, optional power supply that could run a 3 or 4 port USB hub. I oftentimes find myself wishing that my dock had some USB ports on the front of the docking station; it would make life a lot easier. Right now, I have to make use of USB extension cables, which clutters things up.
Otherwise, the dock is exactly what one would expect; very straight forward. For the money, this has made the transition from work laptop to gaming notebook much easier. I don't use it with my home entertainment system, but I like that I have that option as well. That could certainly come in handy for the future. Remember that you will probably have to keep your Macbook power adapter in the dock, so if you still plan to travel around with your notebook, you may want to consider buying a second adapter as well. These are expensive if you buy them from Apple, but your can find them for good prices online. Just be sure to get the correct one that you need; check both the wattage and the connection type.
Ordering and Shipping (2 out of 5)
It would be nice if Henge Docks products were available through other retailers, including online retailers like Amazon. As far as I could tell, one had to buy the Macbook docking station directly from the manufacturer. Their website's ordering system is very easy, but I did encounter some problems when it came to shipping my order. At the time of writing this article, they share a warehouse that seems to give priority to some of their other clients; this meant that it took them about a week to ship out my docking station even though it was listed as "in stock." It was in stock, but their warehouse was running behind and didn't ship it out until a week later. To be fair, I ordered this at the end of November, a few days after Black Friday, but still. It was an inconvenience as I was hoping to get it by a certain date. So, order your Henge Dock for Apple Macbook Pro with plenty of time.
References
Images taken from HengeDocks.com