A Review of the Top 5 iMac Travel Cases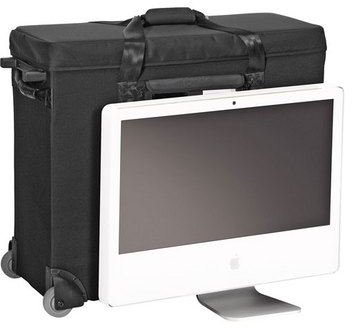 Tenba RS-M24 634-723 Aircase for 24-Inch iMac
The [Tenba RS-M24 634-723 AirCase](/tools/Tenba RS-M24 634-723 Aircase) is made of specially-molded framing components and high density foam in a multi-layered
skeleton of air-channeled panels. The outer shell is made up of a heavily reinforced ballistic nylon, while the internal framework has been built to hold the Apple iMac 24", the keyboard, mouse, monitor and accessories securely. It provides maximum protection against bumps and knocks.
The Tenba RS-M224 634-723 case measures 29" (L), 26" (W), 12.5" (H) and weighs 8.7 Kg. It is strong enough to stand on and is built to meet ATA shipping standards. The case uses the Tenba Datapanel Identification & Shipping system, and the premium wheels on this case make transport comfortable and easy. The case is only available in black and costs about US $650. As such, it is only a choice for travelers who fully expect their iMac to take serious falls and spills during travel, and also expect their computer to work when it arrives at its destination despite rough conditions.
Image Credit: comparesite.com
iLugger 21.5" iMac Carrying Bag
The iLugger 21.5" iMac carrying bag is a very solid iMac travel case, designed just for the iMac 21.5-inch. It is constructed with a high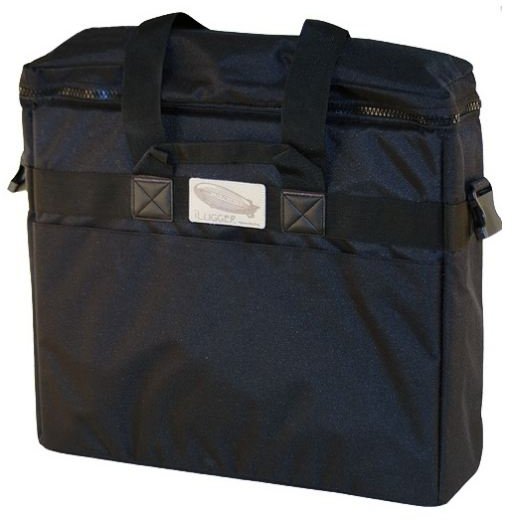 -quality cordura nylon shell and offers durability and full protection for your iMac from bumps and knocks.
It is a lightweight square case that loads from the top and closes by a zipper. The case envelops the iMac in heavy-duty foam padding, while its solid construction protects from the outside elements. There is a handle and shoulder strap that adjusts and can easily be detached.
The iLugger 21.5" iMac carrying bag costs only US $129.99 – making it the least expensive iMac carrier in the market. Although the protection provided by this option isn't on par with its more expensive brethern, this may not be an issue for everyone. If you're planning to store the iMac in a secure location, such as a car trunk, this case should be fine.
Image Credit: ilugger.com
27" Wheels Away iMac Carrying Case
This carrying case by Wheels Away is specifically designed to carry a 27-inch iMac. The case measures 6" (D), 22" (W), 19" (H) and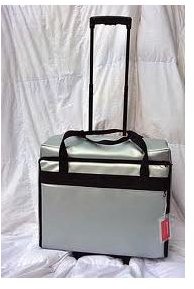 weighs 4.3 kilograms. It is made of durable textured fabric and comprises plenty of foam padding to protect the iMac as well as the mouse, keyboard and accessories.
The case's handles and wheels are detachable. The case is also waterproof and very durable. There is one outside utility pocket that goes across the front and two foam sleeves on the inside.
The price of the Wheels Away 27" iMac carrying case is US $229, and the product comes with a 30-day warranty
Image Credit: pbcentral.com
Pelican Cases iMCruzer
The Pelican Cases iMCruzer for 20 and 24-inch Apple iMacs offers stress free and secure transportation for your computer. It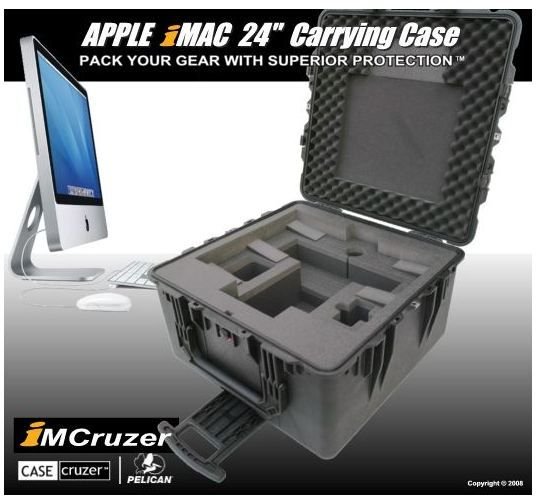 's water proof and air-tight, and gives your iMac protection from all sorts of structural damage
The case measures 27.38" (L), 27.38" (W), 16" (H). The case is heavier than many other iMac cases, but this case is arguably the most durable. It is a wide, protective, water-resistant structure for your iMac.
The case costs US $611.70, and arrives with a lifetime guarantee. Like the Tenba case, this product is best suited for iMac owners who need extra protection against the the bumps and falls that can occur during travel and cause serious harm to a computer. The protection against water makes it a particularly good choice if you're not sure that the case will be sheltered from weather during its trip.
Image Credit: casesbypelican.com
CaseCruzer Carrying Case for iMac
The CaseCruzer Carrying Case is a very strong iMac travel case, designed to protect your 27" iMac computer along with the mouse and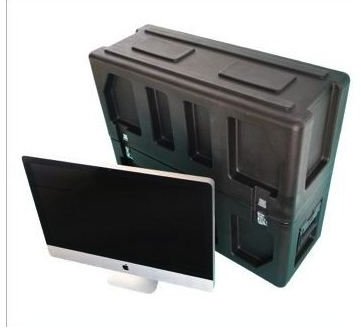 keyboard. Its custom foam interior ensures your expensive iMac is fully protected from shocks and bumps. The outer shell is molded with high quality polyethylene that provides superior durability and strengths.
The CaseCruzer Carrying Case is outfitted with two durable cushioned handles that make lifting the case easy and comfortable. Other features of the case include hi-performance twist latches which tightly seal the case, a weather-resistant gasket, and lockable latches.
Note that this case is weather resistant, but doesn't offer specific water protection. I am not sure if you could expect this case to withstand water intrusion in conditions other than light rain.
The case measures 34.50" (L), 13" (W), 30" (H) and weighs 16.7 kilograms, when empty. This heavy duty case costs US $525, and comes with a lifetime guarantee.
Image Credit: macgasm.net
References