MacBook Keyboard Protector Buyer's Guide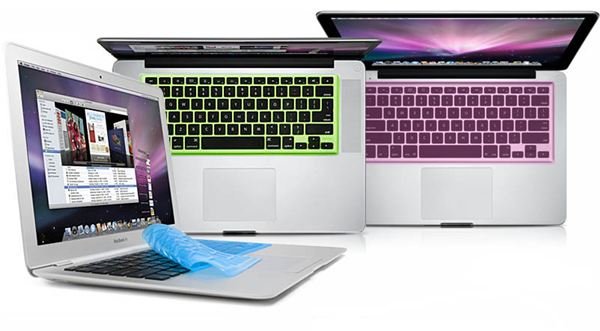 As a writer and a owner of an Apple laptop I am well versed in the issues you can have with a heavily used MacBook keyboard. Not only can you end up with an awful buildup on the keys that can transfer to your MacBook's LCD screen but you can also wear the ink off your keys. To protect against these and other issues with your MacBook's keyboard I recommend investing in a MacBook keyboard protector. Lets take a look at 2 of the best and how they are going to help protect your MacBook.
iSkin ProTouch MacBook Keyboard Protector
At a price of $25 - $35 you simply can't lose with the iSkin ProTouch MacBook keyboard protector. This is a high-quality silicone that has been treated with an anti-bacterial product that helps reduce odor and bacteria build-up on your MacBook's keyboard. This keyboard protector is one solid piece and made to fit each an every key of your MacBook's keyboard precisely. This will help protect against dust, dirt, food, oils from your fingers and even minor liquid spills. The protector can be kept on your MacBook even when closed (assuming you keep the ProTouch clean).
The iSkin ProTouch MacBook keyboard protector is easy to clean, durable, available in a variety of models and colors and even dampens keystroke noise as you type. I really like the fact that you can remove the iSkin ProTouch MacBook keyboard protector, wash it in your sink with some soap and warm water, allow to air-dry and simply reapply it to your MacBook's keyboard.
If you're like me and you type a lot on your MacBook, over time the letters on your keys can wear off. If this is the case you can simply opt for the iSkin ProTouch FX model of skin which contains printed keys. No more guessing where the dash key use to be.
This keyboard protector is my personal favorite - it is a must!
Price
$25 - $35
Image: iSkin
Moshi ClearGuard MacBook Keyboard Protector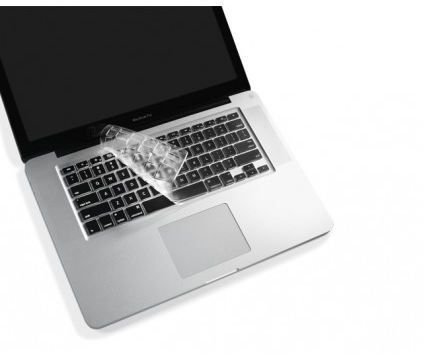 Another fantastic MacBook keyboard protector option in the $25 range is the Moshi ClearGuard. This MacBook keyboard protector is one of the few on the market that is made of a material other than silicone. It is instead made of thermoplastic urethane that is a very slim 0.1mm, which makes it thinner than any other keyboard protection product. Being thin is a major selling point for some, as this makes the protector virtually invisible when on your MacBook. The thin material also preserves the natural feel of your MacBook's keyboard.
Price
$24.95
Image: Moshi
As you can see the use of a MacBook keyboard protector has its benefits. A MacBook keyboard protector will not only protect your MacBook's keyboard from spills, dust and other environmental factors but will also make sure your MacBook's keys stay dirt and oil free. This will protect your MacBook's keyboard and the LCD display.