What is the Best External Macbook Air DVD Drive?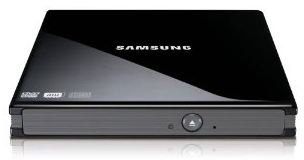 Mac Compatibility
In theory, almost all external USB 2.0 DVD drives should be compatible with the Macbook Air. However, in practice this is not always true, and some do work better than others with the Mac OS X operating system. The five below are tried and tested DVD drives that work well with the Macbook Air, and they span a range of prices to ensure that there is something here for all budgets. So, if you need an external DVD drive for your Macbook Air, consider the following.
Samsung USB 2.0 8x DVD Writer: SE-S084C or D
The Samsung SE-S084C (or the latest SE-S084D model) is a popular choice for Mac users. It is slim, stylish and lightweight. It will read and write a variety of CD/DVD formats, and automatic firmware updates occur via its built-in update utility. Simply plug in the USB cable and you are ready to go. Both models retail at around $45, so they are inexpensive drives that come with the reassurance of a reliable brand name.
Apple Macbook Air Superdrive

The Macbook Air Superdrive was created by Apple to fill the DVD needs of Macbook Air users. Compatability will not be an issue here. It has the look of a slimmed down Mac mini, and is guaranteed to match your Macbook. However, you should be aware that it only works with the Macbook Air and Mac mini server. If you have other types of Macbooks or Mac desktops that you were planning to use your external DVD drive with, then you should stay away from the Superdrive. Apple's Macbook Air DVD drive currently sells for $79.
Targus DVD-ROM ADV01US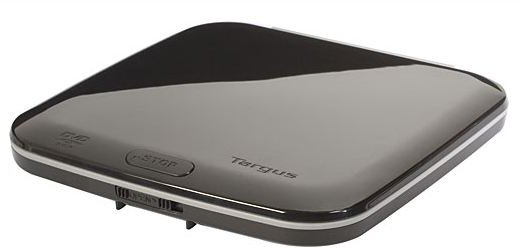 The Targus ADV01US is a little light on features, but it is a great performer for budget conscious shoppers. With a shiny piano black finish, it is as stylish as anything else on this page. It is a read-only drive, so you cannot use it to burn discs of your own, but it is great for installing programs, watching DVDs, or for transferring files. It does not have the highest build quality here, but it is slim, compact and the $35 price tag is hard to beat.
LaCie d2 DVD±RW 22x with LightScribe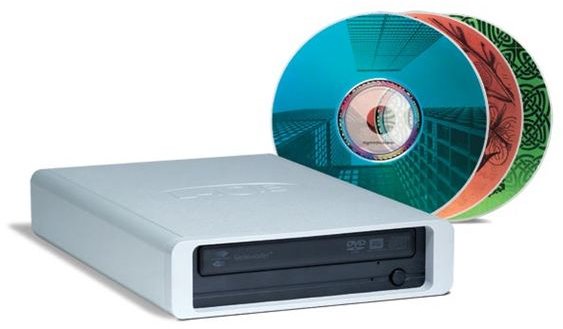 LaCie is developing a great reputation for producing high quality Mac compatible products, and the d2 is no exception to this. This impressive DVD drive boasts write speeds of up to 22x, and comes with a USB 2.0 and firewire connection. It even has a built-in Lightscribe burner that lets you create your own patterns and images on your discs. The aluminum shell is well designed and complements the color of the Macbook Air well, and although this DVD drive sells for close to $100, you do get a lot for your money.
LG Super Multi CD/DVD Writer (GP08LU30)

The LG GP08LU30 is another great Lightscribe DVD burner for your Macbook Air. The 8x DVD burner is not as fast as the LaCie d2, but it is half the price. It is lightweight, compact, and portable if you need it on the move. Like the Samsung, it reads and writes a whole variety of CD and DVD formats, and connects to your Macbook Air via a USB 2.0 connection. LG are a great brand, so this $49 model is a great choice for an external DVD drive.