Macbook Shopping Guides - Choosing an External Hard Drive

When shopping for an external hard drive for your MacBook or any other Apple PC (Personal Computer) you want it to not only perform well and last forever but also look good. Apple PC owners are notorious for wanting their external components to fit in well with the beautiful design of their current Apple products. This is no problem with these two MacBook external drives. They will not only safely store your information but also fit in nicely with your Apple lifestyle.
MacBook External Drives
Time Capsule
The time capsule external hard drive is Apple's flagship external drive and currently the only one they offer. It comes in a 1TB and 2TB version and a hefty price tag. At $299 for the 1TB model and $499 for the 2TB model it is more than double the price of other MacBook external hard drives but you do receive some nice extras.
Most external hard drives are just that - an external hard drive used for storage. The time capsule is so much more. With the time capsule you not only receive 1TB or 2TB of space but you also receive a drive that works seamlessly with Mac OS X's time machine and acts as an internet router. It is a fantastic drive that has been lavished with above average reviews..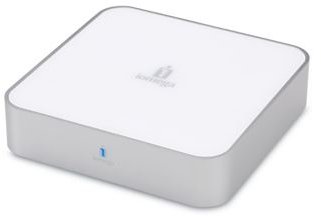 Iomega MiniMax
This is the drive I purchased for my Mac Mini home entertainment system (actually, I purchased two of them). The design of this drive is a perfect compliment your other Apple products. It's sleek and well built and is actually similar in size and shape to the Mac Mini. The Iomega MiniMax also has a built-in 3 port USB 2.0 hub and has the ability to chain other MiniMax drives off of it. This is a solid drive with a lower price tag than the Apple time capsule. You'll pay just $219.95 for the 2TB model.
Again, keep in mind that any hard drive can be used as a MacBook external drive. Mac OS X does not care about the drive itself, only what file system the MacBook external drive was formatted with. The drive will have to be formatted with a Mac-compatible format such as HFS in order for Mac OS X to recognize the file system.
External hard drives are notorious for failing after just a year or two so make sure you have some kind of backup system in place for the information on your MacBook external drive. Personally I always buy two of any drive and simply clone the drive using software such as SuperDuper just to be safe. This will cover your data in the event of a hard drive failure.