Best Apple Keyboards and Mouse Replacements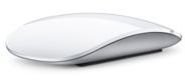 You Don't Have to Buy Apple
With a top quality and stylish computer, there is little chance of you'll want to replace a damaged mouse or keyboard with a charcoal black Dell device or something from the dollar store. After all, why sully the smooth white or silver edges of your Mac with something grey and dull?
Instead, you will want to look for one of the best Apple keyboard and mouse replacements. There are plenty to choose from both from Apple and from other suppliers eager to make money in the Mac hardware market.
Note that prices for these devices can vary considerably depending upon your territory.
Best Apple Mouse Replacements
The first place to look if you're replacing your Apple mouse or keyboard is store.apple.com. Here you will find the best hardware for your iMac, Mac Mini or MacBook – designed and built by Apple to their exact specifications to give you the best user interface experience.
There are two mouse options. First is the Apple Mouse, a smoothly contoured mouse with two buttons hidden under the shell, a scroll ball and two side buttons. The Apple Mouse is a popular option and ships with some desktop Macs.
Another, newer option is the Apple Magic Mouse (right). This is probably the most amazing mouse on the planet as it features Multi-Touch, which allows you to stroke your finger up and down to scroll around pages and left and right to browse through photos on your desktop!
Like the Apple Mouse, the Magic Mouse looks like it only has a single button, but hidden underneath are sensors that can be configured for two-button use. Connection of this device is by Bluetooth and a laser tracking engine replaces the common optical laser many desktop mice use. If you're in the market for a new Apple mouse, this is the one to choose!
Best Apple Keyboard Replacements
The standard Apple Keyboard is a suitable replacement for any system, and features low-profile keys for comfortable, fast and responsive typing. Various Mac features can be accessed from the shortcut keys on this device, including a numeric keypad.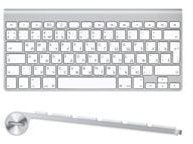 Best of all, the keyboard includes two USB 2.0 ports for connecting a mouse, digital camera or any other USB device, saving you the effort of reaching around the back of your Mac.
Another option is amazing Apple Wireless Keyboard (pictured), a Bluetooth device that combines simplicity with elegance. There is nothing to this keyboard other than a slab of aluminium and some white plastic keys, with the complicated cables all disposed of in favour of wireless technology. When you're not using the Apple Wireless Keyboard it powers down – so the two AA-type batteries are no longer in use until you start typing again!
Best Non-Apple Keyboards and Mouse Replacements
Of course, there is no rule that says you have to plug Apple peripherals into an Apple computer. While some hardware is obviously not suitable, various hardware manufacturers take special care in designing equipment that you might choose as alternatives to your standard Apple input devices.
The Matias USB 2.0 keyboard mimics the Apple with a design not unlike the standard Apple Keyboard (see above) but with additional curves. This device also features a USB 2.0 hub.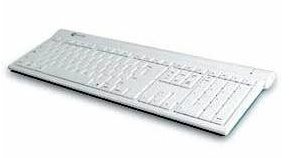 Meanwhile, the IceKey (pictured, right) 108 key device is from Macally and features low profile keys to make typing comfortable. The "ice white" finish is designed to complement your Mac and it features USB ports on both sides of the keyboard.
Finally, if you're looking at your budget, the Matias OS X Keyboard & Mouse Bundle will provide a quality all-white keyboard and mouse for your Mac. The mouse is two-buttoned with a roller wheel for page scrolling while the keyboard has been designed to act as a suitable replacement for the standard Apple keyboard.
(Images via corresponding links)