Find, Install, and Use Unicode Fonts for Mac OS X Computers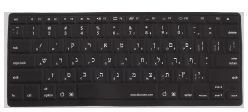 Unicode Since OS 10.2
Every version of Mac OS X that has shipped after X.2 has support for unicode fonts by default and the recent versions like Leopard and Snow Leopard allow all programs to access this feature in ways that are unmatched by Windows and many distros of Linux. So what does full support for unicode fonts mean? It implies that not only are the characters of various fonts supported but so are the many ways of text input that are possible. Everything under the umbrella including right-to-left support for Hebrew, Thai as well as Arabic is supported by default. Infact, you won't even need to get a new keyboard if you'd like to insert these characters without having to spend hours clicking through the Font Palate on your screen — just buy one of these nifty Hebrew/English keyboard overlays which have been built especially for the Mac and not only provide you with a way to type in the Hebrew characters but also make it easy for you to type back in English since the keys have both letters printed on them.
If you haven't done a lean re-install of the OS on your Mac then there is a pretty good chance that your system has a bunch of unicode fonts installed already and while their use may not be limited to typing in other languages, that is the one thing they are most used for. The biggest advantage of the UTF-8/Unicode character storage system is that it allows multiple writing systems to co-exist in one single data file which allows word processors capable of reading Unicode files to read and process data from multiple languages.
Users who are still running System 9 will experience reduced support for Unicode fonts. The latest iterations of many applications like Microsoft Office, Dreamweaver MX 2004, the whole set of Adobe products, FileMaker 7, TextEdit as well as Apple's flagship office suite iWork all support Unicode.
How to Install a Unicode Font?
There are a number of ways in which you can go about installing a Unicode font but the easiest method is the one which is the same as installing any other font really. All you have to do once you've got the file with you is double-click to open, like you would any other file and the Font Book application on your Mac will open up which will ask you if you'd like to install the font that you just opened up, click on Install and you're done! You should now be able to see that font in the Font Book list on the left pane.
Where Can I Find Unicode Fonts?
The best resource on looking up new Unicode fonts is the official website of Unicode Consortium. Their resources section is the one place where you'll find everything that you are looking for. Other than that, the Font Marketplace is a good site to find the right Unicode font for your project.